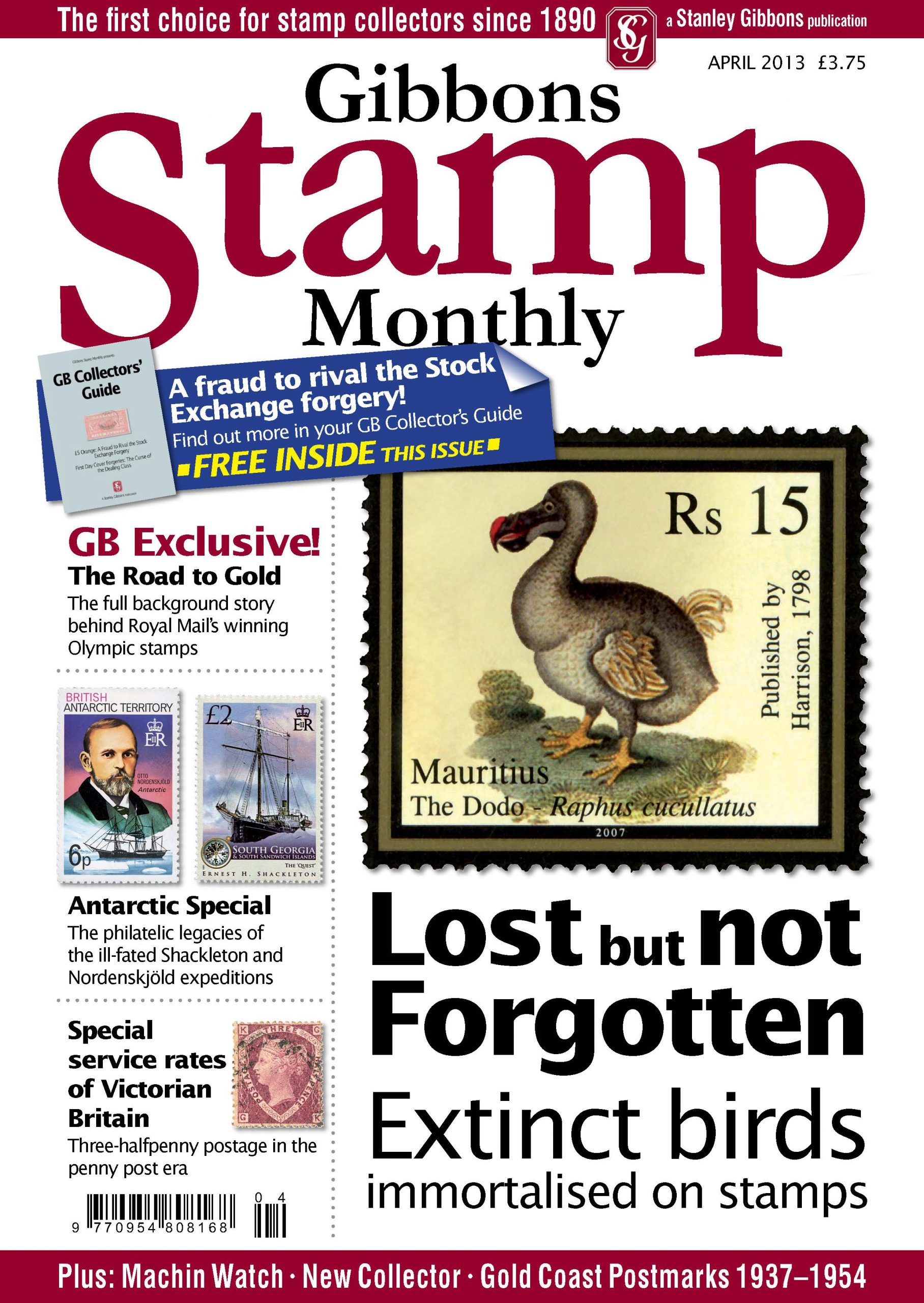 Contents April 2013
Contents to Volume 43, Number 11
---
Newsdesk
Fraud and the £5 orange, new Vacant See stamps from the Vatican, plus all the news from Spring Stampex
---
Society News
Reports from philatelic societies
---
Diary Dates
Forthcoming fairs and auctions
---
Around the Houses
A round-up of the latest auction news from the UK and abroad.
---
New Collector
John Holman brings us another inspiring article for new and seasoned collectors
---
GB News
Royal Mail celebrates ten more eminent British names from the realms of sport, journalism, archaeology, politics and the arts
---
Jeffery Matthews: 50 Years of Design for Royal Mail
Paul Brittain discusses the Jeffery Matthews designs that went above and beyond stamps
---
Three Halfpenny Postage in Victorian Britain
The 1½d. rate during the penny post era was reserved for specific postal services; Michael Peach explains its various uses
---
Machin Watch
John Deering's report on the latest Machin make-overs has him seeing red, and plenty of it
---
GB Specialised Catalogue
The latest supplement to the Great Britain Specialised Catalogue
---
The Road to Gold
Discover what went on behind the scenes at Royal Mail during the planning the Olympic and Paralympic Games Gold Medal Winners stamps
---
Extinct Birds on Stamps
P J Lanspeary selects some of the many extinct birds that have been shown on stamps
---
Coming to the Point
The switch to Decimal Currency by the former British Colonies
---
40th Anniversary of the Conseil De L'Entente
Nicholas Pertwee presents the first of a two-part study of commemorative issue and it subsequent surcharges
---
The Shackleton-Rowett Expedition, 1921-1922
Discover some of the unique postal history items from Sir Ernest H Shackleton's final Antarctic expedition
---
Rescued: The Nordenskjold Expedition
Steve Pendleton reveals the fate and the philately of the doomed Swedish Antarctic expedition
---
Gold Coast Postmarks
The postmarks of the Gold Coast within the King George VI period, 1937-1954
---
A Remarkable Dane
Rob Holley reveals the story of one of the great colonial leaders, a remarkable Dane called Anker Rentse
---
Nimrod and the GSM Competition
Nimrod highlights some important stamps from Pahang, plus your chance to win a £50 SG voucher
---
2012 Foreign Booklets
Geir Sor-Reime continues his annual survey with the foreign booklet issues of 2012
---
Dear GSM
More readers have their say, courtesy of the GSM postbag
---
Bookshelf
More philatelic publications are read and rated
---
Churches of Scandinavia on Stamps: Part 1
Anthony New begins his two-part thematic tour of the churches of Scandinavia
---
The Diarie of Samuel Creeps
More wise words from an ordinarie collector of stamps
---
Stamp News in Brief
A summary of recent and forthcoming issues from around the world
---
Shore to Shore
Island Hopper reports on stamps from the Channel Islands and Isle of Man
---
Panorama
Dean Shepherd investigates the history behind some recent new issues
---
Unissued QEII/Catalogue Column
The story behind an unissued stamp of New Zealand. Plus, Hugh Jefferies' latest comments as SG catalogue editor.
---
Catalogue Supplement
A 15-page update to the Stanley Gibbons Catalogue
---
---