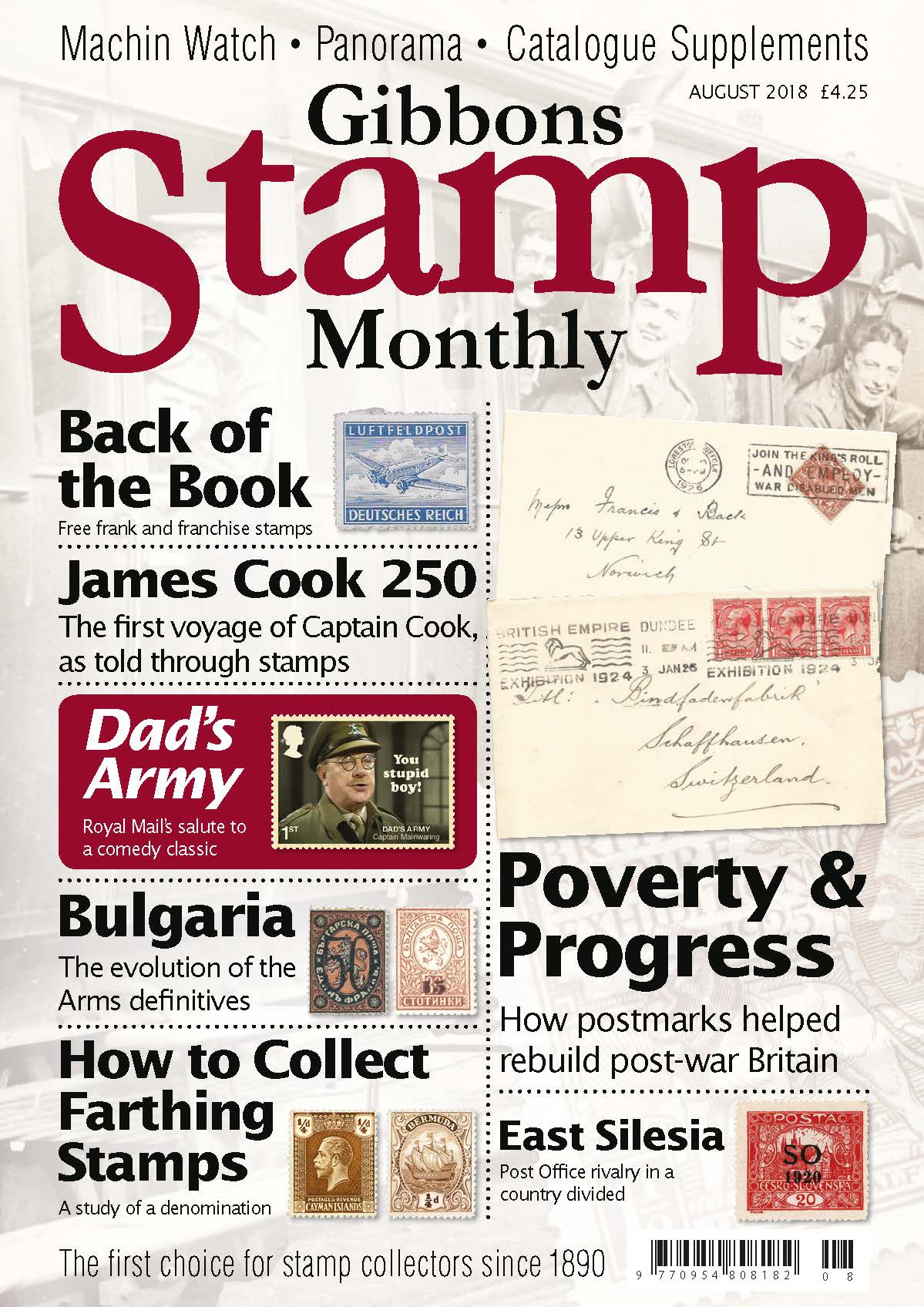 Contents August 2018
Contents to Volume 49, Number 3
---
Newsdesk
The latest news from around the philatelic world.
---
Society News
More reports from the nation's Philatelic Societies.
---
Diary Dates
Forthcoming fairs and auctions.
---
Around the Houses
The latest reports from the auction rooms.
---
New Collector
Richard West looks back at how British Smilers sheets have been used as a promotional tool for organisations and businesses.
---
GB News
Royal Mail salutes classic British comedy and a grand royal residence with two new stamp sets.
---
Postmarks in an Era of Poverty and Progress
Discover how slogan postmarks were used to great effect to help promote British trade after World War I.
---
Machin Watch
John Deering presents more new finds for modern GB collectors.
---
Prepaid (Stamped) Official Postal Stationery of Great Britain
Edward Klempka offers hints and tips on collecting an often overlooked aspect of British postal stationery.
---
GB Specialised Supplement
The latest supplement to the Stanley Gibbons Great Britain Specialised Catalogue.
---
Bulgaria: 1879 Arms Type
Bulgaria's first stamp issue, from its release in 1879 to its final appearance in 1916.
---
Guernsey's Endangered Species Series
GSM takes a look back at the 12 designs preserved in Guernsey Post's Endangered Species series.
---
Piotr Naszarkowski: In Slania's Wake: Part 2
Adrian Keppel concludes his look at the 32-year career of Polish stamp engraver Piotr Naszarkowski.
---
Bookshelf
More reviews of the latest philatelic publications.
---
James Cook 250
Alison Boyd retells the story of Captain Cook's first voyage of discovery 250 years after he first set sail.
---
Farthing Stamps: A Study of a Denomination
Richard Capon explains why you don't need deep pockets to build a medal-winning display at national level.
---
Free Franks and Franchise Stamps
Christer Brunstrom highlights examples of stamps, postmarks and labels produced to allow free frank privileges for organisations and noteworthy individuals.
---
Stamp Hunting
In this month look at the philatelic market, Nimrod highlights the key issues of Malta to keep a collector's eye out for.
---
2017 Foreign Postal Stationery
Geir Sor-Reime concludes his foreign issues from 2017.
---
The 'SO 1920' Overprint: The Plebiscite That Never Voted!
Peter Chadwick explains how two rival Post Offices faced off over a disputed region of Europe following World War I.
---
Long Lost Canadian Revenue Stamp Discovered
Peter Martin updates us on his ongoing research into Canada's embossed revenue stamps.
---
Kiwi Classic Cars
Christopher Moor looks back at three 'classic' thematic issues from the New Zealand Post Office.
---
Gone But Not Forgotten
John Moody digs up stamp issues from more of the world's 'dead' countries.
---
Stamp News in Brief
A summary of recent and forthcoming issues.
---
Shore to Shore
Catch up with the latest issues from Alderney, Jersey and the Isle of Man.
---
Competition
Another chance to win a £50 Stanley Gibbons voucher.
---
Panorama
Alison Boyd investigates the stories behind some of the latest stamp issues from around the world.
---
The Unissued Stamps of King George VI
Get ready for more faux fun from the Hedley Adams Mobbs collection.
---
Catalogue Column
Hugh Jefferies offers more comments from the Catalogue Editor's chair.
---
Catalogue Supplement
Your 17-page update to the Stanley Gibbons Catalogue.
---