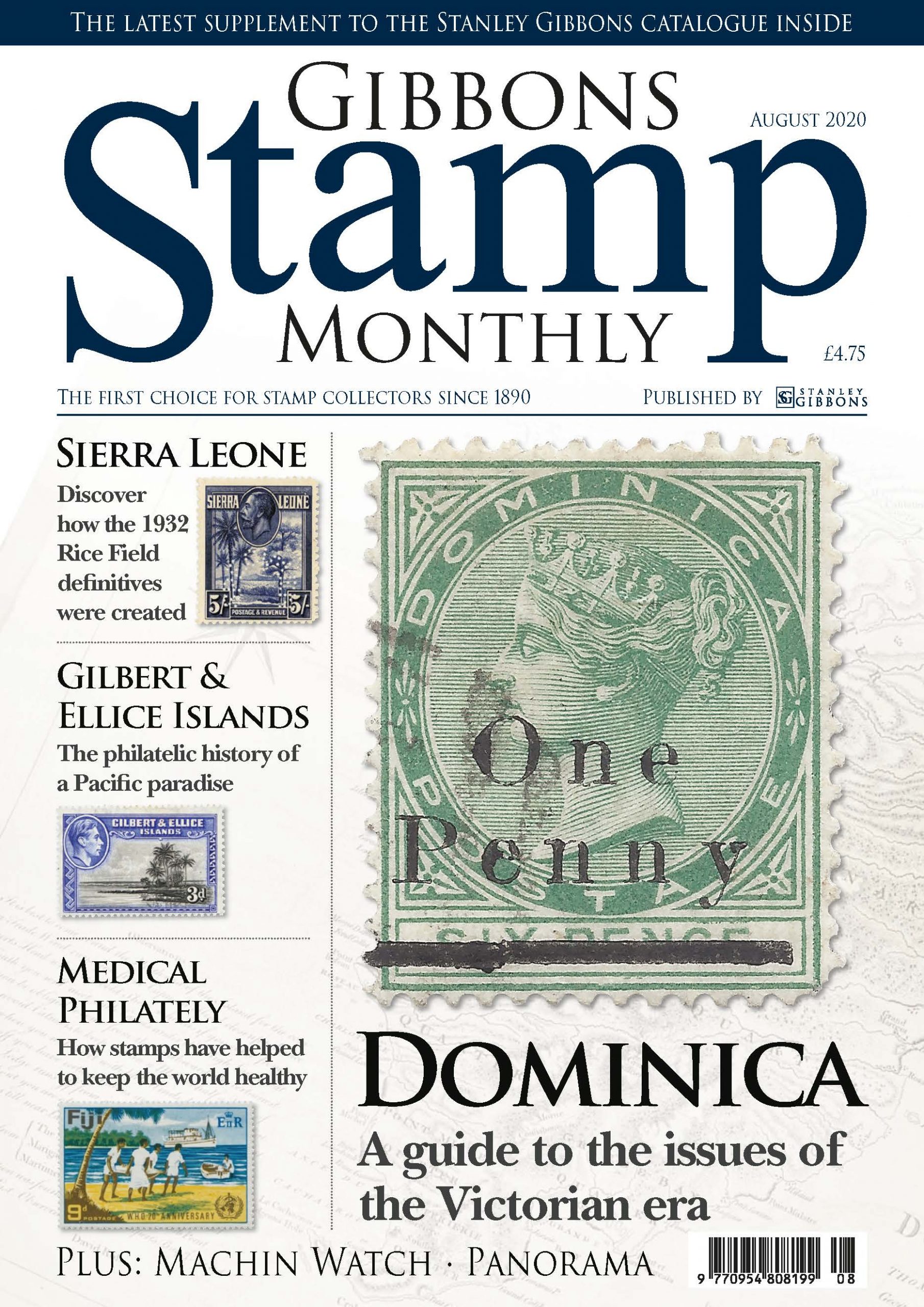 Contents August 2020
Contents to Volume 51, Number 3
---
Newsdesk
The latest philatelic news from around the world.
---
Society News
More reports from the nation's Philatelic Societies.
---
---
Around the Houses
News of recent auction results.
---
New Collector
Richard West takes a look at the marketing methods used by philatelic bureaus in order to promote new stamp issues.
---
GB News
Royal Mail celebrates the classic albums and spectacular live shows of the legendary British band, Queen.
---
The Stamp Show that Never Was: A Celebration of London 2020
The postponement of London 2020 led to most of the planned promotional material being cancelled. However, Derek Connell shows us how to create some fantasy collectables for the exhibition that never was.
---
Machin Watch
John Deering sees what the 'End of the Second World War' p.s.b., the latest special delivery Machins and the 'Coronation Street' retail booklet has to offer modern GB collectors.
---
GB Specialised Supplement
The latest supplement to the Stanley Gibbons Great Britain Specialised Catalogue.
---
The Victorian Stamps of Dominica
Simon Richards talks us through Dominica's Victorian stamp issues, which provide a variety of overprints and provisional issues to explore.
---
Dear GSM
More readers have their say, courtesy of the GSM postbag.
---
British Colonial and Protectorate Stamps Part 23: Gilbert & Ellice Islands
In his ongoing series looking at the stamp issues of former British Colonial and Protectorates, Noel Davenhill explores the philatelic history of the Gilbert & Ellice Islands.
---
Putting the Stamp on Health
More than 90 years after the term 'Medical Philately' was introduced, Nicholas Oughton takes a timely review of some of the material available.
---
Video Games on Stamps
Michael Barron takes us on a journey into the world of video game thematics.
---
Sierra Leone: 1932 Rice Field Definitives
In an extract from his new book, Echoes of Empire, Majed Halawi discusses the development of the 1932 defintives of Sierra Leone.
---
Gone But Not Forgotten
In his latest article on the stamps of 'dead' countries, John Moody looks into the five different stamp-issuing administrations that operated in Italy following the fall of the fascist government in 1943.
---
Canada's Farthest North: Philately of the Queen Elizabeth Islands
Steve Pendleton transports us to the most northern part of Canada to explore the postal history of the Queen Elizabeth Islands.
---
2019 Foreign Postal Stationery
Geir Sor-Reime continues his comprehensive annual survey of modern foreign postal stationery from around the world with a listing of foreign issues from Poland to the Russia.
---
Stamp Hunting
Stamps to look out for from Trinidad and Tobago.
---
Shore to Shore
We highlight the latest new issues from the Isle of Man, Jersey and Guernsey.
---
Stamp News in Brief
A summary of recent and forthcoming issues.
---
Panorama
Alison Boyd investigates the stories behind some of the latest stamp issues from around the world.
---
Competition
Win a £50 Stanley Gibbons voucher.
---
Catalogue Column
Hugh Jefferies offers more collecting advice from the Catalogue Editor's chair.
---
Catalogue Supplement
The latest 10-page update to the Stanley Gibbons catalogue.
---