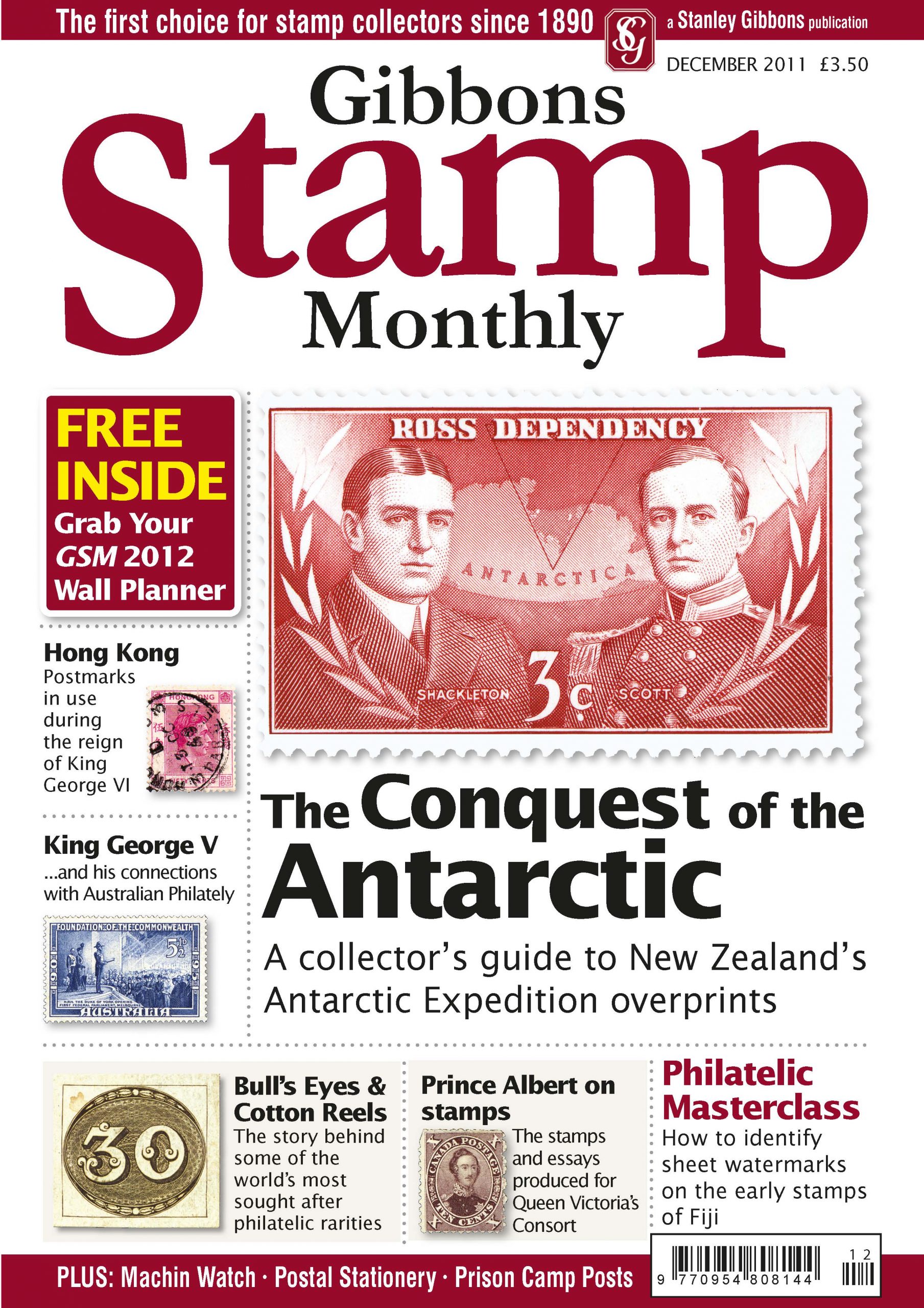 Contents December 2011
Contents to Volume 42, Number 7.
---
Newsdesk
The latest news from the stamp world.
---
Society News
Reports from philatelic societies.
---
Diary Dates
Forthcoming Fairs and Auctions.
---
Around the Houses
News of recent auction results.
---
New Collector
John Holman looks at the stamps of Montenegro and the stamps issued by Great Britain 50 years ago to mark the centenary of the Post Office Savings Bank.
---
GB News
Stamps, miniature sheet and prestige booklet feature the work of children's author Roald Dahl on 10 January.
---
The Postal Union and Victorian Britain
The creation of the General Union of Posts resulted in the standardisation of postal rates; Michael Peach examines what these reforms meant for Victorian Britain.
---
Machin Watch
John Deering reports on Post & Go issues at Stampex, the latest Olympic and Paralympic retail booklet and previews the Diamond Jubilee definitives.
---
Albert, Prince Consort and Visionary: 150 Years Later
Tim Burgess looks back on the life of Queen Victoria's Consort and his appearance on stamps.
---
GB Specialised Supplement
A supplement to the Great Britain Specialised Catalogue.
---
---
Postal Stationery Matters
Peter van Gelder reviews Gibraltar's postal stationery, returns to a puzzling card, provides advice on looking after your collection and uncovers an Edwardian campaign against post office stationery.
---
Hong Kong Postmarks
David Horry reveals some of the interesting and rare postmarks within the King George VI period.
---
The Diarie of Samuel Creeps
Michael Banister selects extracts from the journal of 'an ordinarie collector'.
---
Conquest of the Antarctic
The New Zealand issues provided for the Shackleton and Scott expeditions to the Antarctic are examined by Robin Gwynn FRPSL, FRPSNZ.
---
Bulls Eyes and Cotton Reels
In the latest in his series on famous stamps, Paul Brittain looks at the background to the first issues of Brazil and British Guiana.
---
KGV and Australian Philately
Richard Breckon investigates dedicated philatelist King George V's relationship with Australian philately.
---
Stamp Hunting/Competition
Nimrod suggests stamps worth looking for from Natal. Your chance to win a 2012 Stamps of the World catalogue.
---
PoW Camp Posts
The stamps produced by those interned during the two World Wars are the subject of Christer Brunström's latest Cinderella stamp article.
---
Why Write up Your Collection?
Colin Mount FRPSL, FBSAP, explains the importance of preserving your collection.
---
Cape Town 2011
Peter Jennings FRPSL, FRGS, visits the Cape Town 2011 national stamp exhibition.
---
Fiji Sheet Watermarks
David Gillis expands on earlier research and discusses the relative scarcity of these watermarks.
---
Shore to Shore
Island Hopper reports on stamps from the Channel Islands and Isle of Man.
---
Competition
Win signed first day covers from Jersey Post.
---
Stamp News in Brief
A summary of recent and forthcoming issues from around the world.
---
Panorama
Dean Shepherd investigates some recent new issues.
---
Unissued QEII/Catalogue Column
David Horry reveals the story behind another unissued stamp. Hugh Jefferies reports on British watermark varieties.
---
Catalogue Supplement
An 18-page update to the Stanley Gibbons Catalogue.
---