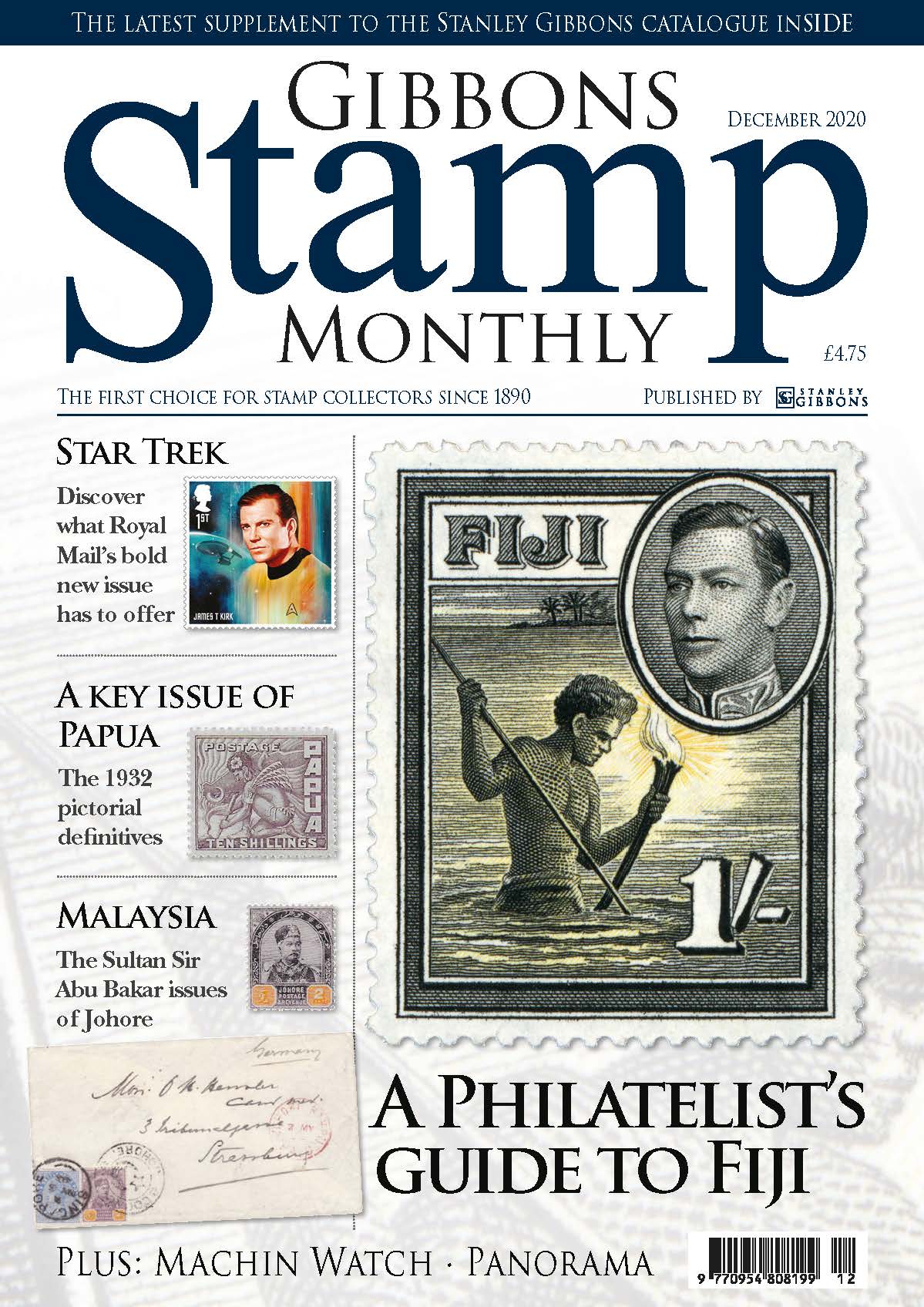 Issue: 7
Volume: 51
Included in this month's must-read issue of the world's leading philatelic journal, we look at Royal Mail's 2020 Christmas issue and its latest pop culture issue – Star Trek, Andrew Hawthorn presents a study on the Edward VII high value 2s.6d and Susan McEwen FRPSL provides a guide to the stamps issued during the reign of Sultan Sir Abu Bakar of Johore.
---
Newsdesk
Catch up with the latest philatelic news from around the world.
---
Society News
More reports from the nation's philatelic societies.
---
---
Around the Houses
Your monthly roundup of recent auction results.
---
New Collector
In his latest column for new collectors, Richard West covers more instances where the stamp production process can go wrong – which in turn can lead to some very desirable collector's items.
---
GB News
We look at Royal Mail's 2020 Christmas issue and its latest pop culture issue – Star Trek.
---
Machin Watch
John Deering provides another in-depth guide for modern GB collectors. This month he sees what Machin offerings Royal Mail's Star Trek issue has to offer.
---
GB Overprints on Postal Orders
As part of the GB Overprints Society's 50th anniversary celebrations, Dr John M Gledhill provides an introduction to a popular side-line collecting avenue – British postal orders overprinted for overseas use.
---
The 1971 British Postal Strike: Part 2
In the second and final part of Michael Peach's article on the philatelic fallout from the 1971 postal strike in Britain, he turns his attention to overseas mail and private postal stationery.
---
Edward VII: Flaws on the High Value 2s.6d.
Andrew Hawthorn, of the GB Overprints Society, presents a study on the flaws of this high value stamp, which overprinted examples have recently brought to light.
---
GB Specialised Supplement
The latest supplement to the Stanley Gibbons Great Britain Specialised Catalogue.
---
Dear GSM
More readers have their say, courtesy of the GSM postbag.
---
British Colonial and Protectorate Stamps Part 25: Fiji
In his long-running series looking at the stamp issues of former British Colonial and Protectorates, Noel Davenhill explores the philatelic history of Fiji, from the famous Time Express stamps of 1870 to independence and beyond.
---
Fossils and Philately: Palaeophilately in Great Britain
Katrin Raynor-Evans explores the immense collecting opportunities produced when palaeontology meets philately.
---
Papua: The 1932 Pictorials
Christer Brunström FRPSL talks us through a key set for any collector of British colonial stamps – Papua's attractive 1932 pictorial issue which replaced its long lived lakatoi stamp design.
---
Covid-19: A New Collecting Field
Lockdown has allowed many to spend more time with their collections and to explore new collecting avenues. Douglas N Muir RDP looks at one new collecting theme created by the pandemic itself.
---
Stamp Hunting
Nimrod highlights the stamps to look out for from the French New Hebrides.
---
Bookshelf
The latest book and catalogue releases read and rated.
---
Malaysia: Sultan Sir Abu Bakar of Johore
Susan McEwen FRPSL of the Malaya Study Group provides a guide to the stamps issued during the reign of Sultan Sir Abu Bakar of Johore.
---
The Manhattan Project Meets Postal History
Edward Barrow highlights a fascinating cover that connects wartime airmail routes, the important role of Trinidad in censorship during World War II and the development of the atomic bomb.
---
Postal Stationery Matters
We join Peter van Gelder for another mixed selection of postal stationery from around the world, including two important British sesquicentennials and more postal stationery firsts.
---
Gone But Not Forgotten
In his latest article on the stamps of 'dead' countries John Moody looks into the strange story of the People's Revolutionary Government of Grenada.
---
Stamp News in Brief
A summary of recent and forthcoming issues.
---
Panorama
Alison Boyd investigates the stories behind some of the latest stamp issues from around the world.
---
Shore to Shore
We highlight the latest new issues from Guernsey, Jersey and the Isle of Man.
---
Competition
Don't miss your chance to win a £50 Stanley Gibbons voucher.
---
Catalogue Column
Hugh Jefferies offers more opinion from the Catalogue Editor's chair.
---
Catalogue Supplement
A 12-page update to the Stanley Gibbons Catalogue.
---