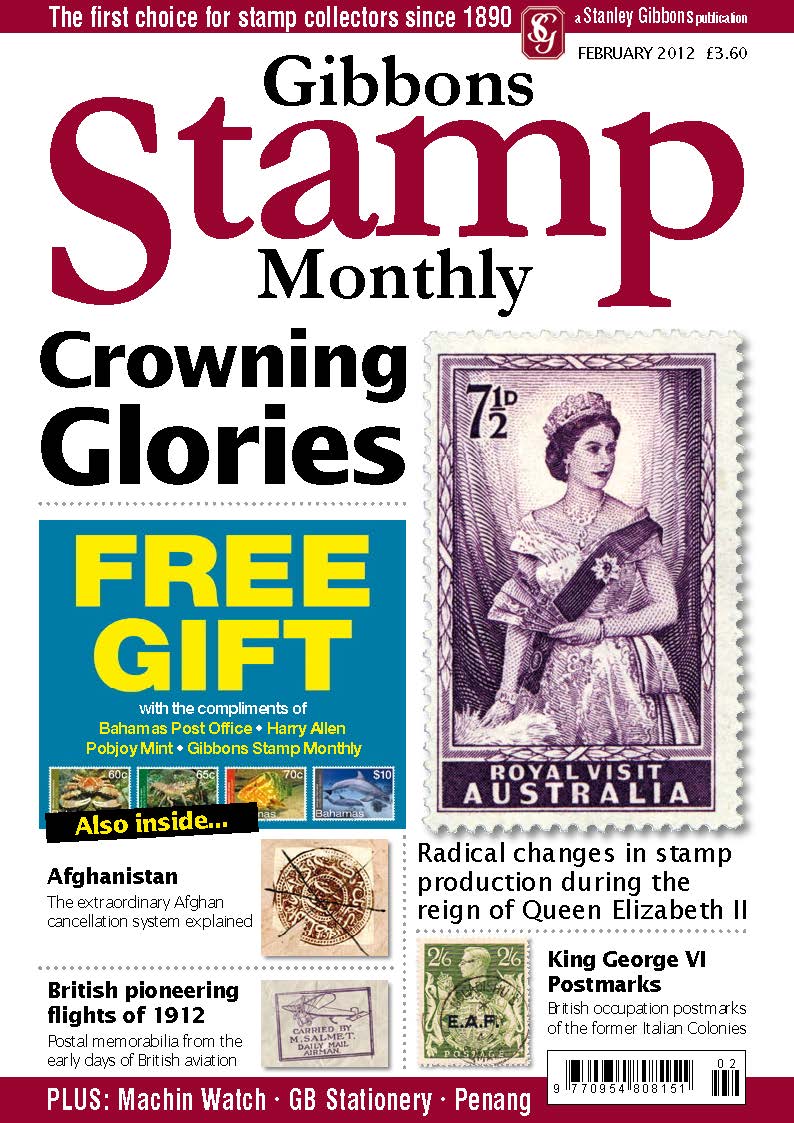 Contents February 2012
Contents to Volume 42, Number 9.
---
Newsdesk
The latest news from the stamp world.
---
Society News
Reports from philatelic societies.
---
Diary Dates
Forthcoming Fairs and Auctions.
---
Around the Houses
News of recent auction results.
---
New Collector
John Holman reveals the new Irish definitives, Charles Dickens' 200th anniversary, and stamps depicting Annigoni portraits of The Queen
---
GB News
Britons of Distinction, Post & Go Sheep
---
GB Postal Stationery
John Holman presents more recent British postal stationery, postal label and postmark finding
---
Machin Watch
John Deering brings another update on Britain's definitive stamps, including issues for the Olympic and paralympic Games and the latest news from the ever-changing Post & Go series
---
GB Pioneer Flights of 1912
Peter Jennings FRPSL, FRGS reveals the philatelic fall-out from the pioneering flights of 1912
---
Stamping on with 1066
Inspired by the classic 1066 and All That, Alan Sacks continues his own potted philatelic history of Britain
---
GB Specialised Catalogue
A supplement to the Great Britain Specialised Catalogue
---
Bahamas Definitives
Reg Taylor examines the new definitives of the Bahamas, five of which are provided free with this issue of Gibbons Stamp Monthly.
---
At The Berlin Wall
Peter Jennings FRPSL, FRGS meets William Kaczynski, co-author of a new book, Fleeing from the Führer, A Postal History of Refugees from the Nazis
---
Stamp Hunting
Stamps worth looking for from Negri Sembilan
---
Diamond Jubilee Exhibition
John Davis FRPSL showcases some of the highlights of a special philatelic Diamond Jubilee exhibition taking place in Dorset in February
---
Jersey Jubilee
A special report on Jersey Post's ground-breaking Jubilee issue
---
Changes in Stamp Design
Cyril Parsons explores the impact new technology has had on the stamps issued during the reign of The Queen
---
IOM's Olympic Games Issue
We get on-track with the Isle of Man's Olympic issue, which has the honour of being the first London Olympic Games postage stamp issue of 2012.
---
Penang Hotel Post Office
Rob Holley presents a study of the Eastern and Oriental Hotel post office in Penang
---
Afghanistan Cancels
Robert Jack reveals a collecting field where torn and otherwise damaged stamps are very much sought-after
---
King George VI Postmarks
David Horry highlights the postmarks in use during the British Occupation of the former Italian Colonies
---
Shore to Shore
Island Hopper reports on stamps from the Channel Islands and Isle of Man.
---
Stamp News in Brief
A summary of recent and forthcoming issues from around the world.
---
Panorama
Dean Shepherd investigates some recent new issues.
---
Unissued QEII/Catalogue Column
David Horry reveals the story behind another unissued stamp. Hugh Jefferies looks at plate flaws from Great Britain and Sudan and an inverted over print from Mauritius
---
Catalogue Supplement
A 14-page update to the Stanley Gibbons Catalogue.
---