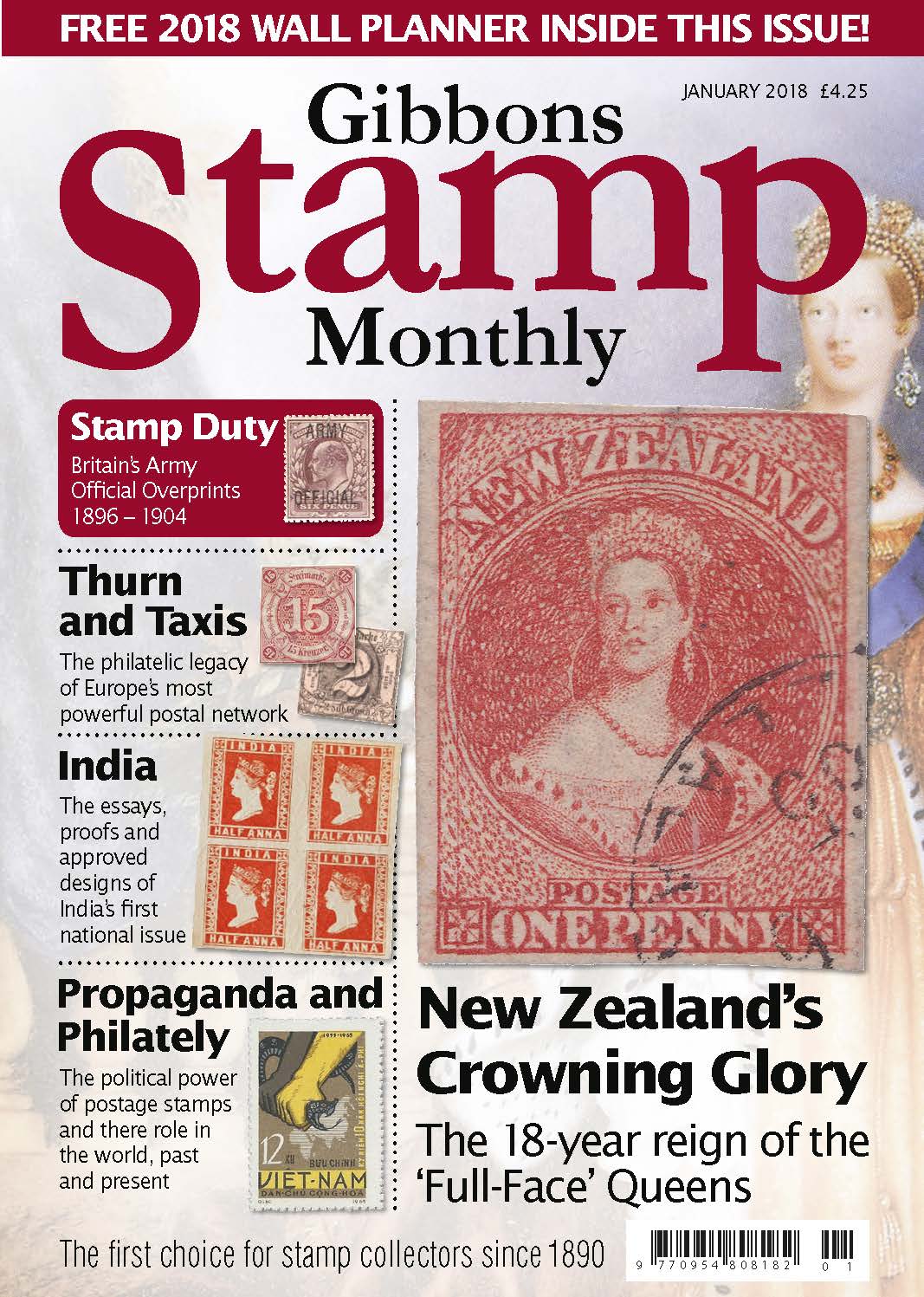 Contents January 2018
Contents to Volume 48, Number 8
---
Newsdesk
The latest news from around the philatelic world.
---
Society News
More reports from the nation's Philatelic Societies.
---
Diary Dates
Forthcoming fairs and auctions.
---
Around the Houses
The latest reports from auction rooms at home and abroad.
---
GB News
We look at Royal Mail's annual products for 2017 and its new prestige booklet that's 'out of this world'.
---
Army Official Overprints 1896 to 1904
David Milsted FRPSL details the most intensively studied of all British departmental issues.
---
Machin Watch
In the last 'Machin Watch' of 2017, John Deering looks at Royal Mail's latest Star War p.s.b., before providing an update on M17L self-adhesive Security Machins.
---
1870 Bantam Halfpenny
Richard Wheatley discusses the Bantam halfpenny introduced in 1870, with a particular focus on its use in his home town of Leeds.
---
GB Specialised Supplement
The latest supplement to the GB Specialised Catalogue.
---
Dear GSM
Readers have their say, courtesy of the GSM postbag.
---
New Zealand's 1855 Full-Face Queens
David Smitham looks at the 18-year reign of New Zealand's first stamp issue, the Full-Face Queens.
---
A Study of the First Issues of India (1852-54): Part 2
Pragya Jain continues his study of the early stamps of India with a focus on the country's first national issue.
---
British Colonial and Protectorate Stamps Part 8: Ceylon
With changes in currency, printers, papers and perforations to explore, Ceylon is a paradise for Commonwealth collectors, as Noel Davenhill reveals in the latest instalment of his ongoing series.
---
Bookshelf
More reviews of the latest philatelic publications.
---
Exotic Tropical Fruits on Stamps
Barry Floyd serves up a healthy serving of exotic fruits to be found on stamp issues from around the world.
---
Thurn and Taxis
For over 400 years the Thurn and Taxis family operated a postal network that eventually covered most of Europe. Alan Wishart provides a history of the service and the stamps it produced.
---
Gone But Not Forgotten
John Moody investigates the philatelic legacies left behind the 'dead' countries of Alaouites, Biafra and Bahawalpur.
---
2017 Yearbooks
As 2017 draws to a close, Jersey, Guernsey and Macau look back at their issues of the past year and reveal some highlights of their 2018 programmes.
---
The Single Circle Postmarks of the Colonies
David Horry showcases the introduction and use of Single Circle Postmarks in the Colonies.
---
The Five (Philatelic) Lives of Christmas Island
Steve Pendleton takes us to the central Pacific for a tour of the postal history of Christmas Island.
---
Stamp Hunting
Nimrod highlights the key issues of Somaliland.
---
The Bird Definitives of Niger
Niger's Bird definitives can feel a bit like a jigsaw puzzle, especially when it comes to laying out an album page. Luckily, Michael Round helps to piece things together.
---
Philatelic Propaganda
Since their introduction in 1840 stamps have been used as a tool of propaganda. Christer Brunstrom highlights their use for political, religious and territorial means.
---
Shore to Shore
Catch up with the latest news from Guernsey, the Isle of Man and Jersey.
---
Competition
Another chance to win a £50 Stanley Gibbons voucher.
---
Panorama
Alison Boyd looks into the stories behind some more new stamp issues.
---
Stamp News in Brief
A summary of recent and forthcoming issues.
---
The Unissued Stamps of Costa Rica
More faux fun from the Hedley Adams Mobbs collection.
---
Catalogue Column
SG Catalogue Editor, Hugh Jefferies, seeks help from readers regarding a modern GB variety.
---
Catalogue Supplement
Your 14-page update to the Stanley Gibbons Catalogue.
---