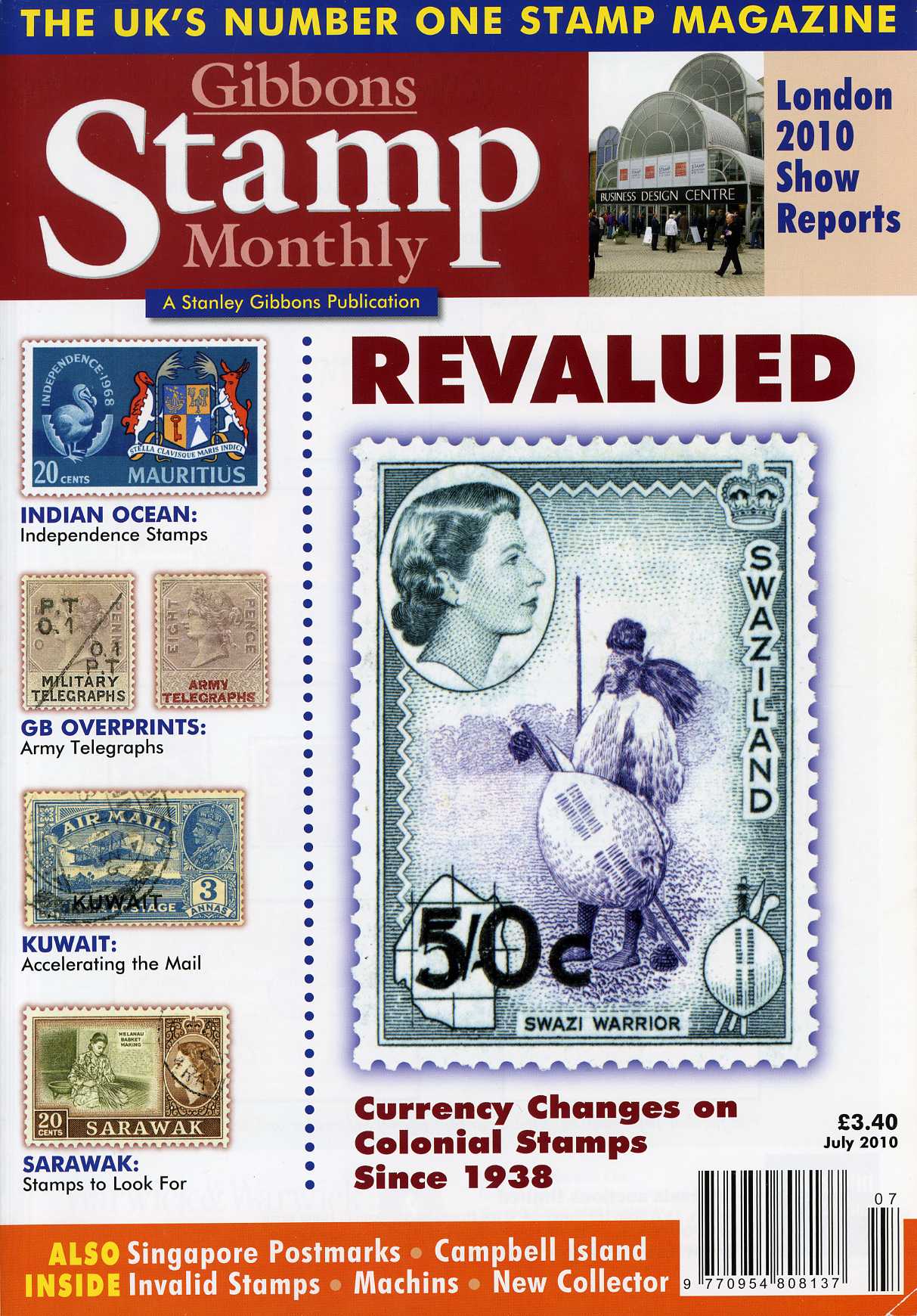 Contents July 2010
Contents to Volume 41, Number 2.
---
Provisional Surcharges on Stamps from British Colonies and Dependent Territories from 1938 to the 1970s
The introduction of decimal currency resulted in numerous surcharged stamps during this period, but was not the only reason, as Noel Hilary Davenport reveals.
---
The Birth of the World's First Set of Chinese Stamps on Xuan Paper
Xuan paper is one of the four teasures of Chinese calligraphy; Charles (Cao Cheng) looks at the background to a recent set from China.
---
The Use of Military and Army Telegraphs Stamps in British Military Campaigns, 1884–1902
Another area covered by the Great Britain Overprints Society is introduced by Tony Stanford.
---
Independence Comes to the Isles of the Indian Ocean
David R Wright examines the way independence was marked on the stamps of former British and French colonies.
---
Accelerating the Mail—Kuwait 1923 to 1939
Faster and cheaper—Francis Kiddle shows how the mail service to this isolated country improved.
---
Singapore Postmarks Within the King George VI Period 1937–1955
In Part 2 of this article, David Horry turns his attention to the markings used at the head post office and the administered territories of Christmas Island and the Cocos (Keeling) Islands.
---
London 2010 Exhibition: A Personal View
John Holman reviews some of the competitive entries that appealed to him.
---
Exhibits Sparkle at Cash-strapped London 2010 International Stamp Exhibition
A report by Peter Jennings, FRPSL, FRGS.
---
Campbell Island—the Island Between
The postal history of another remote island is examined by Steve Pendleton
---
Foreign Postal Stationery, F to N
Geir Sør-Reime continues his annual survey of postal stationery.
---
GB News
The build up to the 2012 Olympic Games continues with the issue of ten more stamps and a stamp booklet on 27 July.
---
Machin Watch
John M Deering reveals more hidden markings on Machin Security stamps and reviews the King George V prestige booklet.
---
The Later Stuarts on Stamps
A thematic timeline of Jacobite royalty presented by John Holman.
---
GB Specialised Catalogue
A supplement to the Great Britain Specialised Catalogue.
---
Invalid Postage: Stamps and Labels
Most items sent through the post have the correct postage; sometimes, however, invalid stamps or even labels have been used. Michael Peach illustrates some examples.
---
Newsdesk
New Chief Executive for Royal Mail; London 2010 reports; US imperf error found; Treskilling Yellow at auction; Postcard record attempt.
---
Society News
Reports from philatelic societies.
---
Diary Dates
Forthcoming stamp fairs and auctions
---
Around the Houses
News of recent auction results.
---
New Collector
John Holman looks at stamps of Edward VII, the Indian Feudatory States of Dungarpur and Las Bela and provides guidance on condition.
---
---
---
Stamp Hunting/Competition
Nimrod suggests some stamps that are worth looking for from Sarawak. Your chance to win a £50 SG voucher.
---
The Unissued Stamps of Queen Elizabeth/Catalogue Column
David Horry reveals the story behind another unissued stamp. The Catalogue Editor reports on a solved Malta mystery, another Zambia inverted surcharge and some Commonwealth plate flaws.
---
Shore to Shore
Jersey Marine Life, Manx Coinage and The Adentures of Penny the Postie—a children's story from Guernsey; Island Hopper reports on some new releases.
---
Panorama
Dean Shepherd investigates the background to some more new issues.
---
Stamp News in Brief
A summary of recent and forthcoming issues from around the world.
---
Catalogue Supplement
A 16-page update to the Stanley Gibbons Catalogue.
---