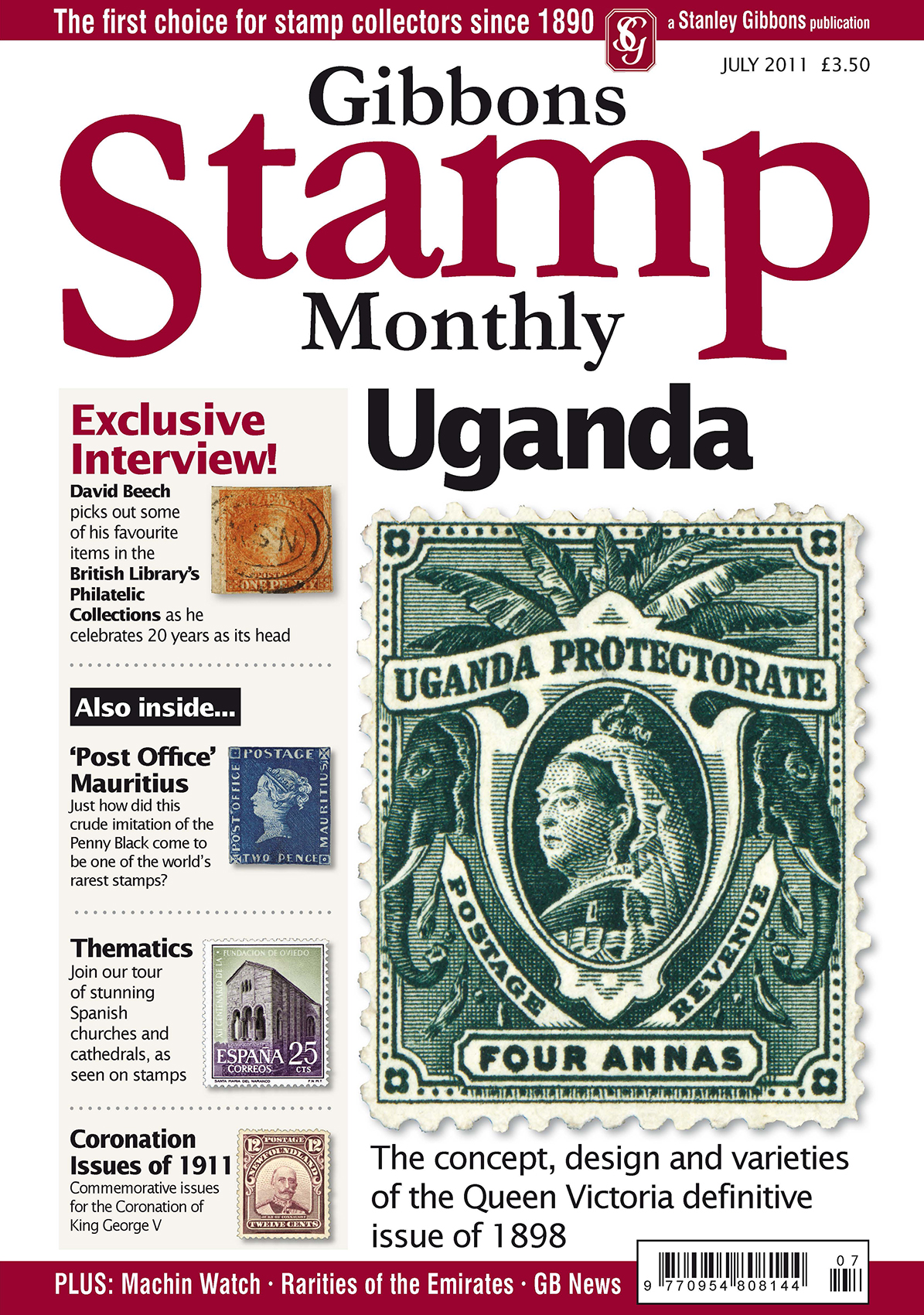 Contents July 2011
Contents to Volume 42, Number 2.
---
Newsdesk
The latest news from the stamp world.
---
Society News
Reports from philatelic societies.
---
Diary Dates
Forthcoming Fairs and Auctions.
---
Around the Houses
News of recent auction results.
---
New Collector
John Holman looks at the 1951 Great Britain definitives of King George VI, dead and new countries and the Delhi Durbar of 1911.
---
GB News
The final set of Olympic and Paralympic Games stamps issued on 27 July.
---
Machin Watch
John Deering discusses the Morris & Co prestige booklet and the third in the series of Birds Post&Go stamps.
---
Diplomatic Bag Labels
Bryan Kearsley and Arthur Weston survey some of the labels attached to diplomatic mail when dispatched to British Missions abroad.
---
GB Specialised Supplement
A supplement to the Great Britain Specialised Catalogue.
---
Uganda Queen Victoria
George T Krieger takes a look at all the aspects, from design to usage, of the 1898 definitive set.
---
---
GSM Bookshelf
Reviews of recent books on Fiji's 2006–9 definitive surcharges and Abram Games and the Festival of Britain.
---
Fiji Surcharges
In Part 2 of this article, Bryan Jones examines surcharges on the 23c. value of Fiji's Birds definitives and speculates on what will happen next.
---
'Post Office' Mauritius
Paul Brittain reveals the story behind the famous 1d. and 2d. 'Post Office' stamps of Mauritius.
---
Spanish Churches
Spain's churches and cathedrals have appeared on many of its stamps, often finely engraved. Anthony New FSA, FRIBA, MIStructE, begins a philatelic tour.
---
Tanganyika KGVI Postmarks
David Horry concludes his review of postmarks worth searching for on the stamps of Kenya, Uganda and Tanganyika.
---
Stamp Hunting/Competition
Nimrod suggests stamps worth looking for from the New Hebrides. Your chance to win one of five Great Britain Concise Catalogues.
---
The Coronation of 1911
Although Britain did not issue a stamp to mark the Coronation of King George V, Peter van Gelder shows that there is still much interesting material to collect.
---
Rarities of the Emirates
The Gulf Emirates have a poor reputation amongst collectors but there are, as Jakob von Uexkull reveals, some very scarce items—and interest is growing and prices rising.
---
David Beech
Peter Jennings FRPSL, FRGS, interviews David Beech who selects some of his favourite items from the British Library Philatelic Collections.
---
Foreign Postal Stationery, G–N
Geir Sør-Reime continues his survey of foreign postal stationery with countries from Germany to Norway.
---
Born Again Collector
In the second of his articles on returning to collecting, Ian Matthews asks what makes a stamp collector?
---
Website Review
Dean Shepherd reviews the new Stanley Gibbons website.
---
Shore to Shore
Island Hopper reports on Alderney Birds, Jersey Shipwrecks and Manx Cats.
---
Stamp News in Brief
A summary of recent and forthcoming issues from around the world.
---
Panorama
Dean Shepherd investigates some recent new issues.
---
Unissued QEII/Catalogue Column
David Horry reveals the story behind another unissued stamp. Hugh Jefferies reports on some more varieties.
---
Catalogue Supplement
A 16-page update to the Stanley Gibbons Catalogue.
---