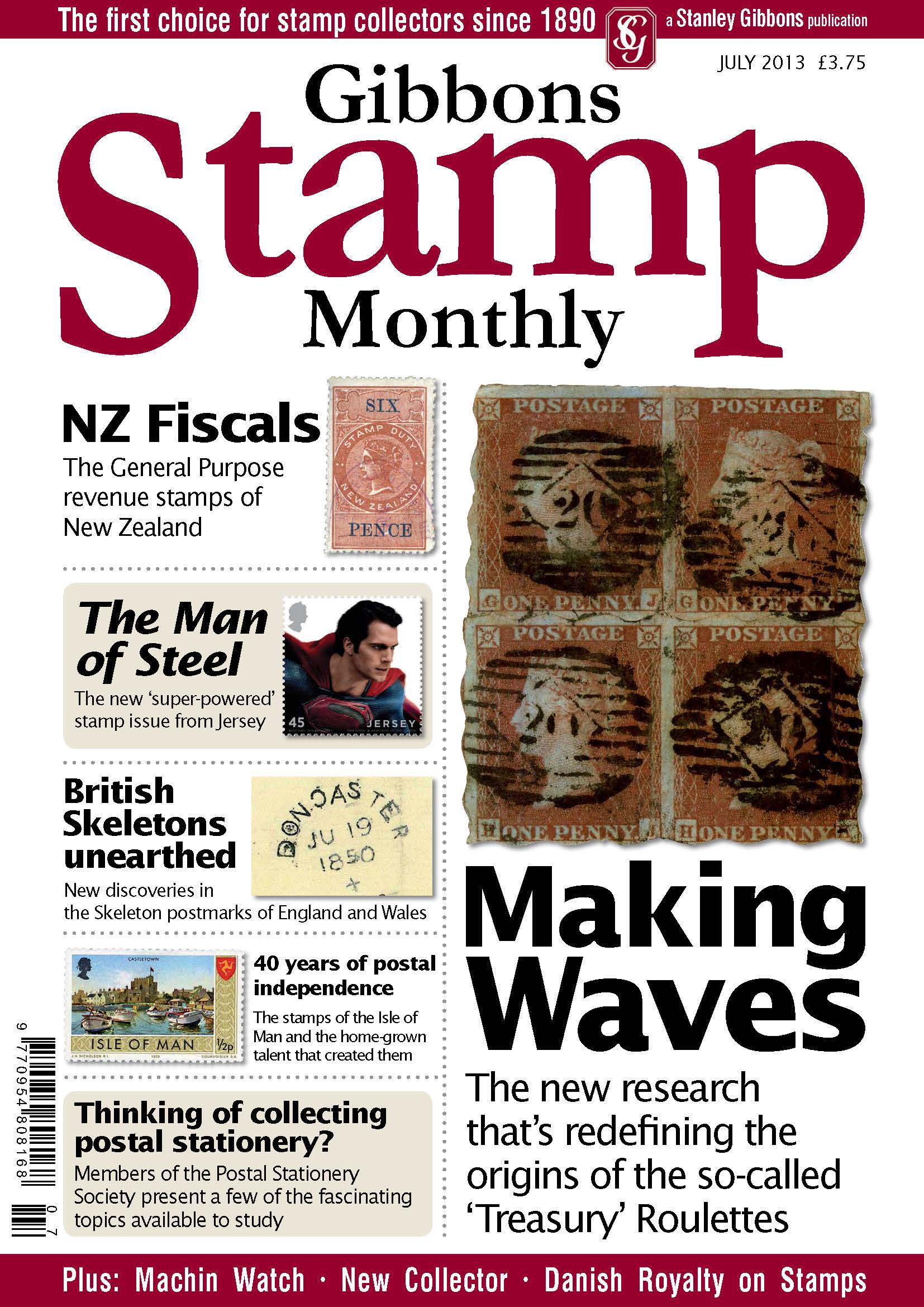 Contents July 2013
Contents to Volume 44, Number 2
---
Newsdesk
More details on the up-coming BPMA stamp sale, new King George V variety discovered; Australia 2013 report.
---
Society News
More reports from the nation's Philatelic Societies.
---
Diary Dates
Forthcoming fairs and auctions.
---
Around the Houses
A collection of the latest auction results.
---
New Collector
John Holman presents another inspiring article for new (and seasoned) collectors.
---
GB News
Royal Mail's 60th Anniversary of the Coronation and Classic Locomotives of Northern Ireland issues.
---
The 'Treasury Roulette': An Enigma Unwrapped
Discover how Ray Simpson's recent research is redefining the origins of the so-called 'Treasury Roulettes'.
---
An Update on Skeleton Stamps: Part 1
Harry Layne offers new information on the unframed and framed Skeleton postmarks of England and Wales.
---
Machin Watch
John Deering takes a closer look at Royal Mail's recent Doctor Who and Football Heroes stamp issues, including a bit of an 'own goal' from Royal Mail.
---
Stamp Variants in Royal Mail Smilers Sheets—an Update. Part 2
John Gray continues his in-depth update on recent Smiler sheet varieties.
---
GB Specialised Catalogue
The latest supplement to the Great Britain Specialised Catalogue.
---
The Postal Stationery Society
As the PSS marks 21 years, members offer a small taste of what this field of collecting has to offer. To begin, Colin Baker introduces the history of postal stationery and the Society itself.
---
Around The World For A Penny: British 'Foreign Rate' Postcards, 1892–1917
How much variety can one type of British postal stationery offer? Peter O'Keeffe reveals the infinite possibilities.
---
Belgian Postal Stationery: The Sunday Label
Chris Howe explains how religious politics led to some often confusing designs on Belgium's early postal stationery.
---
Collecting Mauritius Postal Stationery
Looking for a new collecting avenue? Alan Huggins explains the many reasons why you should consider the postal stationery of Mauritius.
---
2011–12 Foreign Postal Stationery
Geir Sor-Reime continues his annual survey of postal stationery from around the world.
---
New Zealand's General Purpose Revenue Stamps
With face values ranging from 1d. to over £190,000, New Zealand's General Purpose revenue stamps offer a fascinating area of study, as David Smitham reveals.
---
Vatican Post Office Sede Vacante Stamps and Emeritus Pope Benedict
Peter Jennings reports from The Vatican on the recent Sede Vacante issue for Pope Benedict XVI.
---
The Postmarks of Southern Rhodesia during the King George VI Period, 1937–1953
David Horry explores Southern Rhodesia, which still offers a rich source of rare King George VI postmarks.
---
Jersey's Man of Steel
Discover the story behind Jersey Post's latest 'super' issue.
---
Stamp Hunting
Nimrod highlights some important stamps to look out for from St Vincent.
---
Creating a Jewel of the Jubilee: Part 4—The European Connection
John Davis focuses on the history of Denmark's royal family, as shown through stamps.
---
Competition
Your chance to win a £50 Stanley Gibbons voucher.
---
The Manx Factor
40 years after the Isle of Man achieved postal independence, Richard West looks back at some of the home-grown talent responsible for its stamps.
---
Shore to Shore
New issues from the Isle of Man, Guernsey and Jersey
---
Panorama
More of the latest new issues get put under the spotlight.
---
Stamp News in Brief
Your monthly summary of recent and forthcoming issues.
---
The Unissued Stamps of Queen Elizabeth II/Catalogue Column
The unissued stamps of Non-Sequiturial Africa. Hugh Jefferies presents his latest comments as SG catalogue editor.
---
Catalogue Supplement
A 18-page update to the Stanley Gibbons Catalogue.
---