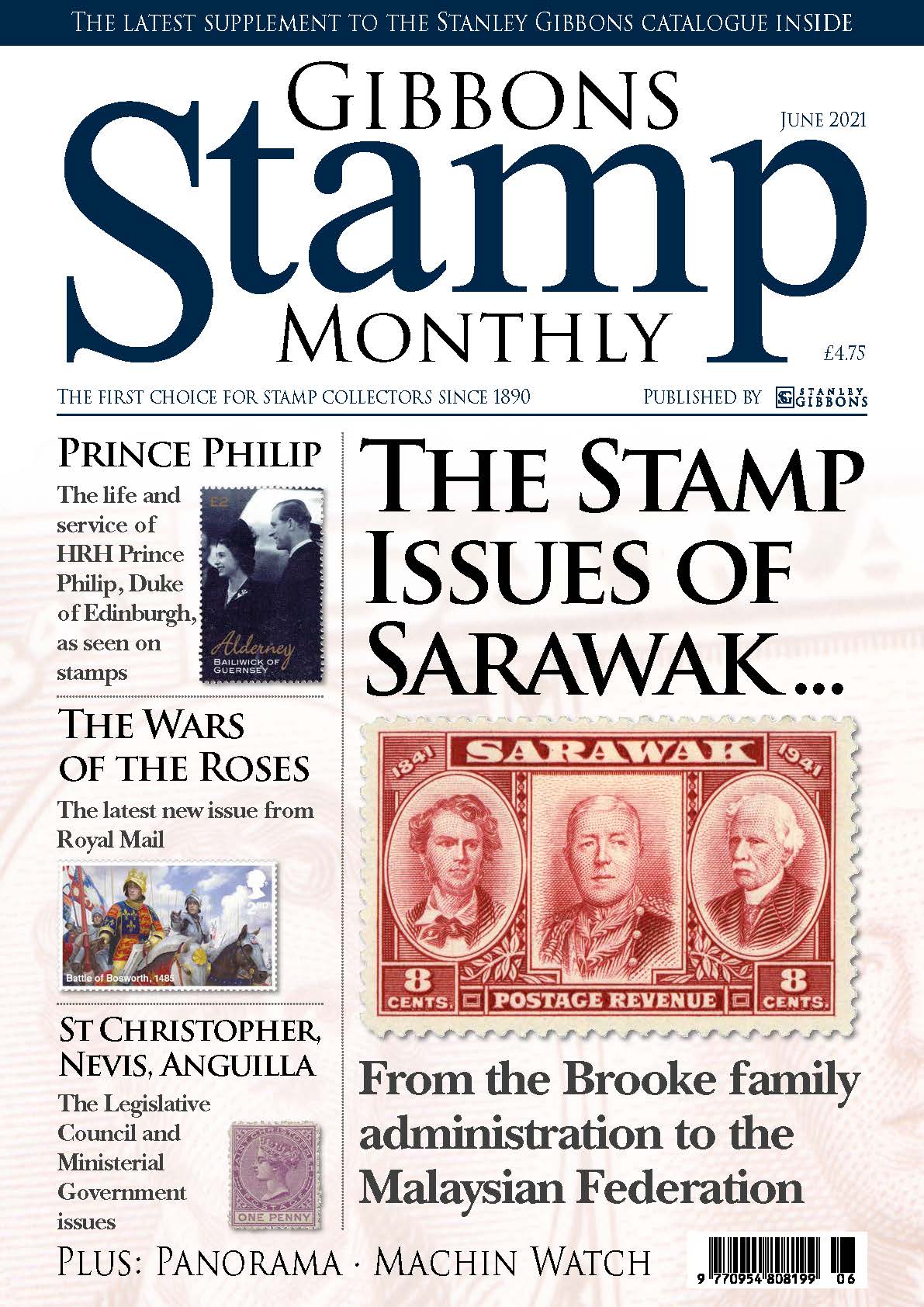 Contents June 2021
Contents to Volume 52, Number 1
---
Newsdesk
The latest philatelic news from around the world.
---
Virtual Stampex 2.0
Richard West sees what the latest online exhibition from the PTS had to offer.
---
Society News
More reports from the nation's philatelic societies.
---
Diary Dates
Forthcoming fairs and auctions.
---
Around the Houses
News of recent auction results.
---
The 2021 Stanley Gibbons Blues Awards
We announce the results from another highly successful online single-page competition from SG.
---
New Collector
Richard West offers more advice for those who have taken up stamp collecting for the first time during lockdown. In this instalment, he looks at the essential tools needed to get off to the right start.
---
GB News
We look into the history behind Royal Mail's Wars of the Roses issue which is released to coincide with the 550th anniversary of the Battle of Tewkesbury.
---
GB Undeliverable Mail: British Mail of World War I: Part 2
Robert Galland concludes his study of returned mail during World War I with an examination of the various labels, handstamps and explanatory slips used when processing undeliverable civilian mail.
---
Machin Watch
In another packed article of news and developments for modern GB collectors, John Deering looks at the details surrounding the recent Walsall-printed £2.55 Security Machin and much more.
---
The Wisdom of Buying Stamps
Intrigued by the rising value of classic stamps, Devlan Kruck considers if readily available modern stamp issues will ever see any significant return for investors in years to come.
---
GB Specialised Supplement
The latest supplement to the Stanley Gibbons Great Britain Specialised Catalogue.
---
British Colonial and Protectorate Stamps Part 28: Sarawak
Noel Davenhill returns with another article on former British colonies and protectorates with a look at the stamps issues of Sarawak.
---
Gone But Not Forgotten
In another of his regular articles on 'dead' countries, John Moody takes a look at the complex political and philatelic history of three small islands in the Caribbean – St Christopher, Nevis and Anguilla.
---
HRH Prince Philip, Duke of Edinburgh (1921–2021)
Cyril R H Parsons celebrates the life of Prince Philip through a selection of stamps which commemorate key events in his life and his many achievements.
---
Bookshelf
The latest book releases read and rated.
---
The 1938 Long Range Development Flight to Australia
Nicholas Oughton discusses the aircraft, pilots and mail that flew non-stop half way around the globe during the RAF's record-breaking long-distance flight from Egypt to Australia in 1938.
---
Female Astronauts Celebrated on Stamps
Katrin Raynor-Evans illustrates a few of her favourite stamps from around the world which mark the achievements of female astronauts.
---
Anthony Buck Creeke Junior 1860–1932
The rise, fall and rise of the colourful career of this philatelist and author is examined by Michael Peach.
---
Stamp Hunting
Stamps to look out for from Bahamas.
---
Polar Philately Meets Space Philately
Gerhard Freund comments on the 'out-of-this-world' journey taken by a group of letters sent from the remotest post office on Earth to the International Space Station.
---
Postal Stationery Matters
In his latest round-up of recent postal stationery finds, Peter van Gelder highlights an attractive advertisement postal envelope from Austria, gives some much deserved recognition to postal stationery of South Australia and reveals the story behind a British business envelope sent at the end of the 19th century.
---
2020 Foreign Postal Stationery
Geir Sør-Reime begins his annual review of modern postal stationery, beginning with issues from Aland to Guinea-Bissau.
---
Shore to Shore
We highlight the latest new issues from Guernsey, Isle of Man and Jersey.
---
Competition
Don't miss your chance to win a £50 Stanley Gibbons voucher.
---
Stamp News in Brief
A summary of recent and forthcoming issues.
---
Panorama
Alison Boyd investigates the stories behind some of the latest stamp issues from around the world.
---
The Unissued Stamps of Greece
David Horry presents another example from the Hedley Adams Mobbs collection.
---
Catalogue Column
Hugh Jefferies offers more thoughts from the Catalogue Editor's chair.
---
Catalogue Supplement
A 14-page update to the Stanley Gibbons Catalogue.
---