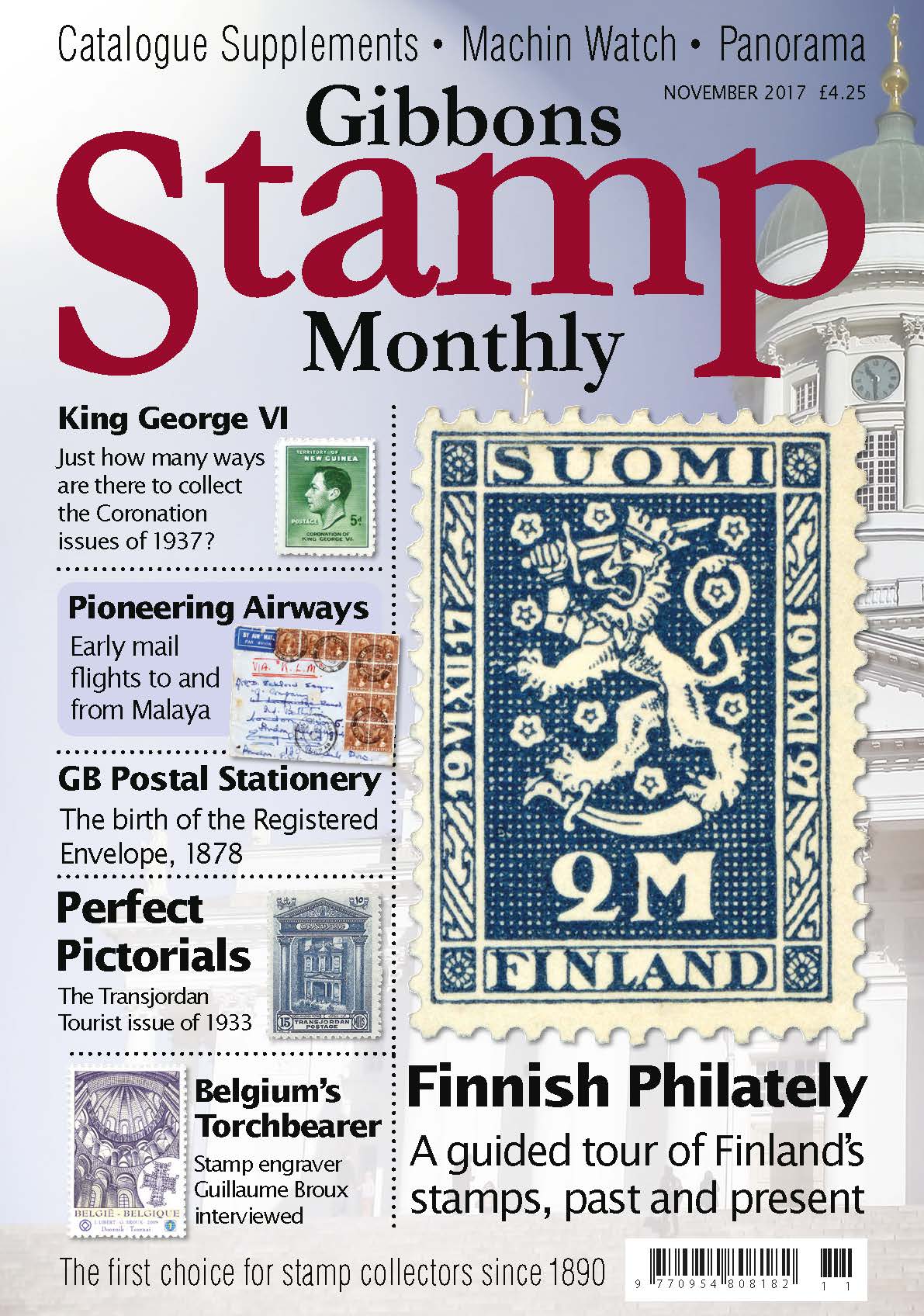 Contents November 2017
Contents to Volume 48, Number 6
---
Newsdesk
The latest philatelic news from around the world, including Luxembourg's Europa 'Castles' error and a preview of the philatelic gems that will be on show at MonacoPhil 2017.
---
Stampex
New product launches, exclusive collectables and world class displays all came together for the latest Stampex show in London.
---
Society News
More reports from the nation's Philatelic Societies.
---
Diary Dates
Forthcoming fairs and auctions.
---
Around the Houses
The latest reports and important upcoming sales from auction rooms at home and abroad.
---
GB News
Royal Mail reveals the winning designs for its 2017 Children's Christmas Design competition.
---
The Birth of Great Britain's Registered Envelopes, 1878
Edward Klempka discusses the development and introduction of Britain's 1878 registered envelopes.
---
Machin Watch
John Deering presents another round-up of modern GB issues, along with a detailed guide to Post & Go inscriptions from Royal Navy museums.
---
Exhibiting at National Level
David Watson talks us through his own personal route to competition success.
---
GB Specialised Supplement
The latest supplement to the GB Specialised Catalogue.
---
By Air from Malaya
Michael Waugh introduces us to the first pioneering flights to and from Malaya and the Netherlands East Indies.
---
Vignettes in Early Aviation
After the Wright Brothers made their historic flight in 1903, pioneering aviators around the world took to the skies in a series of public demonstrations. John F Roe, examines the stamp-like vignettes that were produced to advertise and promote these early aviation events.
---
Basil in Finland
GSM's roving reporter is back! This time he looks at the sometimes controversial philatelic history of Finland, which celebrates its centenary in 2017.
---
Stamps to Collect from the Coronation of King George VI
Richard Berry and Brian Livingstone offer some advice on collecting 1937 Coronation issues and ephemera from Britain and the Empire.
---
Stamp Hunting
Nimrod highlights some desirable stamps to look out for.
---
British Colonial and Protectorate Stamps Part 7: Gold Coast
The latest instalment in Noel Davenhill's series on the development of British Colonial and Protectorate stamps up to the early Elizabethan era, takes us to the Gold Coast.
---
Zinc Through the Ages
Josef Charrach taps into a rich vein of thematic material.
---
King George VI: Changes in Stamp Printing During His Reign: Part 2
Cyril Parsons continues his study of the changes in printing techniques that occurred during the reign of King George VI.
---
Transjordan's Tourist Issue of 1933
Christer Brunstrom takes us on a guided tour of Transjordan's 1933 pictorial issue.
---
Dear GSM
Readers have their say, courtesy of the GSM postbag.
---
90 years of Gibbons Stamp Monthly
The history of GSM in all its guises from 1890.
---
Bookshelf
Reviews of the latest philatelic publications.
---
Guillaume Broux: Belgium's Torchbearer
Adrian Keppel talks to Belgium's Master Engraver about his long and prolific career.
---
Stamp News in Brief
A summary of recent and forthcoming issues.
---
Shore to Shore
More issues from Jersey, Isle of Man and Guernsey.
---
Competition
Another chance to win a £50 Stanley Gibbons voucher.
---
Panorama
More stories behind the latest stamp issues.
---
The Unissued Stamps of King George VI
More faux fun from the Hedley Adams Mobbs collection.
---
Catalogue Column
Hugh Jefferies comments from the Catalogue Editor's chair.
---
Catalogue Supplement
Hugh Jefferies comments from the Catalogue Editor's chair.
---