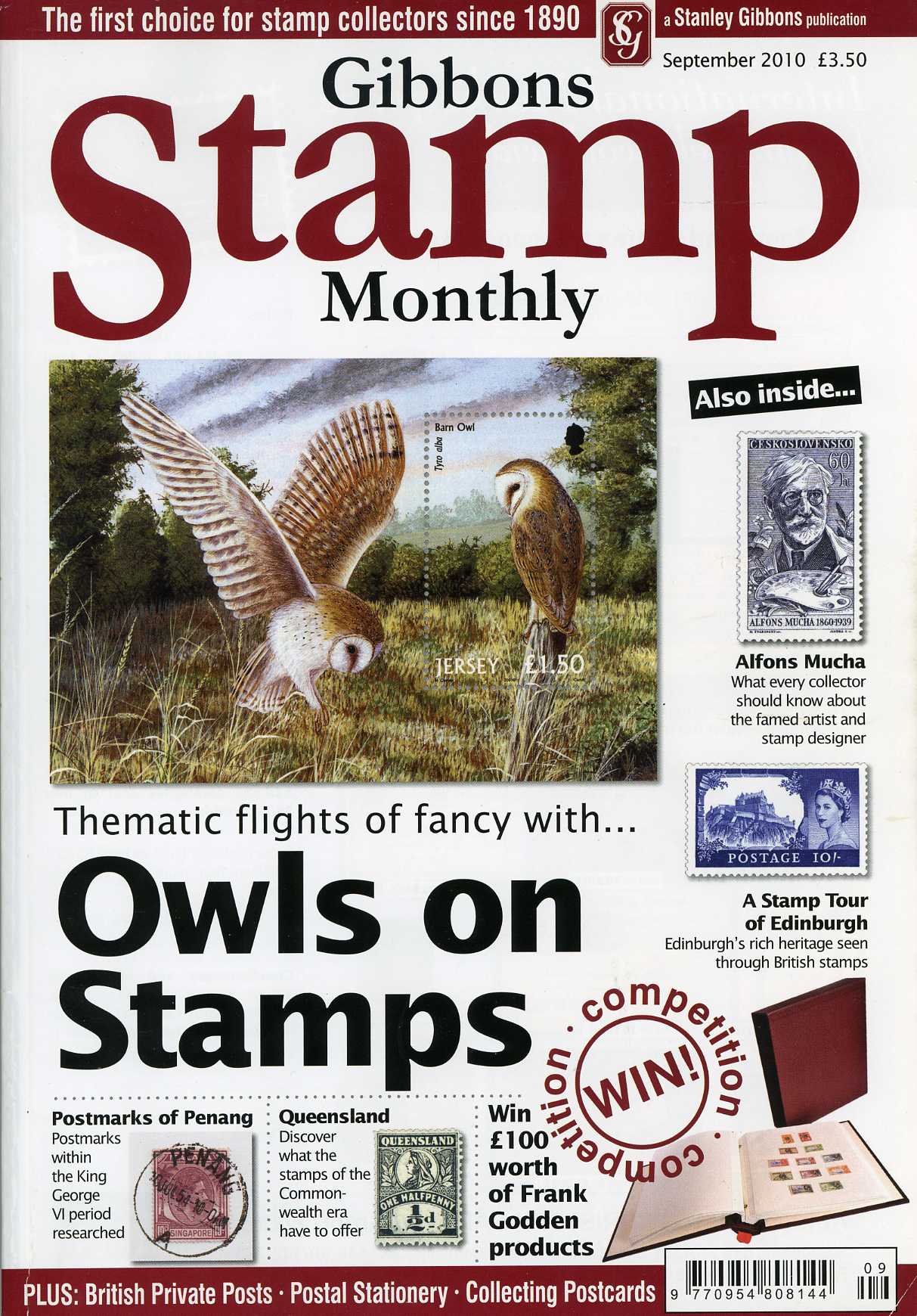 Contents September 2010
Contents to Volume 41, Number 4.
---
Newsdesk
The latest news from the stamp world.
---
Society News
Reports from philatelic societies.
---
Diary Dates
Forthcoming Fairs and Auctions.
---
Around the Houses
News of recent auction results.
---
New Collector
John Holman looks at Czech stamps designed by Alfons Mucha and the Indian Feudatory States of Nawanagar and Orchha; plus updates and reports from readers
---
GB News
New Royal Mail issues: Medical Breakthroughs, Garden Birds Post & Go stamps.
---
Stamps of London 2010
Derek Connell's souvenirs of London 2010.
---
Machin Watch
John M Deering examines recent booklets, iridescent overprints and the Machin and George V double head.
---
British Private Posts
Downstream Access Mail, Tourist stamps, Railway Letter stamps and Island stamps feature in John Holman's survey of recent happenings.
---
Stamp Tour of Edinburgh
Robert W Catto visits Scotland's capital, reviewing stamps that depict the city's heritage.
---
The Cut-out Man
Michael Peach and Peter van Gelder tell the story of Herbert Weston, better known as Victor Marsh, well-known for his use of postal stationery cut-outs.
---
GB Specialised Catalogue
A supplement to the Great Britain Specialised Catalogue.
---
---
GSM Bookshelf
Reviews of works on Sicily and Newfoundland.
---
Gibraltar Post Office
Richard Garcia looks at the early years of the post office in Gibraltar.
---
The Diary of Samuel Creeps
Michael Banister selects more extracts from the journal of an ordinarie collector.
---
Owls on Stamps
P J Lanspeary reviews this popular thematic collecting subject.
---
Penang Postmarks – KG VI
More scarce and rare cancellations identified by David Horry.
---
Stamp Hunting/Competition
Nimrod suggests some stamps worth looking for from Dominica. Your chance to win a £50 SG voucher in our easy-to-enter competition.
---
Postcard Fun
John Scott explores some unusual branches of postcard collecting.
---
Postal Stationery Matters
Peter van Gelder reports from London 2010 and stationery items from South Africa and Western Australia.
---
Queensland Stamps, 1901–1912
The background to the stamps of the first years of Federation is outlined by Richard Breckon.
---
Cardinal Newman & Papal Visit
Peter Jennings FRPSL, FRGS, reports on a new issue from the Isle of Man.
---
Panorama
Dean Shepherd investigates the background to some recent new issues.
---
Shore to Shore
Island Hopper previews the Isle of Man's Pope Benedict XVI miniature sheet, Freshwater Fish from Jersey and Guernsey's National Trust Treasures
---
Unissued QEII/Catalogue Column
David Horry reveals the story behind another unissued stamp. Hugh Jefferies reports on a Falkland Islands watermark and varieties on British King Edward VII and George V stamps.
---
Catalogue Supplement
A 15-page update to the Stanley Gibbons Catalogue.
---