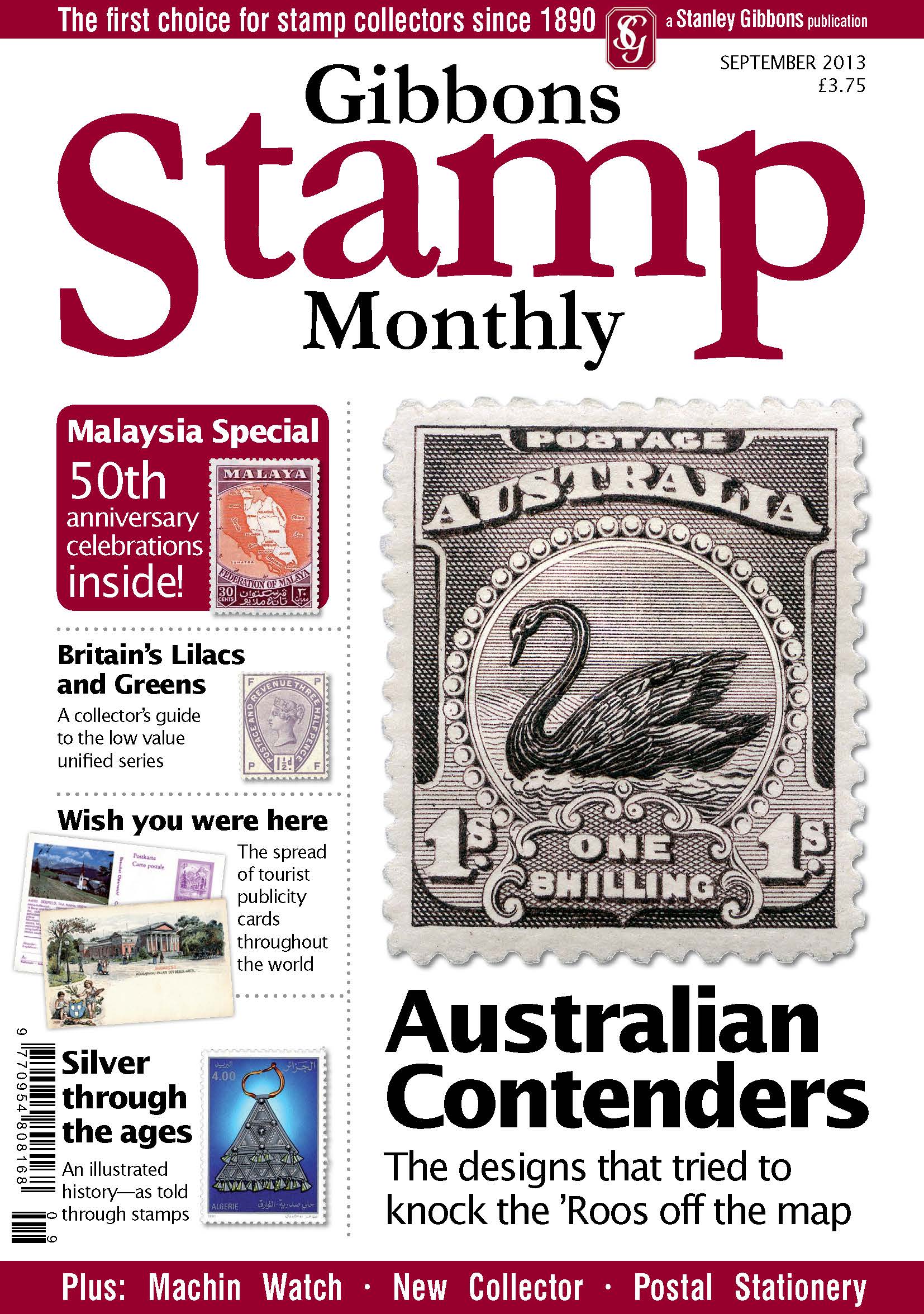 Contents September 2013
Contents to Volume 44, Number 4
---
Newsdesk
The latest philatelic news from around the world including: Royal Mail's hugely popular stamp competition.
---
Autumn Stampex
Floorplan and list of standholders
---
Society News
More reports from the nation's Philatelic Societies.
---
Diary Dates
Forthcoming fairs and auctions.
---
Around the Houses
News of recent auction results.
---
New Collector
John Holman looks at granite paper and a very famous locomotive in his latest column for new collectors.
---
Competition
Your chance to win a £50 Stanley Gibbons voucher.
---
GB News
Royal Mail celebrates classic British legends of the road and a modern-day hero of Centre Court.
---
Collecting Lilacs and Greens: Part 1
John Roe of the Bath Postal Museum provides an introduction to the 1883–84 low value unified series.
---
Rubber Stamp Postmarks
Harry Layne reviews the history of this often overlooked area of postmark collecting.
---
GB Specialised Catalogue
The latest supplement to the Great Britain Specialised Catalogue.
---
British Private Posts
The latest new issues from Britain's private island, railway and tourist posts.
---
Machin Watch
In his latest column John Deering presents a run down of Post & Go issues, past, present and future.
---
The Malaya Study Group
Martin Roper talks about what the Malaya Study Group offers new and seasoned collectors.
---
A Brief History of the Founding of Malaysia, as told by its Stamps
Susan McEwen highlights the dramatic history of Malaysia, from the end of Japanese occupation in the region to its eventual formation.
---
Malaysia's Turtle Power
Malaysia's stamps offer a range of topics for the thematic collector, including, as Mac McClaren reveals, a variety of issues celebrating Malaysia's four species of sea turtles.
---
The Malaysian States Issues, Their Design and Their Background
Nick Hackney traces the development of modern Malaysia, as told through its stamps.
---
The Yang di-Pertuan Agongs of Malaysia Through a Philatelist's Eyes
Discover the unique way Malaysia chooses its Head of State and the philatelic opportunities it offers.
---
Silver Through the Ages
In his latest article on precious gems and metals, Josef Charrach brings us an illustrated history of silver—as told through stamps, covers and postal stationery.
---
Postal Stationery Matters
Peter van Gelder presents postal cards from island prisoners of the Boer War, giant-sized Gambians and an extraordinary book by an extraordinary man on an extraordinary collecting field.
---
Isle of Man Post Office Newspaper Headlines Stamps
Peter Jennings FRPSL, FRGS provides the inside story on the Isle of Man Post Office's headline-grabbing issue.
---
Bookshelf
Philatelic publication reviewed and rated.
---
The Attempted End of Australia's Kangaroo Stamps
Discover the story behind Australia's ill-fated stamps designed to topple the Kangaroo and Map.
---
Basil in Ascension Island: Part 2
Basil Herwald concludes his tour of Ascension Island with a trip to the island's Post Office to discuss new issue policies new and old.
---
Tourist Publicity Cards
Do tourist publicity cards deserve a place in your postal stationery collection? John Barker explains why they do.
---
Stamp Hunting
Nimrod highlights some important stamps to look out for from the Leeward Islands.
---
Creating a Jewel of the Jubilee
The turbulent history of the Greek monarchy, as depicted through stamps.
---
Stamp News in Brief
Your monthly summary of recent and forthcoming issues.
---
Shore to Shore
New issues from the Isle of Man, Guernsey and Jersey.
---
Panorama
More of the latest new issues get put under the spotlight.
---
The Unissued Stamps of Queen Elizabeth II/Catalogue Column
The unissued stamps of the Pitcairn Islands. Hugh Jefferies presents his latest comments as SG catalogue editor.
---
Catalogue Supplement
A 14-page update to the Stanley Gibbons Catalogue.
---