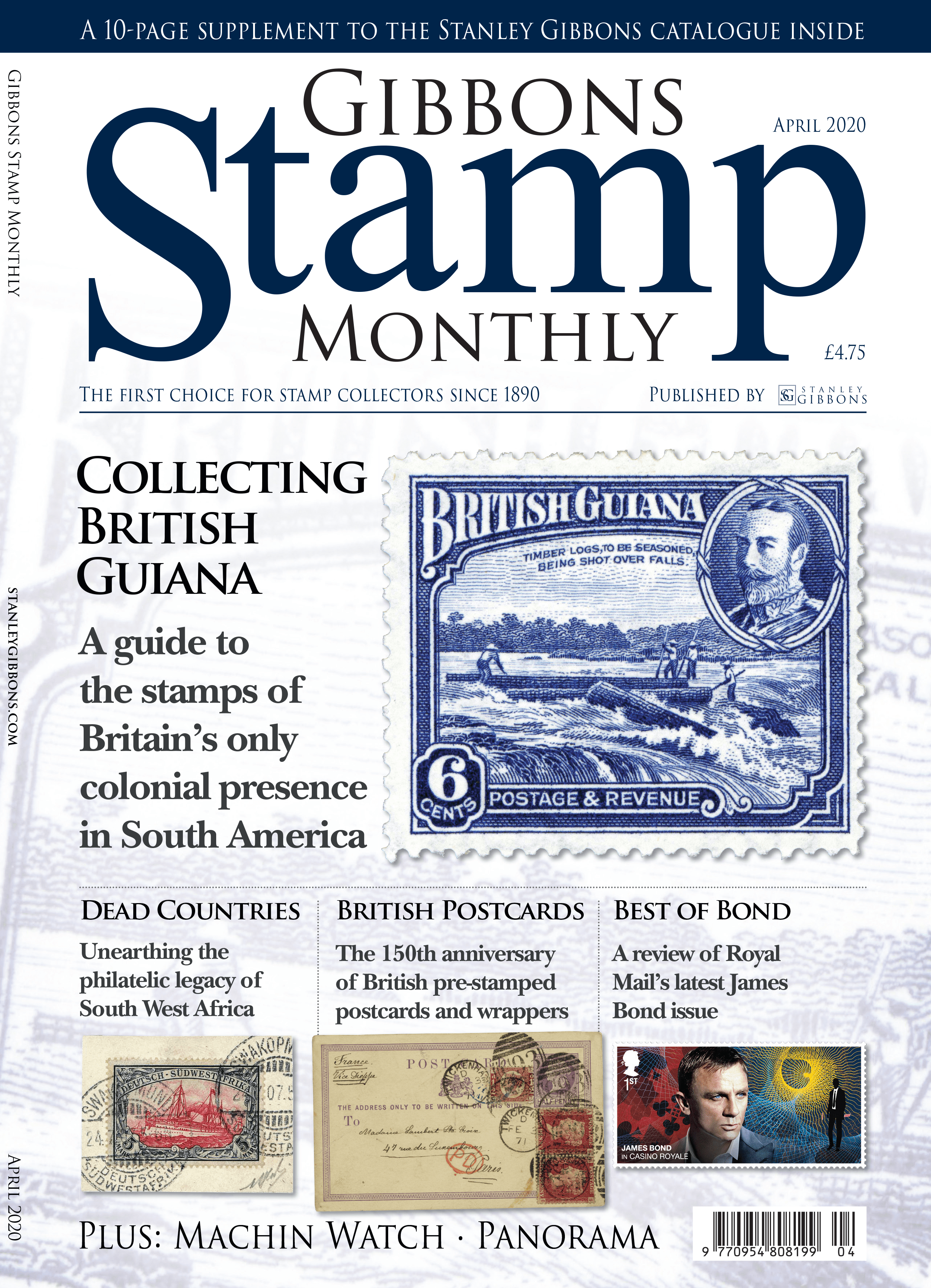 Contents April 2020
Contents to Volume 50, Number 11
---
Newsdesk
The latest philatelic news from around the world.
---
Society News
More reports from the nation's Philatelic Societies.
---
Diary Dates
Forthcoming fairs and auctions.
---
Around the Houses
News of recent auction results.
---
New Collector
Hugh Jefferies continues his series looking at the various reasons why stamps have been overprinted. This month's article includes examples overprinted to commemorate special occasions, raise funds for charities and to meet UPU regulations.
---
GB News
New Royal Mail releases under review include its latest James Bond issue, the new 2020 tariff definitives and a miniature sheet commemorating the Declaration of Arbroath.
---
London 2020: 150th Anniversary of British Pre-stamped Postcards and Wrappers
Alan Huggins provides a sneak preview of the special display from the Postal Stationery Society marking the 150th anniversary of British postcards, which will be on show at the London 2020 exhibition.
---
Ulster Cluster: Celebrating Northern Ireland on GB Stamps
Jeff Dugdale takes us on a philatelic tour of the Emerald Isle, as seen on British stamps.
---
Machin Watch
Included in this month's roundup of modern GB we have the new Machin and emblem country tariff stamps, a new year code for 2nd class Post & Gos and a prestige stamp booklet with two definitive panes.
---
Lilacs and Greens on Cover: Part 2
Collecting the Lilac and Green issue of 1883-84 on cover not only avoids the dangers of soaking due to De La Rue's fugitive inks, but can also provide interesting postal and social history elements to a collection.
---
GB Specialised Supplement
The latest supplement to the Stanley Gibbons Great Britain Specialised Catalogue.
---
British Colonial and Protectorate Stamps Part 21: British Guiana
Noel Davenhill's next stop in his ongoing series on British Empire stamps take us to Britain's only colony in South America.
---
Dear GSM
Readers have their say, courtesy of GSM postbag.
---
India's 1949-1952 Tourist Issue
Christer Brunstrom turns tour guide as he examines an attractive 19-stamp issue depicting some of the wonders of India.
---
Fakes and Forgeries of the British Empire
George James, Head of Commonwealth at Stanley Gibbons, dips into his rogues' gallery of fakes and forgeries to help readers spot some of the pitfalls associated with Falkland Islands philately.
---
Australia and the Antarctic: Part 2
Nicholas Oughton presents a selection of stamps and postal history from the 1930s and 1940s that highlights the rush made by numerous countries eager to lay claim to their slice of the frozen continent.
---
Bookshelf
The latest book and catalogue releases read and rated.
---
South Georgia and its Visiting Expeditions: Part 2
Following on from last month, Hugh Osborne showcases more postal history items produced by the various expeditions that paid a visit to this remote island.
---
Stamp Hunting
In his regular look at the philatelic marketplace, Nimrod highlights the stamps of Aden that are worth keeping a collector's eye out for.
---
Gone But Not Forgotten
In another article looking at stamp issues from 'dead' countries, John Moody discusses the history and philatelic story of South West Africa.
---
Competition
Win a £50 Stanley Gibbons voucher.
---
2019 Foreign Booklets
Geir Sor-Reime presents his latest annual survey of foreign stamp booklets.
---
USA Locals: A Philatelic Quagmire
Christer Brunstrom gives an overview of US locals, some of which predate the country's first official postage stamps.
---
Shore to Shore
We highlight the latest new issues from Alderney, Jersey and the Isle of Man.
---
Stamp News in Brief
A summary of recent and forthcoming issues.
---
Panorama
Alison Boyd investigates the stories behind some of the latest stamp issues from around the world.
---
An Update to the 1998-2004 Bella Bellow Definitives of Togo
Nicholas Pertwee returns with an update to his recent article on the 1998-2004 Bella Bellow definitives of Togo.
---
Catalogue Column
Hugh Jefferies offers more collecting advice from the Catalogue Editor's chair.
---
Catalogue Supplement
Your 10-page update to the Stanley Gibbons Catalogue.
---