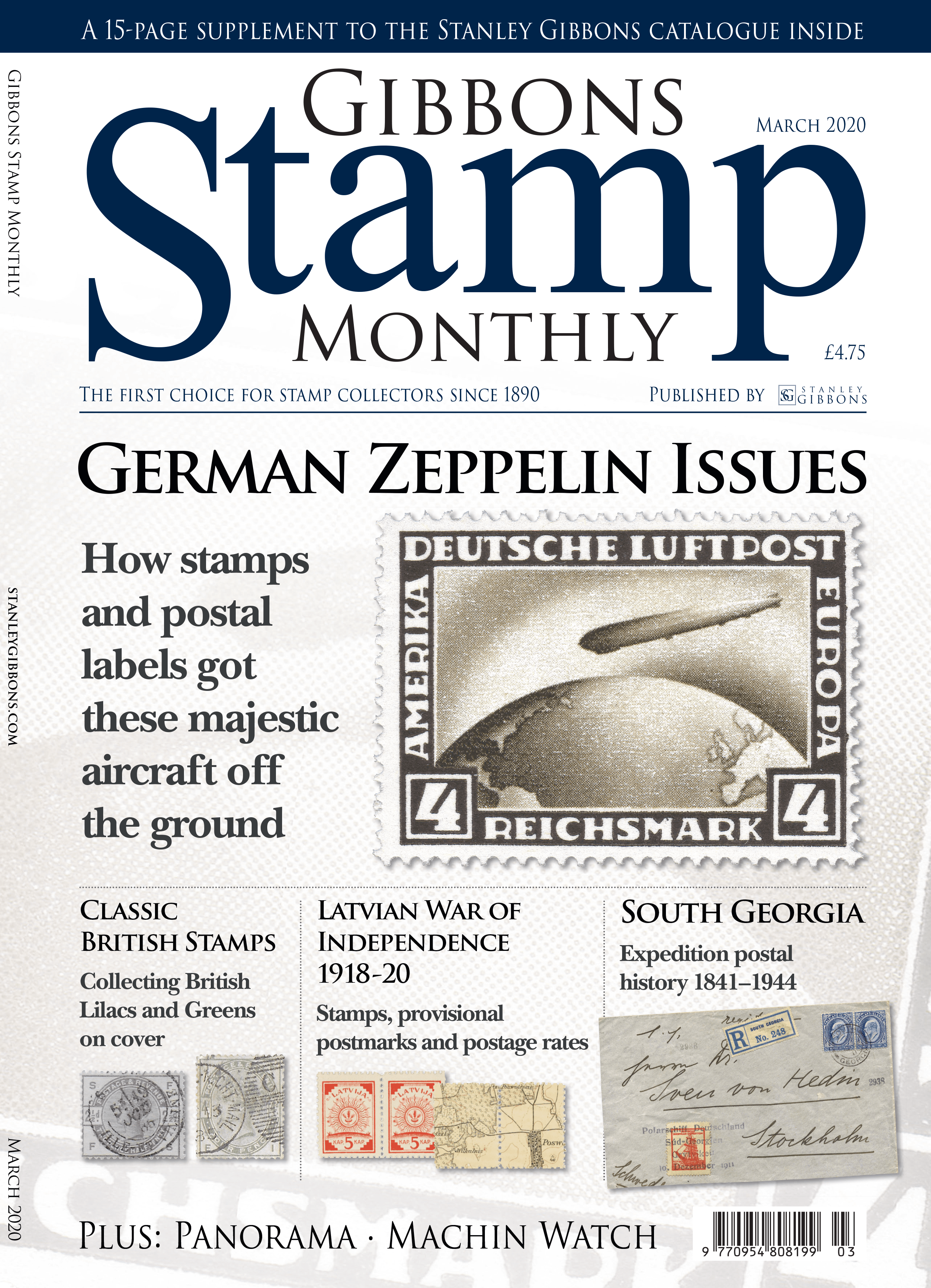 Contents March 2020
Contents to Volume 50, Number 10
---
Newsdesk
The latest philatelic news from around the world.
---
Society News
More reports from the nation's Philatelic Societies.
---
Diary Dates
Forthcoming fairs and auctions.
---
Around the Houses
News of recent auction results.
---
New Collector
Hugh Jefferies continues his review of overprinted stamps with a look at War Tax, Independence, Occupation and 'New Country' issues.
---
GB News
We take a look at Royal Mail's Visions of the Universe issue celebrating the 200th anniversary of the Royal Astronomical Society.
---
Croeso I Gymru: Celebrating Wales on GB Stamps
For St David's Day, Jeff Dugdale presents a collection of British stamps with a Welsh connection, ranging from famous landmarks to people, fauna, flora, historical artefacts and traditional customs.
---
Lilacs and Greens on Cover
Due to the fugitive inks used by De La Rue, soaking stamps from the Lilac and Green issue of 1883-84 can be fraught with difficulty. As John Roe reveals, sourcing stamps on cover not only provides a safer way of collecting but also opens up plenty of opportunities for further research.
---
Machin Watch
John Deering examines the latest Royal Mail Signed For issue and takes a detailed look at the Machin offerings from Royal Mail's third and final Star Wars issue.
---
GB Specialised Supplement
The latest supplement to the Stanley Gibbons Great Britain Specialised Catalogue.
---
South Africa: Transvaal Arms Issue 1870-77: Part 3
In the concluding part of his study of the early ZAR/Transvaal stamps, Lars Jorgensen focuses on paper, postmarks, gum and perforation differences found on the various printings.
---
Fake Finders: The Work of the Expert Team at FIP International Exhibitions
In the run-up to London 2020, Christopher Harman, Chairman of the RPSL Ltd Expert Committee, provides some insight into the inner working of the 'Expert Team', which plays a vital role in the judging process within every exhibition Jury with FIP patronage.
---
Gone But Not Forgotten
In another article on 'dead' countries, John Moody travels to two former Russian states, Batum and Tuva.
---
South Georgia and its Visiting Expeditions: Part 1
Hugh Osborne presents a collection of postal history produced by the various expeditions that visited South Georgia between 1841 and 1944.
---
Germany - Zeppelin Issues
At the turn of the 20th century, the first of Germany's many zeppelins were produced. Alan Wishart looks at the contemporary zeppelin airmail stamps and postal labels produced by Germany, and explains how they played a vital role in the creation and sustainability of these majestic aircraft.
---
Bookshelf
The latest book and catalogue releases read and rated.
---
Smallpox Eradication
It has been 40 years since the global eradication of smallpox. Bernard Brabin, Professor Emeritus in Tropical Paediatrics, Liverpool School of Tropical Medicine, takes a look back at stamp issues showing those who fought against this terrible disease and some famous names who fell victim to it.
---
Postal Stationery Matters
In a round-up of recent postal stationery finds, Peter van Gelder highlights rare pictorial envelopes from Tasmania, a 'Kaiser Bill' Silver Jubilee envelope and a very familiar looking New Zealand lettercard.
---
Stamp Hunting
In his regular look at the philatelic marketplace, Nimrod highlights the stamps of British Honduras that are worth keeping a collector's eye out for.
---
2019 Commonwealth Booklets
To start his annual survey of stamp booklets, Geir Sor-Reime begins this month with Commonwealth issues.
---
Latvian War of Independence 1918-20
Neil Richie examines the stamps, provisional postmarks and postage rates in use during the Latvian War of 1918-20, which saw many towns and cities, and their postal services, change hands several times.
---
Shore to Shore
We highlight the latest new issues from Guernsey, Jersey and the Isle of Man.
---
Stamp News in Brief
A summary of recent and forthcoming issues.
---
Panorama
Alison Boyd investigates the stories behind some of the latest stamp issues from around the world.
---
Competition
Win a £50 Stanley Gibbons voucher.
---
Catalogue Column
Hugh Jefferies offers more collecting advice from the Catalogue Editor's chair.
---
Catalogue Supplement
A 15-page update to the Stanley Gibbons Catalogue.
---