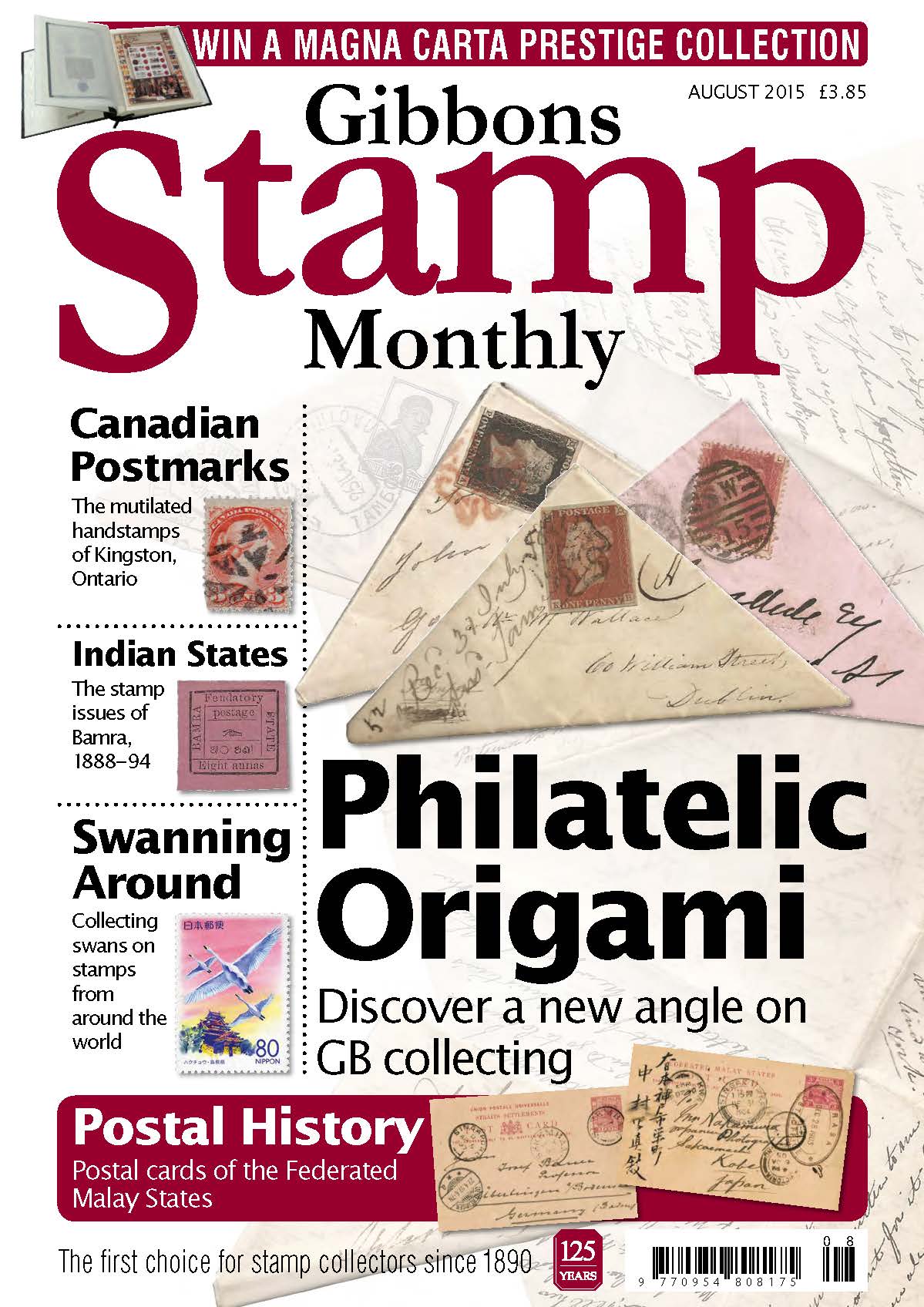 Contents August 2015
Contents to Volume 46, Number 3
---
Newsdesk
The latest philatelic news from around the world including: Singapore's 'living' stamps, Picasso postcard sale and Plymouth's tribute to Edward Stanley Gibbons.
---
Society News
More reports from the nation's Philatelic Societies.
---
Diary Dates
Forthcoming fairs and auctions.
---
Around the Houses
News of recent auction results.
---
New Collector
As 'The Lion City' marks 50 years of independence, John Holman looks at the stamp issues of Singapore.
---
GB News
See the buzz around Royal Mail's new Bees issue.
---
Philatelic Origami
Don Davies reveals some curious covers that offer a new 'angle' on British postal history.
---
GB Specialised Supplement
The latest supplement to the GB Specialised Catalogue.
---
Machin Watch
John Deering dissects Royal Mail's Great War 1915 Prestige Booklet and highlights some new Machin printing 'mishaps'.
---
British Private Posts
A round-up of news and new issues from Britain's private posts, courtesy of John Holman.
---
Uses of the Mulready Stationery
In the follow-up to his June article, Edward Klempka discusses postally-used Mulready Stationery.
---
Inland Postcards: Victorian Britain
The development of inland postcards heralded the arrival of cheap, fast communication. Michael Peach traces their introduction and development.
---
Registration in Singapore
Len Stanway reveals how the Singapore Post Office has handled registered mail—from 1854 to the present day.
---
Singapore: Then and Now
Find out about some of the rare attractions that will be on display at Singapore 2015, courtesy of the Singapore Philatelic Museum.
---
Singapore World Stamp Exhibition 2015
Discover who's who, and who's where, at Singapore 2015.
---
Postal Cards of the Federated Malay States
Henry Ong talks about the UPU colour scheme and its effect on the postal stationery of the Federated Malay States.
---
Kingston, Ontario Postmarks from 1851–80
As John Hillson explains, the mutilated, homemade and fancy cancels of Kingston, Ontario offer a great opportunity for collecting and study.
---
Swans on Stamps
P J Lanspeary presents another flock of his favourite ornithology-themed stamp issues.
---
The 1988 Provisional Definitives of Ghana: The C20 Overprints (Part 2)
Nicholas Pertwee continues his study of Ghana's C20 Overprints with a focus on the different typefaces used.
---
Bamra State
Christer Brunstrom explains Bamra's contribution to India's rich stamp heritage.
---
Magna Carta Competition
Win one of only ten specially made prestige albums.
---
Philatelic legend to make an appearance at Monaco
MonacoPhil 2015 offers visitors the chance to see the legendary 1856 British Guiana 1c. black on magenta.
---
Stamp Hunting
Stamps to look out for from Indian Convention States.
---
Competition
Win a £50 Stanley Gibbons voucher.
---
2013–14 Foreign Postal Stationery
Geir Sor-Reime concludes his annual listing of foreign stationery issues.
---
Crowns, Tiaras and a Diadem
Cyril Parsons uses stamps to explain the subtle differences between royal crowns, tiaras and diadems.
---
Bookshelf
Reviews of the latest philatelic publications.
---
Stamp News in Brief
A summary of recent and forthcoming issues.
---
Panorama
Alison Boyd investigates the stories behind some of the latest stamp issues from around the world.
---
Shore to Shore
More new issues from Jersey, the Isle of Man and Guernsey
---
The Unissued Stamps of King George VI
More tongue-in-cheek fun from the Hedley Adams Mobbs collection.
---
Catalogue Column
Hugh Jefferies offers more collecting advice from the Catalogue Editor's chair.
---
Catalogue Supplement
A 12-page update to the Stanley Gibbons Catalogue.
---