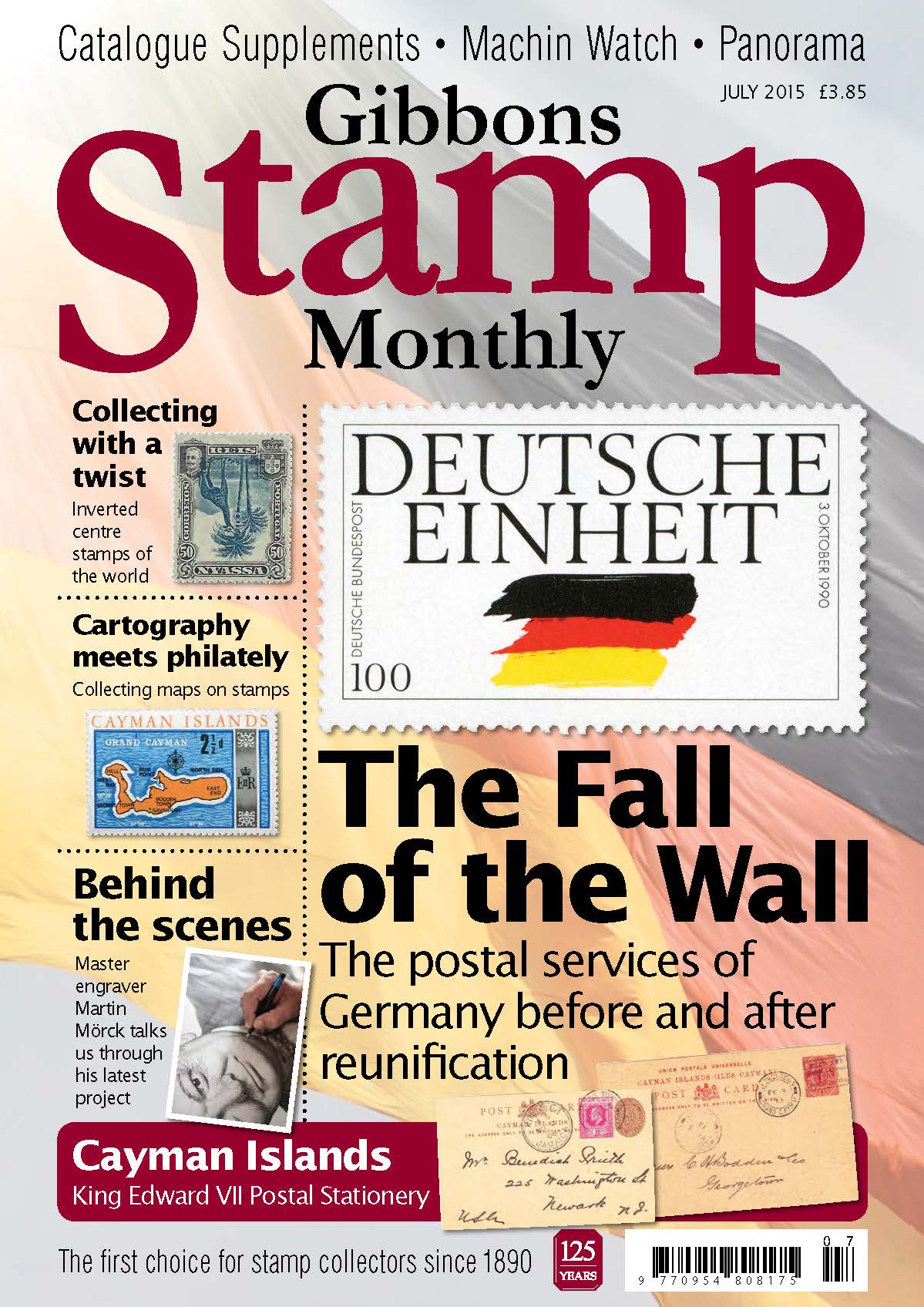 Contents July 2015
Contents to Volume 46, Number 2
---
Newsdesk
The latest philatelic news from around the world including: Lady Cotswold Missionary Find exceeds expectations in Hong Kong and the new owner of the British Guiana 1c. black on Magenta is revealed.
---
London 2015 Report
A full report from London 2015: Europhilex.
---
Society News
More reports from the nation's Philatelic Societies.
---
Diary Dates
Forthcoming fairs and auctions.
---
Around the Houses
News of recent auction results.
---
New Collector
John Holman highlights obligatory tax stamps and reveals some commemorative issues marking some very special anniversary years.
---
GB News
Battle Royal: Royal Mail marks the 200th anniversary of Waterloo and the 75th anniversary of the Battle of Britain.
---
A Tale of Two Covers…
In the first of a new series examining the more obscure and quirky aspects of GB philately, Don Davies FRPSL presents two covers that highlight the sometimes extreme actions taken to cancel stamps in the early years after their introduction.
---
GB Postal Stationery, Postal Labels and Postmarks
John Holman presents the latest updates on Post & Go labels and highlights some unusual postmarks.
---
Machin Watch
A round-up of counter sheets, business sheets and retail booklets with '15' year codes.
---
GB Specialised Supplement
The latest supplement to the GB Specialised Catalogue.
---
German Reunification: A Philatelic Miscellany
Reunification in 1989 led to the amalgamation of postal services across Germany. Michael Peach shows how this dramatic change is reflected in Germany's postal history.
---
Cayman Islands: The King Edward VII Postal Stationery
The first postal stationery items from the Cayman Islands did not appear until the reign of King Edward VII. James Podger examines their development and uses.
---
Where Few Dare: Philately of the British Joint Services Expeditions
Using a variety of covers, Steve Pendleton's latest adventure leads us to some of the wildest places in the world.
---
Bookshelf
Reviews of the latest philatelic publications.
---
Engraving Churchill
Artist Martin Morck talks about his most ambitious project to-date—the Sir Winston Churchill engraving for Jersey Post's Victory & Liberation miniature sheet.
---
Inverted Centre Stamps of the World
Inverted centre stamps offer some unusual varieties. Using some spectacular, and affordable, examples, Christer Brunstrom explores what is on offer for the collector.
---
125 Years of GSM
To conclude our series celebrating GSM, former Editor John Holman recalls the very first issue of July 1890.
---
The Library of the Leeds Philatelic Society: 125 Years in the Making
In its 125-year history, Leeds Philatelic Society has built up an impressive philatelic library. Michael Waugh FRCP, its librarian, describes some of its highlights.
---
Basil in Bermuda: Part 2
GSM's roving reporter, Basil Herwald, discovers the selection process for Bermuda's stamps issues.
---
On the Map—Or Perhaps Not!
Noel Davenhill charts examples of maps on stamps issued by Britain's former colonies, dependencies and protectorates.
---
2013–14 Foreign Postal Stationery
Geir Sor-Reime presents an alphabetical listing of foreign stationery issues ranging from France to Korea.
---
Stamp Hunting
Stamps to look out for from the Indian Convention States.
---
Competition
Don't miss your chance to win a £50 Stanley Gibbons voucher.
---
Panorama
Alison Boyd investigates the stories behind some of the latest stamp issues from around the world.
---
Stamp News in Brief
A summary of recent and forthcoming issues.
---
Shore to Shore
More issues from Guernsey, Jersey and the Isle of Man.
---
The Unissued Stamps of King George VI
More fun from the Hedley Adams Mobbs collection.
---
Catalogue Column
Hugh Jefferies offers more comments from the catalogue editor's chair.
---
Catalogue Supplement
A -16 page update to the Stanley Gibbons Catalogue.
---