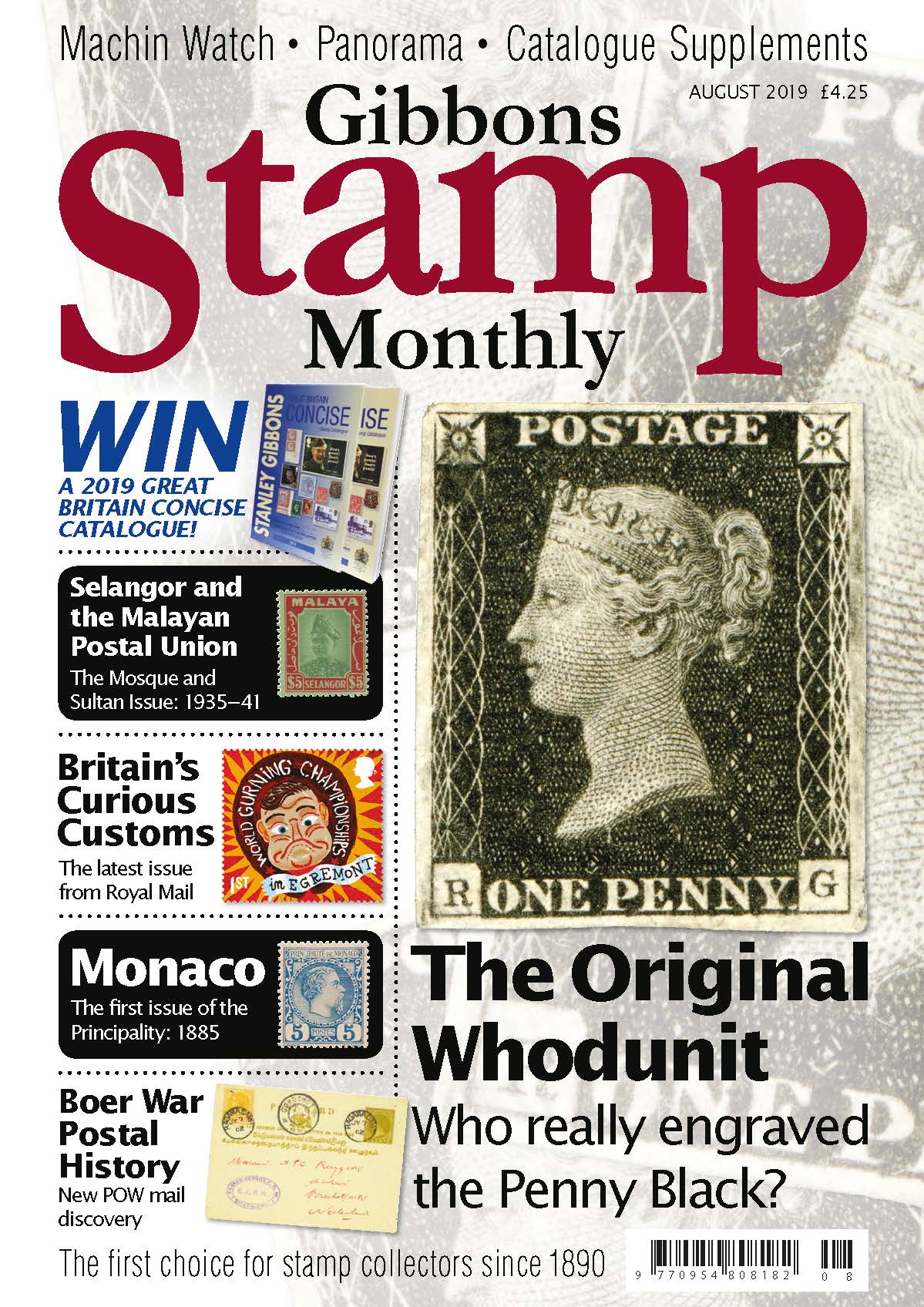 Contents August 2019
Contents to Volume 50, Number 3
---
Newsdesk
Catch up with the latest philatelic news from around the world.
---
The Philatelic Congress at Stockholmia 2019
A report from the 2019 Congress of Great Britain.
---
Society News
More reports from the nation's Philatelic Societies.
---
Diary Dates
Forthcoming fairs and auctions.
---
Around the Houses
The latest results from the auction rooms.
---
New Collector
This month, Richard West provides essential guidance for those looking to compile a 'Traditional' stamp collection.
---
GB News
We Brits do some curious things, as Royal Mail reveals in its new Curious Customs set.
---
Stamps in Coils: Part 2
Edward Klempka concludes his study of British stamp coils with a look at continuous printed rolls, and commemorative and privately produced examples.
---
Charles and Frederick Heath: The Original Whodunit
Adrian Keppel turns detective to try to unravel a mystery that has existed for generations – who actually engraved the Penny Black?
---
Forgeries of the Great Britain 2s. Brown: Part 2
Robert Galland FRPSL examines what happened when the most famous stamp forger turned his attention to this short-lived British stamp.
---
Machin Watch
There has been a huge amount of new M19L-dated security Machins appearing from the printing presses at Walsall. John Deering brings us up to speed.
---
GB Specialised Supplement
The latest supplement to the Stanley Gibbons Great Britain Specialised Catalogue.
---
The First Issue of Monaco, 1885
Alan Wishart takes a look at Monaco's eventful history and its first independent stamp issue.
---
Dear GSM
More readers have their say, courtesy of the GSM postbag.
---
Selangor Mosque and Sultan Issue (1935-41)
In another of GSM's articles to mark the 60th anniversary of the Malaya Study Group, Susan McEwen looks at Selangor's first issue under the Malayan Postal Union.
---
MonacoPhil 2019: A Focus on Egypt
We take a sneak peek at a few of the rare Egyptian philately items that will be on show during the MonacoPhil exhibition this November.
---
Bookshelf
The latest book and catalogue releases read and rated.
---
Australia and the Antarctic Part 1: Before World War I
Nicholas Oughton uses postal history and stamp issues to tell the story of Australia's links to the frozen continent.
---
Indore, or is it Holkar?
Christer Brunstrom explains the reasons behind the dual-named stamps of this intriguing Indian State.
---
Gone But Not Forgotten
In another article looking at the stamp issues of 'dead' countries, John Moody examines the short philatelic legacy left behind by Ljubljana.
---
Stamp Hunting
Nimrod highlights some key issues from Pakistan and Bahawalpur that are worth looking out for.
---
2018 Foreign Postal Stationery
Geir Sor-Reime concludes his alphabetical listing of the foreign postal stationery issues of 2018.
---
1899-1902 Anglo-Boer War: Ceylon POW Censorship Revelation
More than 120 years after the start of the Boer War, Joh Groenewald walks us through a recent discovery that sheds new light on the censoring of letters to and from prisoners of war held in Ceylon.
---
Stamp News in Brief
A summary of recent and forthcoming issues.
---
Shore to Shore
The latest issues from Jersey, Guernsey and Isle of Man.
---
Competition
Your chance to win a £50 Stanley Gibbons voucher.
---
Panorama
Alison Boyd comments on the stories behind some of the latest stamp issues from around the world.
---
The Unissued Stamps of King Edward VII
Another gem from the Hedley Adams Mobbs collection.
---
Catalogue Column
Hugh Jefferies offers more comments from the Catalogue Editor's chair.
---
Catalogue Supplement
Your 14-page update to the Stanley Gibbons Catalogue.
---