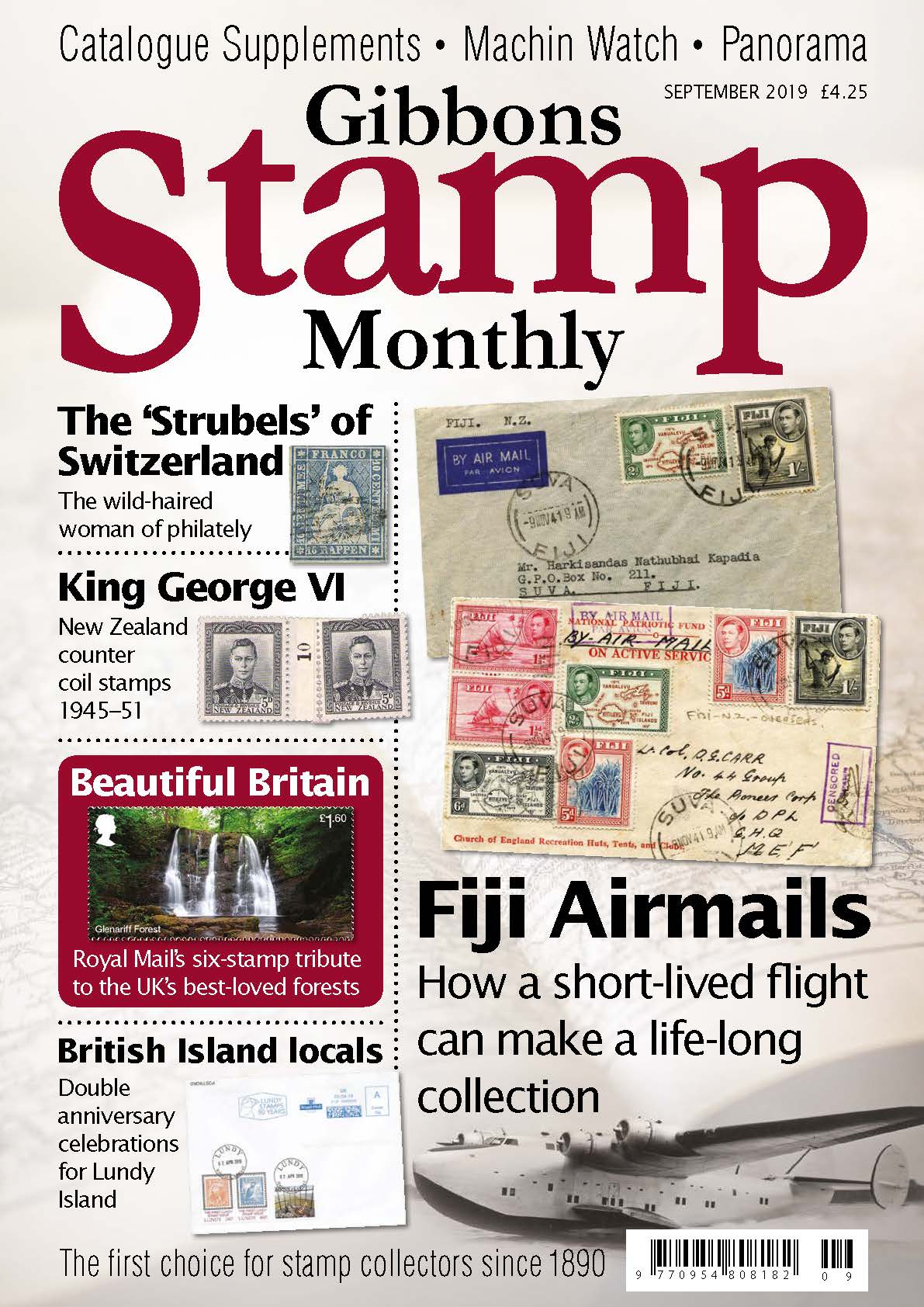 Contents September 2019
Contents to Volume 50, Number 4
---
Newsdesk
Catch up with the latest philatelic news from around the world.
---
Autumn Stampex
Several new attractions have been announced for the upcoming Autumn Stampex which returns to London in September. We take a look ahead to see what this latest exhibition has to offer.
---
Faster Than a Bullet: The Concorde Story
Brian Asquith, Chairman of the Concorde Study Circle, outlines his Court of Honour display at Stampex.
---
Society News
More reports from the nation's Philatelic Societies.
---
Diary Dates
Forthcoming fairs and auctions.
---
Around the Houses
The latest results from the auction rooms.
---
New Collector
Richard West reveals how every cover tells a story in this beginner's guide for budding postal historians.
---
GB News
Royal Mail pays tribute to the work of the Forestry Commission with a six-stamp set highlighting some of the UK's most beautiful woodlands.
---
Lundy Island: Two 2019 Jubilees
Lundy Island has operated a private postal service for 90 years. Christer Brunstrom reveals how this and another important milestone in the history of the island are being celebrated in 2019.
---
Machin Watch
This month, John Deering sees what the recent D–Day retail booklet has to offer collectors and discusses the surprise appearance of Post & Go and definitive stamps featuring what were thought to be obsolete designs.
---
GB Specialised Supplement
The latest supplement to the Stanley Gibbons Great Britain Specialised Catalogue.
---
New Zealand's King George VI 1945–51 Counter Coils
After successful trials in 1945, counter coil stamps were adopted in post offices throughout New Zealand. David Smitham discusses the key types used and highlights some previously unrecorded varieties.
---
The Strubel Stamps of Switzerland: 1854 to 1862
lan Wishart talks us through the various printings of the so-called Strubel stamps of Switzerland.
---
The Postal History of Papua
Steve Pendleton explains why Papua offers a rich hunting ground for stamp and postal history collectors.
---
Gone But Not Forgotten
John Moody examines the short philatelic histories of Italian East Africa and French West Africa.
---
Postal Stationery Matters
Peter van Gelder presents more new and interesting items in his latest round-up of postal stationery finds.
---
Turning a Routine First Flight into a Complete Collection
Using material from a 1940s USA to New Zealand air route, Bryan Jones explains how even short-lived airmail services can be used to build an extensive collection.
---
The History, Impact and Potential of Music on Philately
Michael Baron explores the relationship between philately and contemporary music – from the classical issues of the late-19th century to modern-day stars on stamps.
---
Competition
Your chance to win a £50 Stanley Gibbons voucher.
---
Bookshelf
The latest book and catalogue releases read and rated.
---
Berwick-upon-Tweed An Enigma!
Five very unusual Paquebot covers from the port of Berwick-upon-Tweed in the 1980s reveal an extraordinary philatelic oddity. Mike Dovey recounts their remarkable story.
---
Stamp Hunting
Nimrod highlights some key issues from Papua that are worth looking out for.
---
Stamp News in Brief
A summary of recent and forthcoming issues.
---
Panorama
Alison Boyd comments on the stories behind some of the latest stamp issues from around the world.
---
Shore to Shore
The latest issues from Isle of Man, Jersey and Guernsey.
---
The Unissued Stamps of the Philippines
Another gem from the Hedley Adams Mobbs collection.
---
Catalogue Column
Hugh Jefferies offers more comments from the Catalogue Editor's chair.
---
Catalogue Supplement
Your 17-page update to the Stanley Gibbons Catalogue.
---