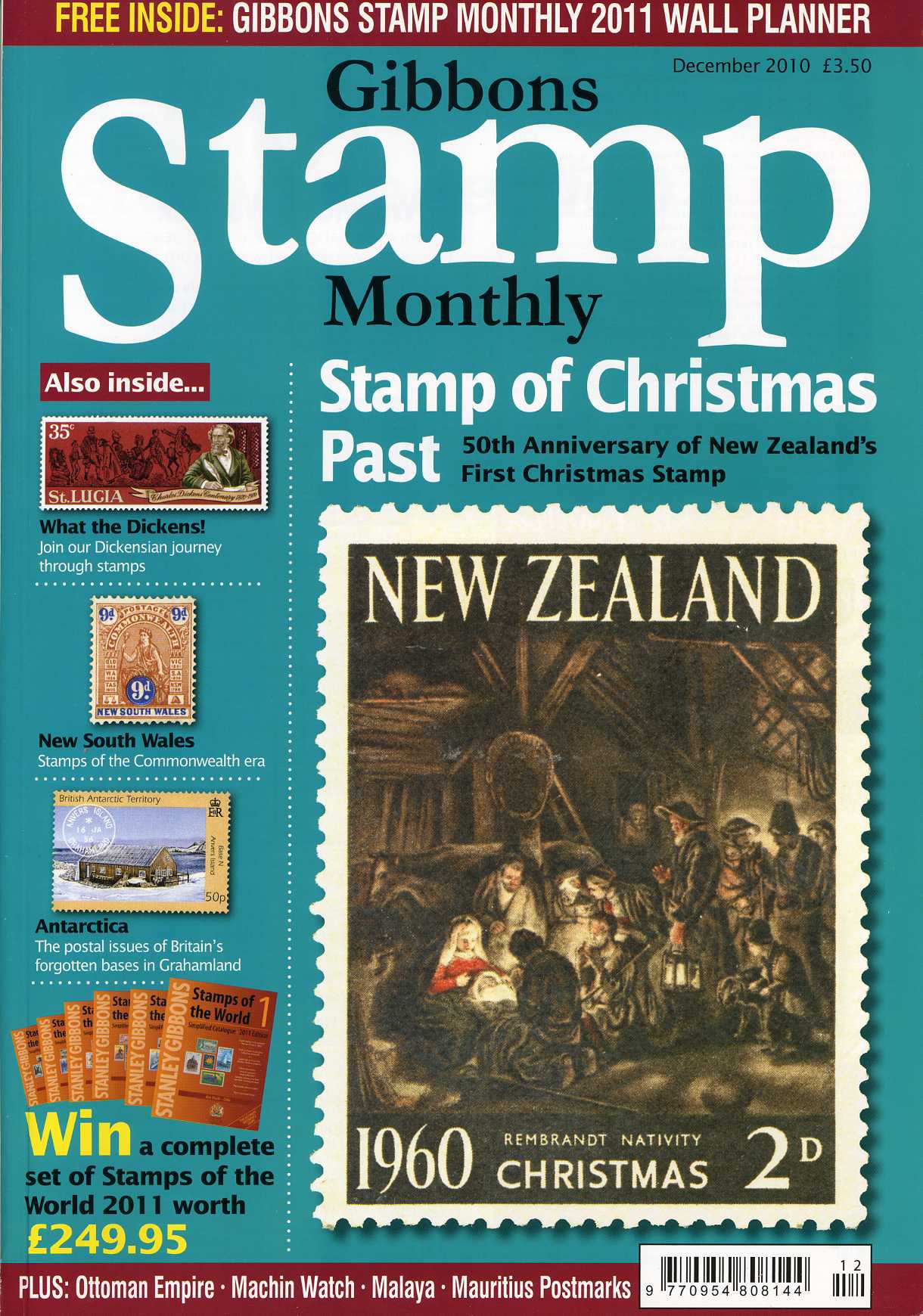 Contents December 2010
Contents to Volume 41, Number 7.
---
Newsdesk
The latest news from the stamp world.
---
Society News
Reports from philatelic societies.
---
Diary Dates
Forthcoming Fairs and Auctions.
---
Around the Houses
News of recent auction results.
---
New Collector
John Holman looks at stamps of Tokelau and Soruth.
---
GB News
New Royal Mail issue: The Genius of Gerry Anderson, six stamps and a miniature sheet to be issued on 11 January.
---
British Private Posts
Downstream Access, Tourist stamps, Charity Posts, Railway and Island stamps; John Holman reports.
---
Slogans of World War II
David Pollard looks at how slogan postmarks helped to promote the war effort.
---
Machin Watch
An in depth look at Post & Go Bird stamps and Special Delivery definitives provided by John Deering.
---
Charles Dickens
Alan Sacks takes a philatelic tour through Dicken's life and times.
---
GB Specialised Catalogue
A supplement to the Great Britain Specialised Catalogue.
---
---
Ottoman Philately
In the conclusion of this article, Arapian-Bey introduces the cancellations of the Empire and reviews the literature.
---
Graham Land
Steven Pendleton reviews the postal arrangements of Britain's Antarctic bases.
---
New South Wales
The background to the stamps of the 1901–1912 Commonwealth period is outlined by Richard Breckon.
---
GSM Bookshelf
Reviews of George V and the GPO, The Englishman Who Posted Himself and Stanley Gibbons Australia catalogue.
---
Unissued Malaya
Why were no Victory stamps issued for Malaya and Singapore? Susan McEwen explains.
---
Weapon of Mount Destruction
Dr John Horsey causes an incident on his way to Australia.
---
North Korea
Nicholas Pertwee concludes his tour with a visit to the Trade Zone and its post office.
---
Postal Stationery Matters
Peter van Gelder highlights more unusual items
---
NZ's First Christmas Stamp
Christopher Moor examines a painting by Rembrandt.
---
NZ's Christmas Stamps
Robin Gwynn FRPSL, FRPSNZ, discusses the development of New Zealand's Christmas issues.
---
Mauritius George VI Postmarks
David Horry reviews the postmarks of Mauritius and provides a table of types and their dates of use.
---
Blindman's Mail
Peter Jennings FRPSL, FRGS, interviews Gavin Fryer FRPSL, author of a recent book on postage for the blind.
---
Samuel Creeps
Michael Banister selects extracts from the journal of an ordinarie collector.
---
A Very Merry Christmas
John Scott looks at the history of the Christmas card.
---
Stamp Hunting/Competition
Nimrod suggests some stamps worth looking for from Qatar. Your chance to win a £50 SG voucher.
---
Shore to Shore
Island Hopper looks at the latest issues from the Channel Islands and Isle of Man.
---
Panorama
Dean Shepherd investigates the background to some recent new issues.
---
Building a Philatelic Library
Books will increase your knowledge and understanding; Paul Brittain makes some suggestions for the philatelist.
---
Competition
A chance to win one of five sets of the 2011 edition of Stamps of the World.
---
Unissued QEII/Catalogue Column
David Horry reveals the story behind another unissued stamp. Hugh Jefferies reports on some Straits Settlements varieties and British stamps on uncoated paper.
---
Catalogue Supplement
A 9-page update to the Stanley Gibbons catalogue.
---