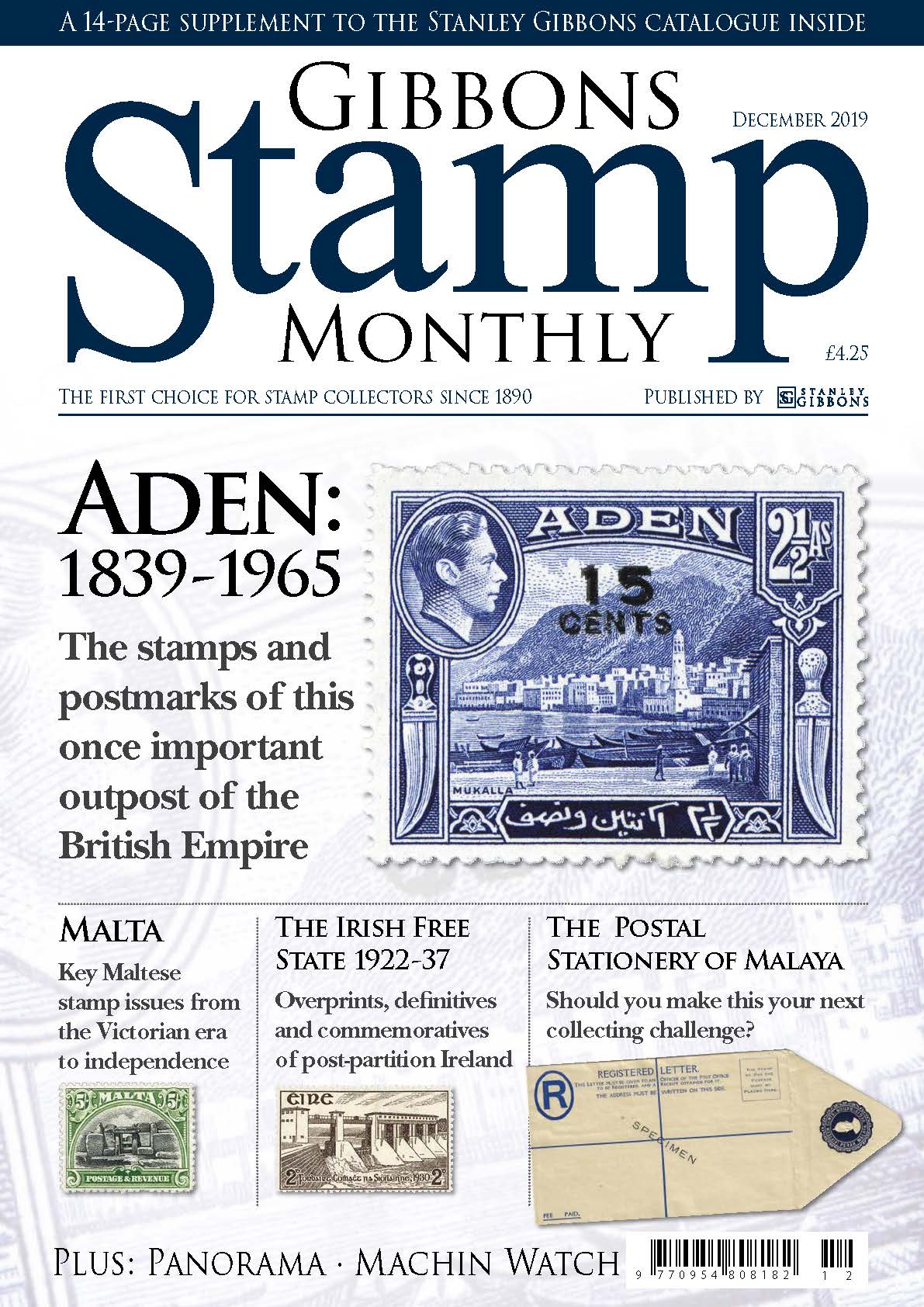 Contents December 2019
Contents to Volume 50, Number 7
---
Newsdesk
The latest philatelic news from around the world
---
Society News
More reports from the nation's Philatelic Societies.
---
Diary Dates
Forthcoming fairs and auctions.
---
Around the Houses
News of recent auction results.
---
New Collector
This month Richard West takes a look at what Cinderellas, postal stationery and revenue stamps have to offer the collector.
---
GB News
Royal Mail reveals its Christmas stamp issue which this year 'illuminates' the Christian story of the Nativity.
---
Handstamps of England and Wales Part 3: Modern Rubber Datestamps
Harry Lane returns with his concluding part to his series looking at British postmarks with a discussion on the often overlooked area of circular rubber handstamps.
---
Machin Watch
John Deering presents another round-up of modern GB issues with a look at some brand new high-value definitives, the Royal Navy mixed commemorative/definitive booklet and the final member of the M19L retail booklet quintet.
---
GB Specialised Supplement
The latest supplement to the Stanley Gibbons Great Britain Specialised Catalogue.
---
Aden: 1839-1965
Hugh Jefferies makes a welcome return with an article on the stamps of this once hugely important outpost of the British Empire.
---
Jersey: 50th Anniversary of Postal Independence: Part 2
Gerald Mariner concludes his study of Jersey Post's definitive stamp issues with a focus on the issues from 1981 to date.
---
The 1899-1902 Anglo-Boer War: Part 3: India POW Mail
The postal history items produced by Anglo-Boer war prisoners in India offer an exciting opportunity for those collectors looking for a new challenge.
---
British Colonial and Protectorate Stamps Part 19: Malta
Another instalment from Noel Davenhill looking at key colonial issues up to the early Elizabethan period.
---
Postal Stationery Matters
Peter Van Gelder returns with another varied selection of postal stationery finds, including some very rare Canadian envelopes and more examples of Commonwealth 'blotto' stamp imprints.
---
The Flight of the Guba: To Diego Garcia and Beyond
Some rare postal stationery from the island of Diego Garcia is examined by Steve Pendleton, including those produced during the 1939 pioneering survey flight of the flying boat Guba II.
---
Bookshelf
The latest book and catalogue releases read and rated.
---
Collecting Malayan Postal Stationery
Malayan postal stationery is a rich field for research and discovery, due in part to its low survival rate and an uncertain start date. Len Stanway provides an introduction in the first of a two-part article.
---
Fungi Diversity on Stamps: Mushrooms
Barry Floyd brings you out of the dark and into the light when it comes to the collecting opportunities of mushrooms on stamps.
---
Gone But Not Forgotten
John Moody discusses the philatelic legacy left behind by two transient periods of Irish history: the Provisional Government of Ireland and the Irish Free State.
---
Dear GSM
Readers have their say, courtesy of the GSM postbag.
---
West Africa: The 1998-2004 Bella Bellow Definitives of Togo
Togolese singer Bella Bellow, who at the age of 28 tragically lost her life, featured on a common definitive design for a number of years. Nicholas Pertwee highlights the several features which make these definitives extra special.
---
Stamp Hunting
Stamps to look out for from British Solomon Islands.
---
Shore to Shore
More new issues from Isle of Man, Guernsey, Alderney and Jersey.
---
Competition
Win a £50 Stanley Gibbons voucher.
---
Stamp News in Brief
A summary of recent and forthcoming issues.
---
Panorama
Alison Boyd investigates the stories behind some of the latest stamp issues from around the world.
---
The Unissued Stamps of King George VI
More tongue-in-cheek fun from the Hedley Adams Mobbs collection.
---
Catalogue Column
Hugh Jefferies offers more collecting advice from the Catalogue Editor's chair.
---
Catalogue Supplement
Your 14-page update to the Stanley Gibbons Catalogue.
---