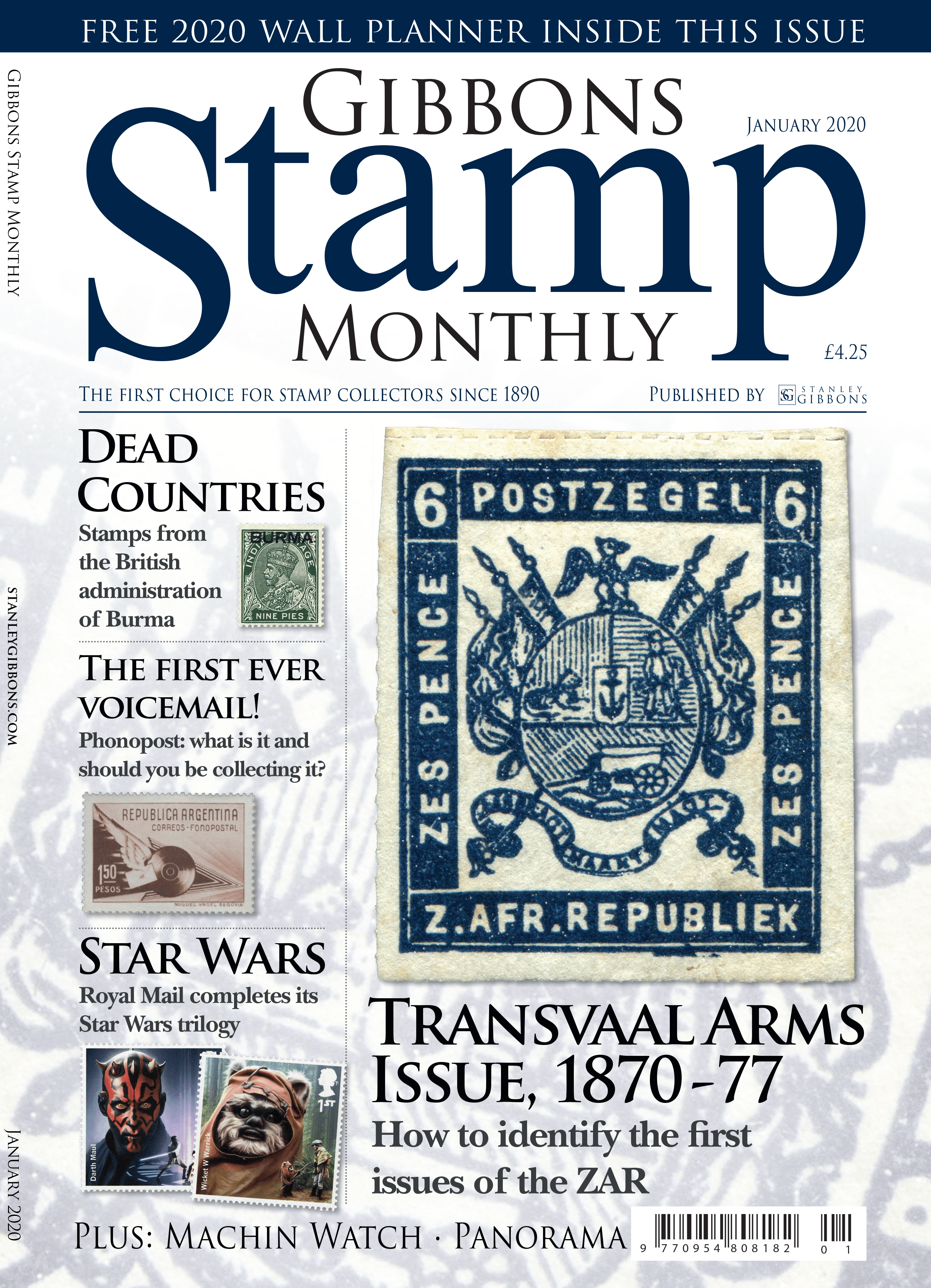 Contents January 2020
Contents to Volume 50, Number 8
---
Newsdesk
The latest philatelic news from around the world.
---
The Queen Opens New RPSL Headquarters
GSM reports on a momentous highlight of the Royal Philatelic Society's 150th anniversary year.
---
Society News
More reports from the nation's Philatelic Societies.
---
Diary Dates
Forthcoming fairs and auctions.
---
Around the Houses
News of recent auction results.
---
New Collector
In the first in a series of articles, Hugh Jefferies discusses the various reasons for overprinted stamps and the methods used to create them.
---
Dear GSM
Readers have their say, courtesy of the GSM postbag.
---
GB News
We take a look at Royal Mail's latest release, which rounds off its trilogy of stamp issues celebrating the characters and vehicles of the Star Wars film franchise.
---
Freeling Correspondence and the Franking System: Part 1 Requests
Using actual letters retained by postal reformer Francis Freeling, Robert Galland FRPSL offers a unique perspective on the inner workings of the free franking system in Britain.
---
Single, Double and Triple Diamond Obliterators of London
Harry Layne discusses the numbered obliterators introduced to replace the Maltese Cross cancellation, in particular the diamond type handstamps of the London Inland Office.
---
Machin Watch
John Deering puts a festive spin in this month's column for modern GB collectors with a close look at the Christmas stamps and Winter Greenery Post & Go issues for 2019 and highlights more Machin retail booklets with backing paper variants.
---
South Africa: Transvaal Arms Issue 1870-77
Lars Jorgensen RDPSA begins a series of articles to help readers to correctly identify the Arms issue from the first South African Republic.
---
Phonopost 80 Years On!
Adding a new definition to the term 'voicemail', David Smitham researches a little-known postal service first introduced in 1939 to allow people to record and send voice messages by post.
---
Liberia's Registration Stamps
Lying just off Africa's west coast, Liberia can offer philatelists an interesting selection of registration stamps. Christer Brunstrom explains more.
---
GB Specialised Supplement
The latest supplement to the Stanley Gibbons Great Britain Specialised Catalogue.
---
Fakes and Forgeries of the British Empire
Over the years, Stanley Gibbons has amassed an amazing reference collection of fakes and forgeries. In the first in a new series, George James, Head of Commonwealth at Stanley Gibbons, dips into this rogues gallery to show readers how to spot some of these dangerous imitations.
---
Italy: 1932 March on Rome Stamp Issue
Alan Wishart provides the background to this large issue from Italy, released during the Mussolini era, which was produced by one of Italy's most celebrated stamp designers.
---
Gibbons-Whitman Stamp Monthly
Alison Boyd highlights the somewhat short-lived USA version of GSM.
---
Stamp Hunting
Stamps to look out for from British Solomon Islands.
---
Gone But Not Forgotten
In another article on 'dead' countries, we resurrect the issues of the British administration of Burma.
---
Earthquakes and the stamps of Guatemala
As a prominent feature of Guatemala's history, it is not surprising that earthquakes have also made their mark on Guatemalan philately, as David Lindwall reveals.
---
2019 Yearbooks
Jersey, Guernsey, Macao and the Faroe Islands provide an overview of their 2019 annual issues.
---
Collecting Malayan Postal Stationery: Part 2
Len Stanway highlights more examples of Malayan postal stationery, including those produced for the Unfederated Malay States and the Japanese occupation and British Military Administration periods.
---
Shore to Shore
More new issues from Isle of Man, Guernsey, Alderney and Jersey.
---
Competition
Win a £50 Stanley Gibbons voucher.
---
Stamp News in Brief
A summary of recent and forthcoming issues.
---
Panorama
Alison Boyd investigates the stories behind some of the latest stamp issues from around the world.
---
Catalogue Column
Hugh Jefferies offers more collecting advice from the Catalogue Editor's chair.
---
The Unissued Stamps of King George VI
More tongue-in-cheek fun from the Hedley Adams Mobbs collection.
---
Catalogue Supplement
Your 14-page update to the Stanley Gibbons Catalogue.
---