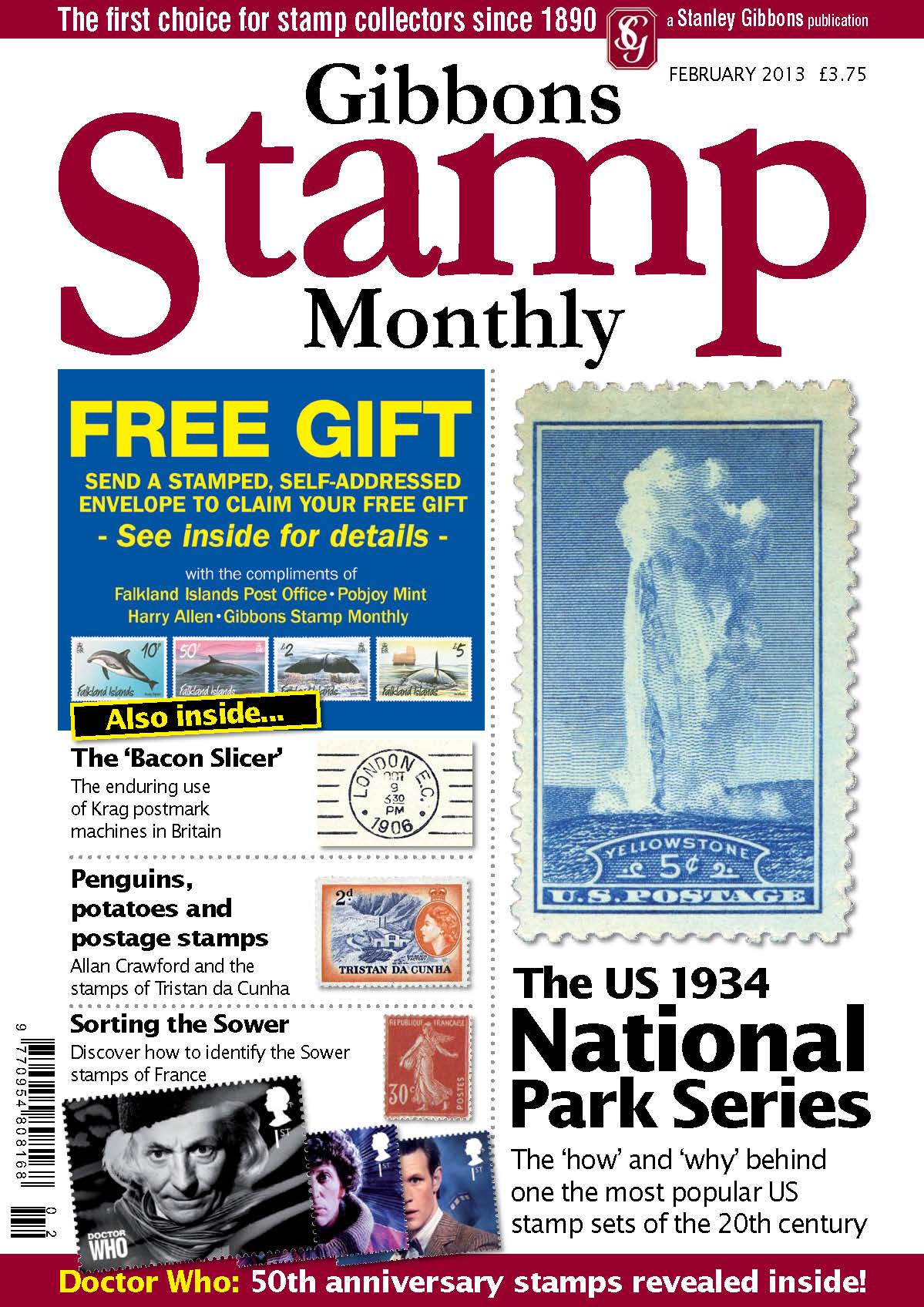 Contents January 2013
Contents to Volume 43, Number 9
---
Newsdesk
Royal Mail reveals its 50th anniversary Doctor Who stamps; an impressive China auction result and news on another international award for GSM
---
Society News
Reports from philatelic societies
---
Diary Dates
Forthcoming Fairs and Auctions
---
Around the Houses
Hugh Jefferies presents a round-up of the latest auction news from the UK and abroad.
---
New Collector
Another inspiring article for new (and seasoned) collectors
---
GB News
Royal Mail's latest six-stamp set marks the bicentenary of the publication of Jane Austen's most famous novel – Pride and Prejudice
---
Jeffery Matthews: 50 Years of Design for Royal Mail
Part 3. The Heraldic Touch
---
British Private Posts
John Holman reports on the latest issues surrounding the nation's private postal operators. Included this month is: downstream access, railway and island stamps and Christmas charity posts
---
Krag Machine Postmarks
Paul T Carter takes a look at the enduring Krag machine continuous-impression postmarks and charts their use from the UK trial back in 1905 to their 'almost' final demise
---
Stamping Along the Great West Road - Part 4
Alan Sacks concludes his light-hearted philatelic tour along one of Britain's grandest thoroughfares
---
Machin Watch
John Deering keeps us up to date with the world of 'Post & Go' varieties, including some very special exhibition exclusives to look out for
---
GB Specialised Catalogue
The latest supplement to the Great Britain Specialised Catalogue
---
The Printing of the Sower Stamps of France
Ashley Lawrence FRPSL shows us how to sort these 'common little stamps' by discussing the different papers, methods of printing and configurations that were used in their production
---
Allan Crawford
Peter Jennings FRPSL, FRGS looks at how Allan Crawford's long and eventful life impacted upon the lives and postage stamps of this remote island
---
Stamp Hunting/Competition
Nimrod highlights some important stamps to look out for from Bechuanaland. Plus: Win one of five copies of the 2013 edition of Collect British Stamps
---
Falkland Islands Diversities
Reg Taylor reports on a new 12-stamp definitive set that encompass whales, dolphins and porpoises which inhabit the rich oceanic waters surrounding these islands
---
Bookshelf
More philatelic publications are read and rated
---
The US National Park Series of 1934
Peter Martin reveals how one of the most popular US sets of stamps of the 20th century came into being and the 'follies' that upset so many people
---
The Death Centenary of Edward Stanley Gibbons
John Holman takes a look at the life and career of one of the most famous names in philately
---
Roger Wells - Revealed!
New information has come to light concerning this well-known postmark collector, David Horry explains
---
Ghana's 1988 Provisional Definitives
The C100 Surcharges – Part 2
---
Tommy Godwin - 1948 London Olympic legend
Peter Jennings FRPSL, FRGS talks about one of the most influential figures in British cycling
---
Changing Tastes
Collector's interests have changed a lot over the years, and one relatively recent development has been the content of letters. John Scott discusses one such classic example in his latest article for GSM
---
Shore to Shore
More issues from the Isle of Man, Guernsey and Jersey
---
Stamp News in Brief
A summary of recent and forthcoming issues
---
Panorama
Dean Shepherd investigates some more of the latest new issues
---
Unissued QEII/Catalogue Column
The story behind an unissued stamp of Montserrat. Plus, Hugh Jefferies' latest comments as SG catalogue editor.
---
Catalogue Supplement
A 16-page update to the Stanley Gibbons Catalogue
---