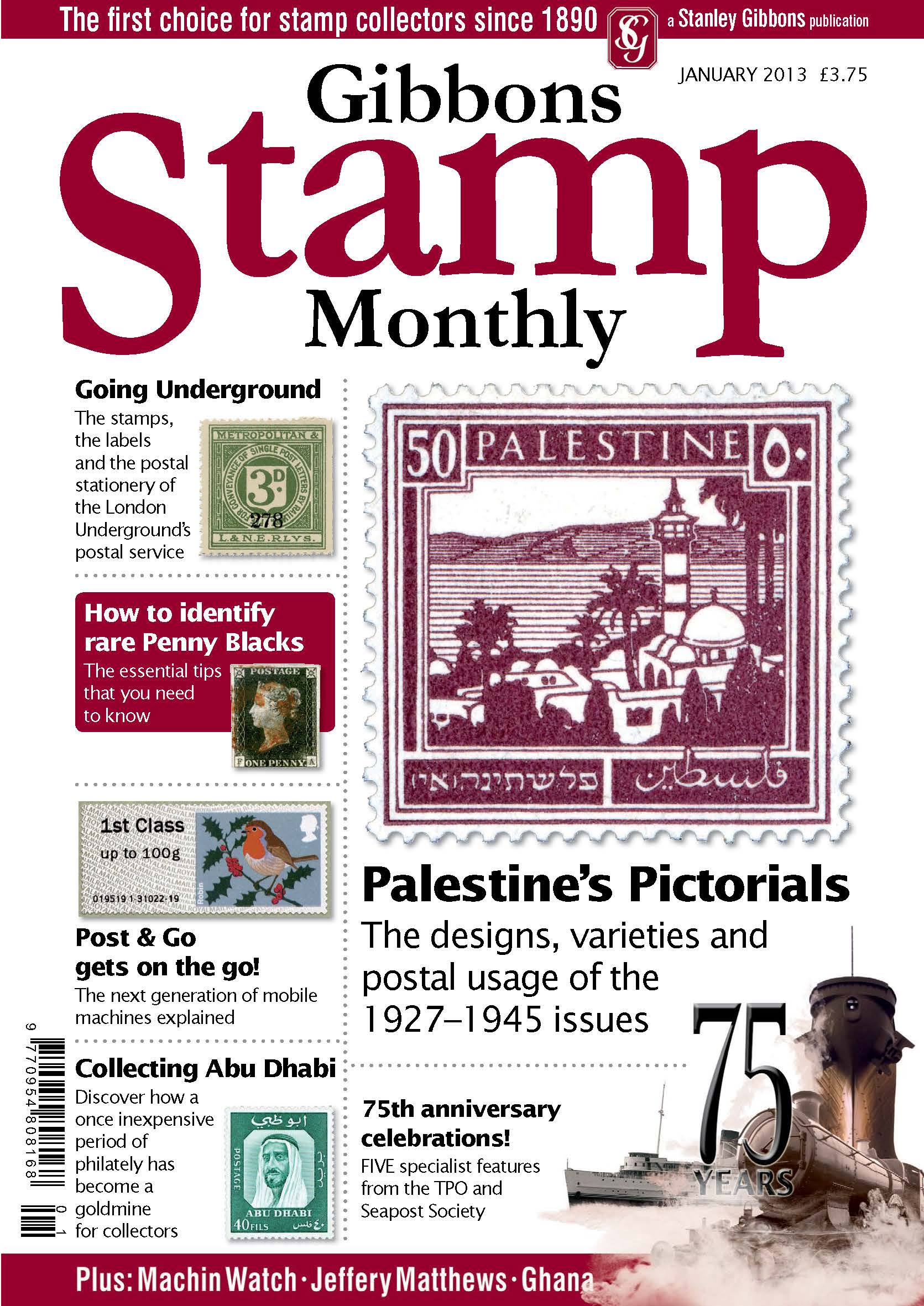 Contents January 2013
Contents to Volume 43, Number 8
---
Newsdesk
Royal Mail announces huge profits, Morgan collection sells for £2.2 Million and news of the world's fastest printed stamp
---
Society News
The latest reports from the philatelic societies around the world.
---
Diary Dates
Forthcoming Fairs and Auctions
---
Around the Houses
Hugh Jefferies presents a round-up of the latest auction news from the UK and abroad.
---
New Collector
John Holman takes a look at the stamps of Cambodia and reflects on 60 years of Stampex exhibitions
---
GB News
Royal Mail reveals the names of the London 2012 gold medal regional printers. Plus: Time is running out to buy your London 2012 Olympic stamp products
---
A Talent for Hooking a Penny Black
Want to discover how you can tell if a Penny Black is from the more valuable plate 11? Take a look at how Devlan Kruck does it!
---
Machin Watch
John Deering reveals the 'next generation' of Hytech machines and discovers what 'Post & Go' Christmas treats Royal Mail has in store
---
'Pop-up' Christmas Post Shop
We discover a new kind of post office in the heart of London that's bringing a little philately to the festive Christmas fun
---
Jeffery Matthews: 50 Years of Design for Royal Mail
Paul Brittain presents the second in his series of articles about the life and work of one of this country's leading stamp designers
---
150 Years of the Underground
As it marks its 150th anniversary, Len Stanway looks back at the parcel, newspapers and letter delivery service offered by the world famous London Underground
---
Stamping Along the Great West Road - Part 3
Alan Sacks continues his light-hearted philatelic tour along one of Britain's grandest thoroughfares
---
GB Specialised Catalogue
The latest supplement to the Great Britain Specialised Catalogue
---
The TPO and Seapost Society
Members of the TPO and Seapost Society share a few of the fascinating topics the society has to offer
---
Ghana's 1988 C100 Surcharges
Nicholas Pertwee reveals how just one value in a series can provide a fascinating area of collecting – as well as the possibility to discover some real rarities
---
Tristan da Cunha
Peter Jennings FRPSL, FRGS reveals the inside story behind the change of agency for the world's most remote island
---
Palestine: The Pictorial Issues 1927 - 1945
Ashley Lawrence FRPSL concludes his study of the stamps issued during the British mandate of Palestine
---
Stamp Hunting
Nimrod highlights some important stamps of Pakistan
---
Abu Dhabi
Now a goldmine for collectors who know what they are looking for, Rufus Barnes discusses the overprints and postmarks of the 'UAE' period
---
Shore to Shore
More issues from the Isle of Man, Guernsey and Jersey
---
Stamp News in Brief
A summary of recent and forthcoming issues
---
Panorama
Dean Shepherd investigates some more of the latest new issues
---
Unissued QEII/Catalogue Column
The story behind an unissued stamp of Tristan da Cunha. Plus, Hugh Jefferies' latest comments as SG catalogue editor.
---
Catalogue Supplement
A 12-page update to the Stanley Gibbons Catalogue
---