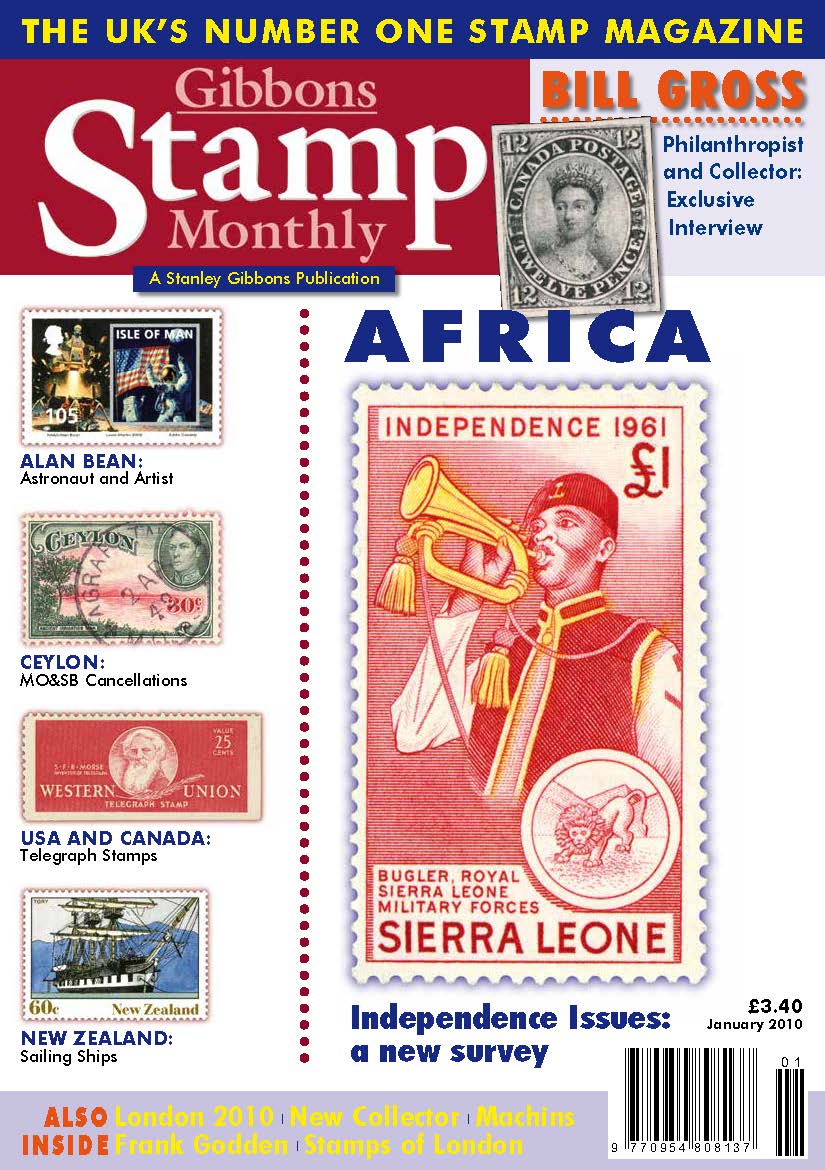 Contents January 2010
Contents to Volume 40, Number 8
---
Newsdesk
Collect British Stamps redesigned; Gross collections make $3.2 million; Apollo 15 space cover purchased; Exhibitions; London 2010 update.
---
Society News
Reports from philatelic societies.
---
Diary Dates
Forthcoming Fairs and Auctions.
---
Around the Houses
News of recent auction results.
---
New Collector
John Holman looks at letterpress printing, the Indian Feudatory State of Duttia, New Zealand private posts and items submitted by readers.
---
GB News
Miniature sheet celebrates 100 years of Guiding; New Smilers sheets; Olympic stamp book series.
---
Machin Watch
John M Deering examines the 'Castles of Scotland' generic sheet and the new 'Recorded Signed For' stamps.
---
Stamps of the City: West
Derek Connell completes his philatelic visit to the historic City of London.
---
GB Specialised Catalogue
A supplement to the Great Britain Specialised Catalogue.
---
Completion, the Curse of Stamp Collectors
Advice from Tony Buckingham to pick the stamps you like and enjoy collecting.
---
The MO&SB Postmarks of Ceylon
David Horry, with help from Ray Stanton, reviews the interesting and diverse Money Order and Savings Bank cancels.
---
Two Sailing Ships That Influenced New Zealand's History
The histories of the Tory and Edwin Fox, both illustrated on New Zealand stamps, are told by Christopher Moor.
---
Stamp Hunting/ Competition
Nimrod suggests GB Year Packs and PHQ Cards that are worth looking for, as well as a Falkland Islands set.
---
Africa's Independence Stamps
In the first part of a new series, David R Wright looks back 50 years to the independence stamps  of West Africa.
---
The Telegraph Stamps of North America
The telegraph stamps of Canada and the USA are reviewed by Steve Hiscocks.
---
Bill Gross, Stamp Collector and Philanthropist
Gibbons Stamp Monthly has an exclusive interview with Bill Gross, who has recently donated $3.2 million to the Smithsonian National Postal Museum.
---
A Homecoming and a Bright Future
Chris Harman RDP, FRPSL, looks at the history of Frank Godden—long synonymous with the finest stamp albums—which has recently been acquired by Stanley Gibbons.
---
Birmingham Philatelic Society Celebrates 125 Years
The Society's early years are reviewed by Alan Spencer, who reveals its connection with Stanley Gibbons.
---
London 2010—Finding the Right Venue
In the first of a new series, Paul Brittain examines the background to organising an international stamp exhibition.
---
Alan Bean, Intrepid Astronaut and World Renowned Artist—the Fourth Man on the Moon, November 1969
Peter Jennings FRPSL, FRGS, talks to Alan Bean about his space missions and his paintings.
---
Shore to Shore
Island Hopper previews the Isle of Man's Christmas stamps, the latest endangered species sheet from Guernsey and Jersey's Guide stamps.
---
Stamp News in Brief
A summary of recent and forthcoming issues from around the world.
---
Panorama
John Moody investigates the background to some more new issues.
---
The Unissued Stamps of King George V/ Catalogue Column
David Horry reveals the story behind another unissued stamp. The Catalogue Editor reports on some more varieties.
---
Catalogue Supplement
A 20-page update to the Stanley Gibbons Catalogue.
---