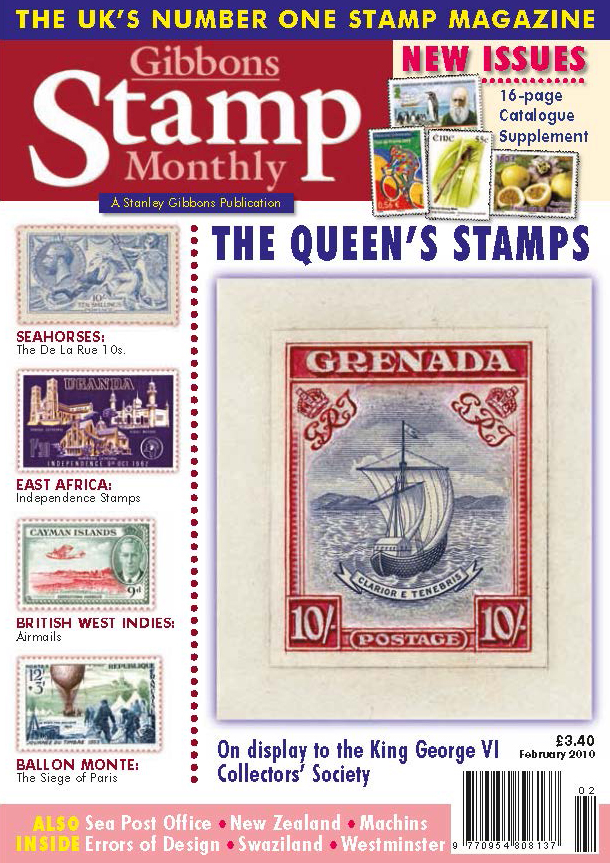 Contents February 2010
Contents to Volume 40, Number 9
---
Newsdesk
The latest news from the stamp world.
---
Society News
Reports from philatelic societies.
---
Diary Dates
Forthcoming Fairs and Auctions.
---
Around the Houses
News of recent auction results.
---
GB News
Ten stamps and a prestige booklet are to be issued on 25 February to celebrate the 350th anniversary of the Royal Society.
---
DLR's 10s. Blues
Bryan Kearsley FRPSL looks at the problems De La Rue had in printing the 10s. Seahorse.
---
Machin Watch
The latest definitive and booklet news provided by John M Deering.
---
Do Not Fly
The background to a new instructional label is examined by Chris Wheeler.
---
GB Stationery/Labels/Postmarks
Recent developments reported by John Holman.
---
GB Specialised Supplement
A supplement to the Great Britain Specialised Catalogue.
---
Stamps of Westminster
In the first part of a new philatelic tour Derek Connell visits inner Westminster.
---
Swaziland 1859–1913
Andrew Higson looks at the philatelic consequences of the political developments that took place in South Africa at the turn of the 19th century.
---
Airmail Postmarks
David Horry conducts a review of the airmail postmarks used in the British West Indies during the King George VI period.
---
African Independence
In part 2 of this series, David R Wright looks back to the independence stamps of East Africa.
---
Sea Post Office
Michael Peach illustrates and tells the story of some covers carried by sea from Britain to India.
---
The Art of Commerce
John Scott turns to trade and industry to continue his look at the development of decorative stationery.
---
Errors of Design
Nobel Prizes and snowflakes, along with a few other stamps, prove a fruitful source of errors for Oliver Andrew.
---
Crash Cover
The backgound to a crash cover from the siege of Paris to a Birmingham businessman is investigated by Peter Jennings FRPSL, FRGS.
---
KGVI Collectors' Society
A display from the Royal Philatelic Collection will celebrate the King George VI Collectors' Society's Golden Jubilee, Brian Rogers provides the details.
---
Monacophil
Hugh Jefferies reports from Monaco.
---
Stamp Hunting/Competition
Nimrod suggests some New Zealand postal fiscals that are worth looking for, as well as a Falkland Islands set. Your chance to win a £50 SG voucher.
---
London 2010
Balancing the books. Paul Brittain examines the financial aspects of staging an international exhibition.
---
Panorama
John Moody investigates the background to some recent new issues
---
Shore to Shore
Island Hopper previews stamps showing Alderney's Dragonflies, Island life on the Isle of Man and Children's books from Jersey.
---
Stamp News in Brief
A summary of new and forthcoming issues from around the world.
---
Unissued KGV/Catalogue Column
David Horry reveals the story behind another unissued stamp. The Catalogue Editor reports on some more varieties.
---
Catalogue Supplement
A 16-page update to the Stanley Gibbons Catalogue.
---