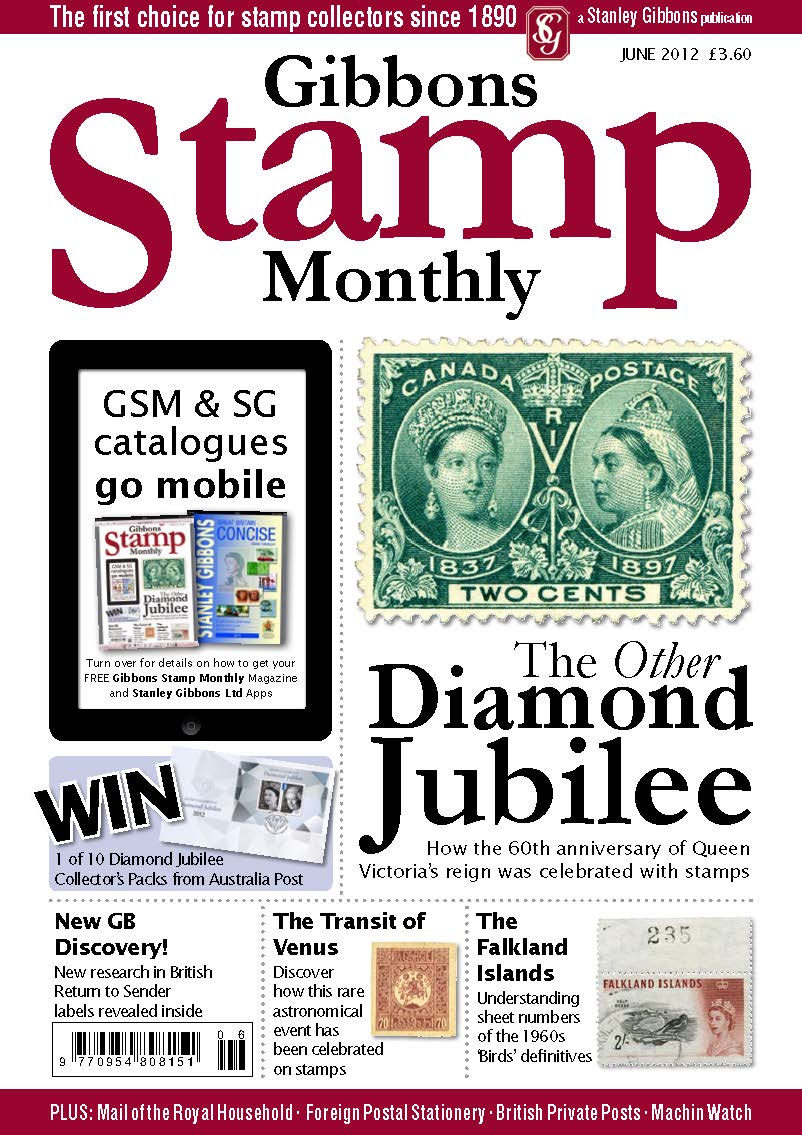 Contents June 2012
Contents to Volume 43, Number 1.
---
Newsdesk
The latest news from the stamp world.
---
Society News
Reports from philatelic societies.
---
Diary Dates
Forthcoming Fairs and Auctions.
---
Around the Houses
News of recent auction results.
---
GSM Goes Mobile
Gibbons Stamp Monthly launches its new mobile App
---
New Collector
John Holman presents another eclectic mix of philatelic advice for new stamp collectors.
---
GB News
Royal Mail's Diamond Jubilee issue revealed, plus new changes to the 2012 and 2013 stamp programmes.
---
Machin Watch
John Deering brings another update on Britain's definitive stamps,
---
British Private Posts
John Holman reveals more developments in Downstream Access mail and Universal Mail's popular Tourist stamps, as well as another helping of Railway and Island issues.
---
The Court Post Office: Part One
Glenn H Morgan and John Holman report from Buckingham Palace to offer a rare glimpse inside the Court Post Office of the Royal Household.
---
Return to Sender: A Remarkable Discovery
Douglas Muir reveals an important new discovery in the field of British Return to Sender labels.
---
GB Specialised Catalogue
The latest supplement to the Great Britain Specialised Catalogue.
---
The OTHER Diamond Jubilee
Discover the stamps, stationery and Cinderellas issued to commemorate the Diamond Jubilee of Queen Victoria.
---
Transit of Venus
Margaret Morris looks at how this rare celestial spectacle has been represented on stamps from around the world.
---
Looking for Roger Wells
David Horry investigates the life and work of Roger Wells, whose study of contemporary postmarks during the middle of the 20th century has left a vital legacy for collectors.
---
Sheet Numbers of the Falkland Islands Birds definitives of the 1960s
Hugh Osborne explains the use of sheet numbers on the Falkland Islands' 'Birds' definitives.
---
Lord Coe Stamp of Approval for Isle of Man Olympic 'Runners' Stamp
Peter Jennings FRPSL, FRGS meets former Olympic champion, Lord Coe.
---
2010-11 Foreign Postal Stationery
Geir Sor-Reime provides the first of a three-part listing of recent foreign postal stationery issues.
---
Stamp Hunting and the GSM Competition
Nimrod highlights some important stamps of Tanzania. Plus, your chance to win a £50 Stanley Gibbons voucher.
---
The Veins of Empire
Discover how some very affordable pieces of postal history can offer a unique insight to the mercantile history of the British Empire.
---
Bookshelf
Another new philatelic publication from the GSM Bookshelf is read and rated.
---
Spectacular Exhibition of 1847 Post Office Mauritius Stamps at the Museum for Communication Berlin
Peter Jennings FRPSL, FRGS supplies a special report on the 'Meeting of the Queens' exhibition in Berlin.
---
The Diarie of Samuel Creeps
More wise words from an ordinarie collector of stamps.
---
Australia Post Competition
Your chance to win one of ten sets of Australia Post's Diamond Jubilee commemorative collectables.
---
Postal Stationery Matters
Peter van Gelder's roundup of new postal stationery finds.
---
Stamp News in Brief
A summary of recent and forthcoming issues from around the world.
---
Shore To shore
Island Hopper reports on stamps from the Channel Islands and Isle of Man.
---
Panorama
A special roundup of new Diamond Jubilee issues.
---
Unissued QEII/Catalogue Column
David Horry reveals the story behind an unissued stamp of Trinidad and Tobago. Hugh Jefferies' latest comments as SG catalogue editor.
---
Catalogue Supplement
A 13-page update to the Stanley Gibbons Catalogue
---