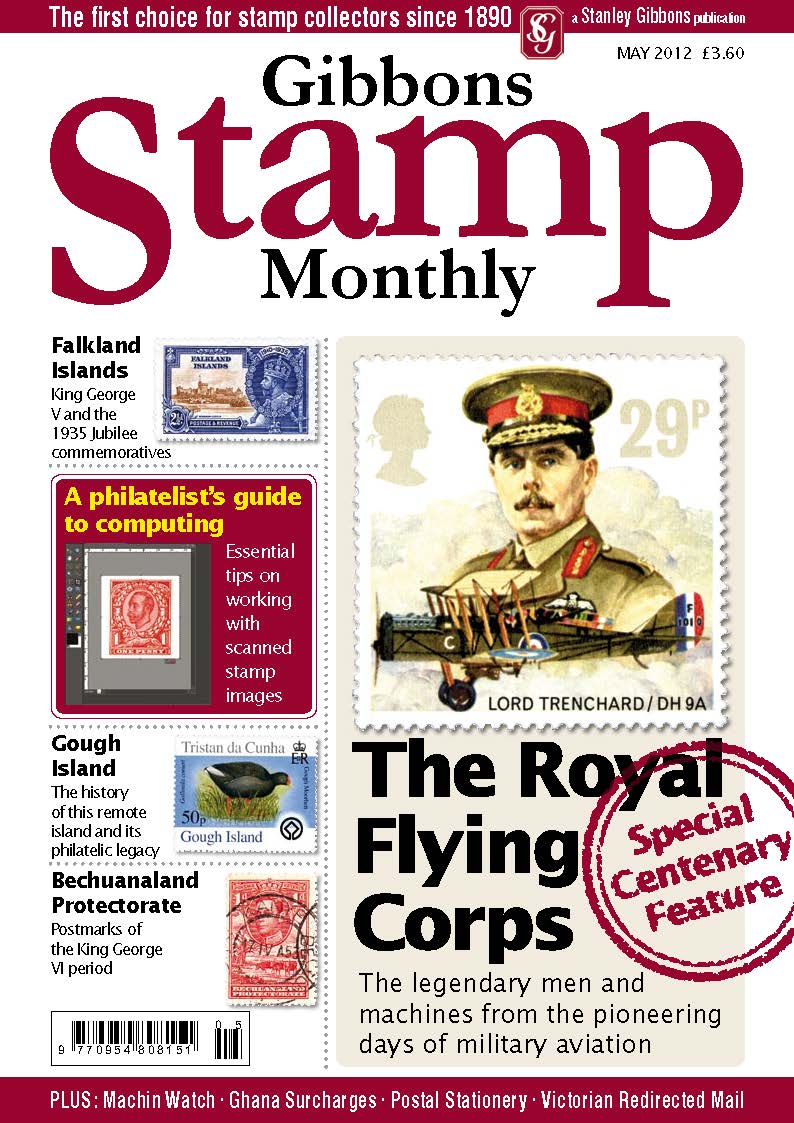 Contents May 2012
Contents to Volume 42, Number 12.
---
Newsdesk
The latest news from the stamp world.
---
Society News
Reports from philatelic societies.
---
Diary Dates
Forthcoming Fairs and Auctions.
---
Around the Houses
News of recent auction results.
---
A Collector's Collection — for Collectors
Hugh Jefferies previews the Arnhold Collection of British Africa, being sold by Stanley Gibbons Auctions.
---
New Collector
John Holman looks at postage due issues, cathedrals on stamps and postmarks, and recalls a visionary artist and stamp designer.
---
GB News
Post & Go Pigs, Great British Fashion, last chance to win a very special GB Specialised Queen Victoria Catalogue.
---
Redirected Mail - Victorian Britain
Michael Peach presents a collection of covers that reveal how redirected mail was treated in the Victorian era.
---
Machin Watch
John Deering examines Royal Mail's Diamond Jubilee Definitives and Post & Go Sheep.
---
Stamping on with 1066
Inspired by the classic 1066 and All That, Alan Sacks concludes his own potted philatelic history of Britain
---
GB Postal Stationery, Postal Labels and Postmarks
John Holman talks Special Delivery envelopes and reveals some previously unreported postal self-adhesive lables.
---
GB Specialised Catalogue
A supplement to the Great Britain Specialised Catalogue
---
The Royal Flying Corps
Ian Hamilton presents the history of the Royal Flying Corps—the precursor to the Royal Air Force—as told though stamps.
---
The 1988 Provisional Definitives of Ghana
Nicholas Pertwee concludes his stamp-by-stamp analysis of the Ghana 1988 C50 surcharges with a detailed look at the 'Ashanti Weight' and 'Seat of State' stamps.
---
A Beginner's Guide to Working With Scanned Images
Dean Shepherd reveals some helpful tips on making the most of your scanned stamp images.
---
Dear GSM
More readers have their say in the GSM letters page.
---
2010-11 Commonwealth Postal Stationery
Geir Sor-Reime begins his world tour of 2011 postal stationery issues with examples from the Commonwealth.
---
Stamp Hunting/Competition
Stamps worth looking out for from Aitutaki and Penrhyn – plus the Stanley Gibbons competition
---
King George VI Postmarks of the Bechuanaland Protectorate
David Horry's survey of King George VI Empire postmarks arrives at the Bechuanaland Protectorate.
---
For Real Isolation — Try Gough Island
Steve Pendleton looks at the history and philatelic legacy of the remote Gough Island.
---
Olympic Committee, Nairobi 1963' Commemorative essays
Peter Jennings FRPSL, FRGS brings us an exclusive report on a recently rediscovered Olympic essay prepared for East Africa.
---
A Philatelic Journey to Challenge Your Observation Skills
Noel Davenhill's whirlwind journey might get you looking a little bit closer at the designs in your collection.
---
Royal Duties of the Stanley Post Office in 1935
A selection of letters obtained by Albert-Friedrich Gruene reveals a direct link to a very special Jubilee cover personally requested by King George V himself.
---
Stamp News in Brief
A summary of recent and forthcoming issues from around the world.
---
Shore to Shore
Island Hopper reports on stamps from the Channel Islands and Isle of Man.
---
Panorama
Dean Shepherd investigates some recent new issues.
---
Unissued QEII/Catalogue Column
---
Catalogue Supplement
A 17-page update to the Stanley Gibbons Catalogue.
---