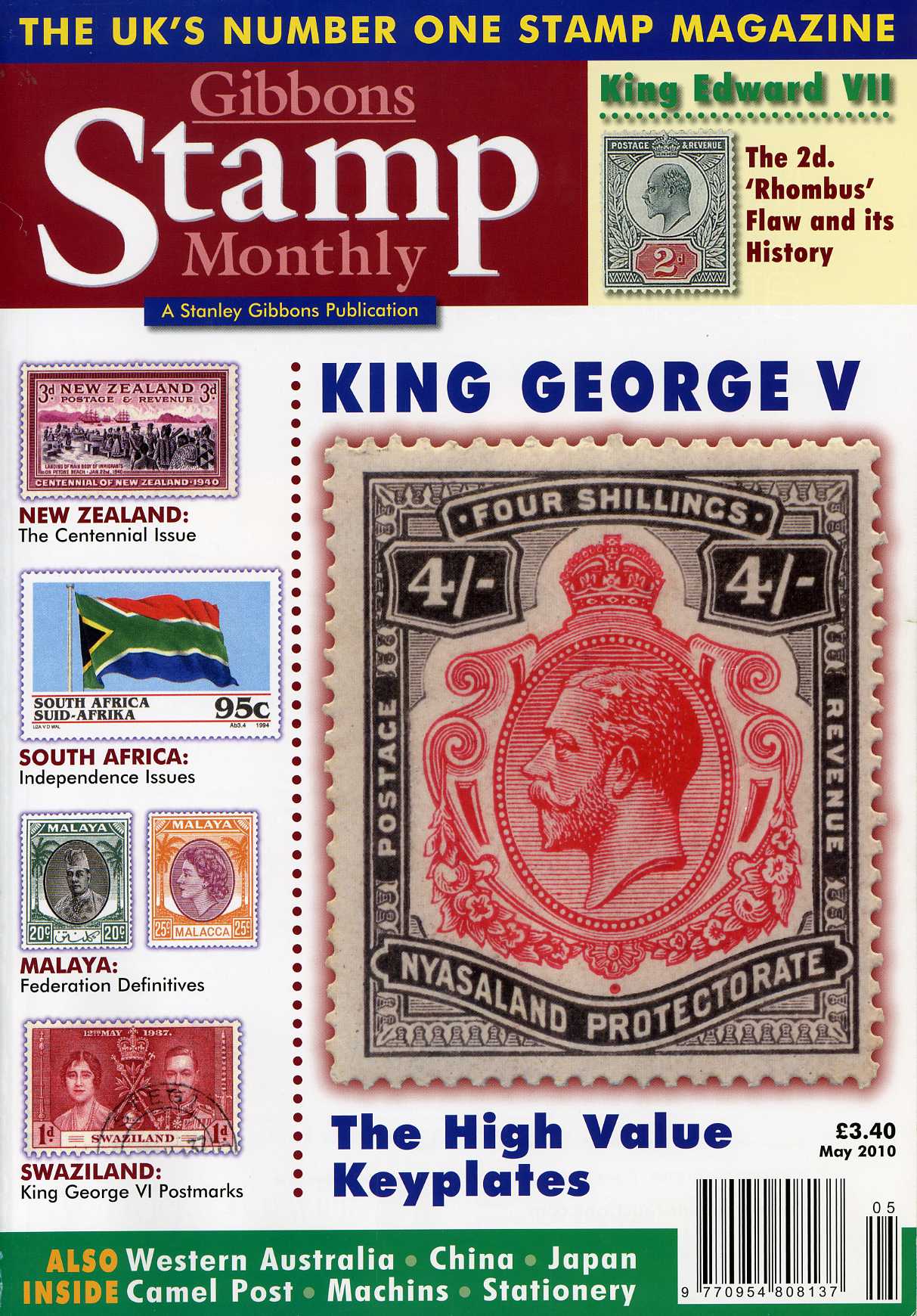 Contents May 2010
Contents to Volume 40, Number 12.
---
Newsdesk
The latest news from the stamp world.
---
Society News
Reports from philatelic societies.
---
Diary Dates
Forthcoming Fairs and Auctions.
---
Around the Houses
News of recent auction results.
---
New Collector
John Holman looks at issues of King George V, the Indian Feudatory States of Faridkot and Idar, and updates earlier articles.
---
GB News
A multitude of issues for May: London 2010 issues; Britain Alone stamps, sheet and prestige booklet.
---
2d. Distorted Value Tablet
The story behind a complex variety is told by Trevor Harris AEIP.
---
GB Stationery/Labels/Postmarks
---
Machin Watch
John M Deering reviews the 'Castles of Wales' generic sheet and Royal Society prestige booklet.
---
GB Specialised Supplement
A supplement to the Great Britain Specialised Catalogue.
---
Stamp Hunting/Competition
Nimrod suggests some stamps that are worth looking for from the People's Republic of China..
---
Varieties
Key plate varieties on the King George V large 'Nyasa' type high values are reviewed by Denis Littlewort.
---
Western Australia
Richard Breckon outlines the background to the Western Australia stamp issues following Ferderation.
---
Federation of Malaya
Rob Holley begins a detailed review of the Federation of Malaya issue, in use between 1949 and 1960.
---
Swaziland KGVI Postmarks
David Horry suggests some difficult to find cancellations.
---
Competition
Your chance to win a £100 SG voucher.
---
African Independence
In the case of South Africa some of the 'Independence' stamps date back to the 19th century, as David R Wright reveals.
---
Iraq
A report from Peter Jennings FRPSL, FRGS, on some unusual covers transported across the desert of Iraq.
---
New Zealand Centennial Issue
A design of quality that is well worth studying in detail; Robin Gwynn FRPSL, FRPSNZ, takes a closer look.
---
Japanese Steam Engines
Nicholas Pertwee concludes his series recalling his time in Japan as the role of the steam engine there was coming to its close.
---
Postal Stationery
Geir Sør-Reime begins by looking at the countries of the Commonwealth in his annual survey of postal stationery.
---
Shore to Shore
Island Hopper reports on motoring history in the Isle of Man, Jersey mail ships and regionals and a Battle of Britain issue from Alderney.
---
Panorama
John Moody investigates the background to some recent new issues.
---
Stamp News in Brief
A summary of new and forthcoming issues from around the world.
---
Unissued QEII/Catalogue Column
David Horry reveals the story behind another unissued stamp. The Catalogue Editor reports.
---
Catalogue Supplement
A 17-page update to the Stanley Gibbons Catalogue.
---