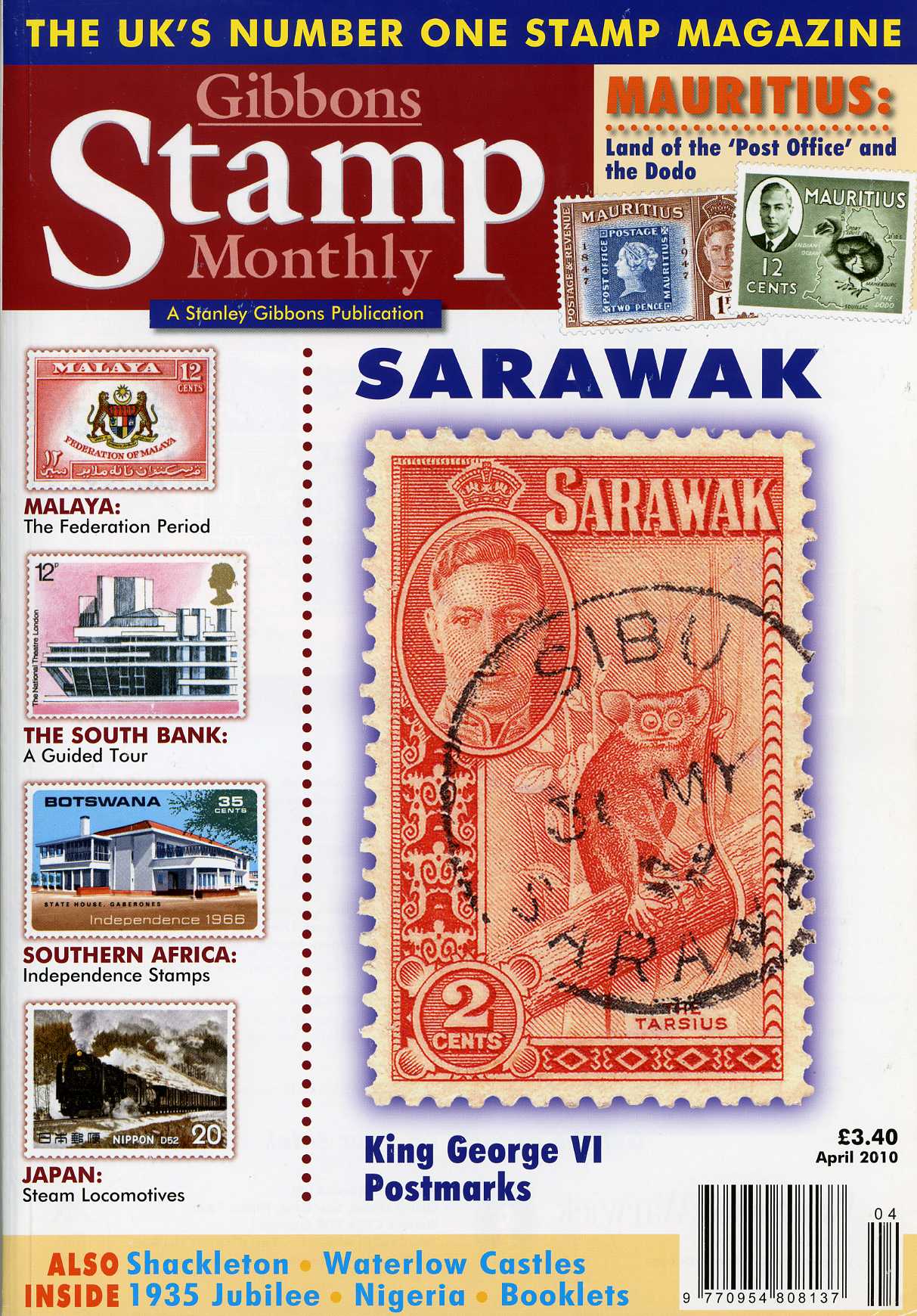 Contents April 2010
Contents to Volume 40, Number 11
---
Newsdesk
The latest news from the stamp world.
---
Society News
Reports from philatelic societies.
---
Diary Dates
Forthcoming Fairs and Auctions.
---
Around the Houses
News of recent auction results.
---
GB News
Ten stamps featuring Mammals to be issued on 13 April.
---
Waterlow Castles
Peter Shaw updates his earlier article.
---
Machin Watch
John M Deering looks at security slits and recent changes to retail booklets.
---
Merchant Navy
The case for a Merchant Navy stamp is made by Keith Greenway.
---
GB Letters
Readers' views on British stamps, plus a Rugby Songs issue!
---
GB Specialised Supplement
A supplement to the Great Britain Specialised Catalogue.
---
Stamps of the South Bank
Continuing his philatelic journey round London, Derek Connell goes south of the river.
---
Federation of Malaya
There are more collecting opportunities than the catalogue entry suggests, as Len Stanway shows.
---
Stamp Hunting/Competition
Nimrod suggests some Nigeria stamps that are worth looking for. Your chance to win a £50 SG voucher.
---
Sarawak KGVI Postmarks
David Hory reveals that village postmarks from this colony can be difficult to find.
---
Books
David Rennie reviews Colin Searle's 100 Years of the Philatelic Congress of Great Britain 1909–2009.
---
African Independence
The late David R Wright continues his review of African independence issues.
---
Mauritius
Basil Herwald visits this paradise island and pops into the Philatelic Bureau.
---
1935 Silver Jubilee
Neil Donen reports on a new variety on a Straits Settlements stamp and, with Alastair Hacket and Harvey Russell, extends the list of 2½d. Prussian blues.
---
Shackleton Centenary
The postal arrangements for Shackleton's British Antarctic Expedition, together with items to mark its centenary, are examined by Steve Pendleton.
---
Japanese Steam Engines
Nicholas Pertwee recalls his time in Japan as the role of the steam engine there was coming to a close.
---
London 2010
Decisions, decisions, decisions. Paul Brittain looks at some of the questions facing the organisers of London 2010.
---
Girl Guiding Centenary
A special report by Peter Jennings FRPSL, FRGS.
---
Letters
Readers comment on some past GSM articles.
---
Foreign Booklets
Geir Sør-Reime begins his annual survey of stamp booklets.
---
Panorama
John Moody investigates the background to some recent new issues.
---
Shore to Shore
Island Hopper reports on Jersey Birds, Dragonflies from Alderney and the Isle of Man's Battle of Britain issue.
---
Stamp News in Brief
A summary of new and forthcoming issues from around the world.
---
Unissued KGV/Catalogue Column
David Horry reveals the story behind another unissued stamp. The Catalogue Editor reports.
---
Catalogue Supplement
A 20-page update to the Stanley Gibbons Catalogue.
---