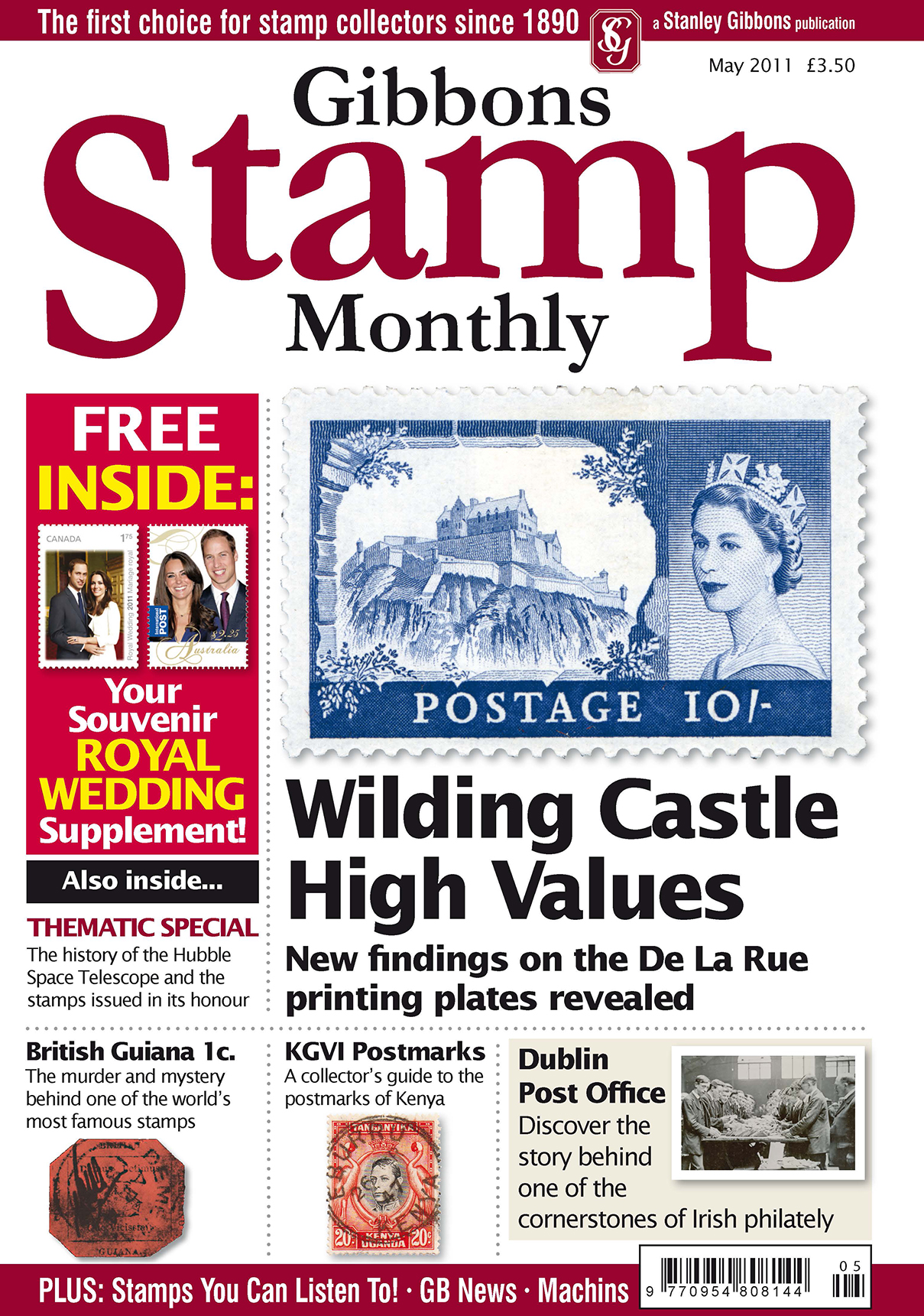 Contents May 2011
Contents to Volume 41, Number 12.
---
Newsdesk
The latest news from the stamp world.
---
Society News
Reports from philatelic societies.
---
Diary Dates
Forthcoming Fairs and Auctions.
---
Around the Houses
News of recent auction results.
---
New Collector
John Holman looks at the 1951 Festival of Britain and stamps for and against Sunday delivery.
---
GB News
New Issues: Morris and Company stamps and prestige booklet, Royal Wedding miniature sheet and more Post & Go Birds.
---
Machin Watch
John Deering looks at low value self-adhesive Machins and the WWF prestige booklet.
---
Victorian STO Envelopes
Colin Baker concludes his examination of these items and explains how an embossing die is made.
---
Wilding Castle DLR Plates
Peter Shaw updates his article of September 2009.
---
The King is Dead …
A visit to the exhibitions that took place during the reigns of Kings Edward VII and George V with Derek Connell.
---
GB Stationery/Labels/Postmarks
A report on recent developments by John Holman.
---
GB Specialised Supplement
A supplement to the Great Britain Specialised Catalogue.
---
Happy Birthday, Hubble!
Margaret Morris reviews the history of the Hubble Space Telescope and the man behind it.
---
Postal History at Stampex
John Holman reports on the Postal History Society's display at this year's Spring Stampex.
---
Railway Parcel Stamps
Christer Brunström explores a fascinating collecting field.
---
Behind the Scenes
Crests and seals can be important as John Scott shows in another of his articles on the social history aspects of philately.
---
Murder and Mysteries
The story behind the British Guiana 1c. Black on magenta is told by Paul Brittain.
---
Stamp Hunting/Competition
Nimrod suggests stamps worth looking for from Egypt. Your chance to win one of five Great Britain Concise Catalogues.
---
North Korea Postmarks
Nicholas Pertwee provides an appendage to his previous articles with an explanation of the Korean writing system.
---
ABPS Sheffield 2011 Exhibition
Donald Radley and Greg Spring report on the exhibits.
---
Dublin''s Postal Museum
'Letters, Lives and Liberty', an exhibit at Dublin's Postal Museum is outlined by its Curator, Stephen Ferguson.
---
Kenya KGVI Postmarks
David Horry reveals Kenyan postmarks to look out for from the King George VI period.
---
Ferndown Philatelic Club
John Garrett provides a brief history of the Ferndown and West Moors Philatelic and Postcard Club, which this year celebrates its 40th anniversary.
---
---
Europe's First Audio Stamp
A visit to Joh Enschedé by Peter Jennings FRPSL, FRGS, where he sees some innovative Dutch stamps.
---
2009–2010 Postal Stationery
Geir Sør-Reime begins his annual survey of the world's postal stationery, listing countries of the Commonwealth.
---
Panorama
Dean Shepherd investigates some recent new issues.
---
Stamp News in Brief
A summary of recent and forthcoming issues from around the world.
---
Shore to Shore
The greatest TT races, Guernsey forests and Orchids and Royalty from Jersey – Island Hopper reports.
---
Unissued QEII/Catalogue Column
David Horry reveals the story behind an unissued stamp. Hugh Jefferies provides an update on the 2012 'Part 1' and reviews an important criterion for catalogue listing
---
Catalogue Supplement
A 19-page update to the Stanley Gibbons Catalogue.
---