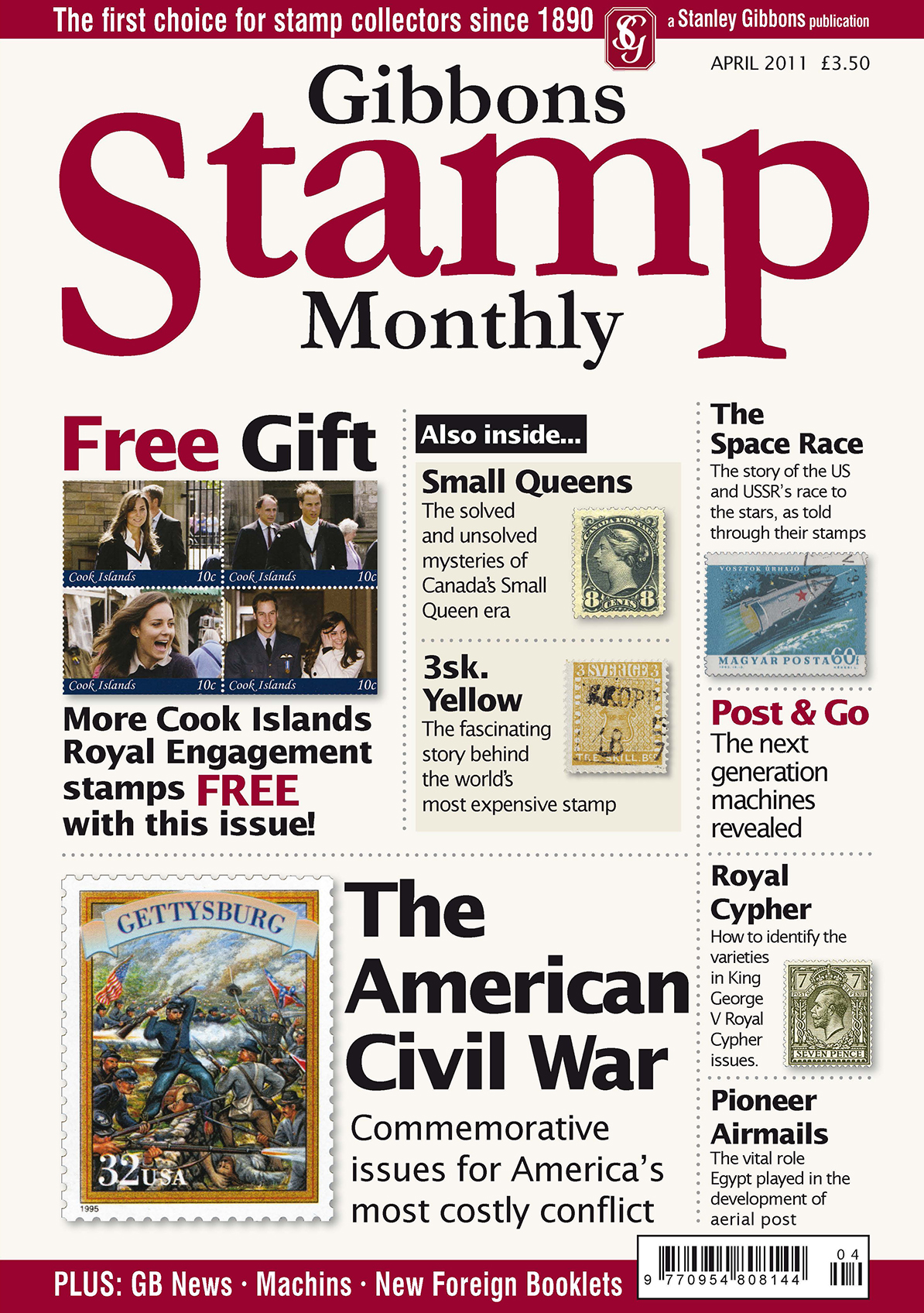 Contents April 2011
Contents to Volume 41, Number 11.
---
Newsdesk
The latest news from the stamp world.
---
Society News
Reports from philatelic societies.
---
Diary Dates
Forthcoming Fairs and Auctions.
---
Around the Houses
News of recent auction results.
---
New Collector
John Holman looks at the stamps of the Ryukyu Islands, Sinking Fund stamps and Universal Mail's Bird issues.
---
GB News
Royal Shakespeare Company stamps and miniature sheet.
---
Machin Watch
John Deering looks at Service Specific stamps, the British Heart Foundation booklet and remembers Mike Holt.
---
Post & Go Goes 'Hytech'
John Deering reports on a new development.
---
British Private Posts
The latest news reported by John Holman.
---
George V Royal Cypher Stamps
The many interesting aspects of these stamps are revealed by David Baker.
---
Victorian STO Envelopes
Colin Baker examines the background to stamped-to-order stationery envelopes.
---
GB Specialised Supplement
A supplement to the Great Britain Specialised Catalogue.
---
Gagarin
Jeff Dugdale charts the successes of the Soviet space programme – and its failures.
---
Latin America Telegraphs
In Part 2 of this feature, the late Steve Hiscocks covers telegraph stamps of Costa Rica, Ecuador and El Salvador.
---
Sweden's 3 Skilling Yellow
The story behind the world's most expensive stamp is told by Paul Brittain.
---
Dear Reader/Competition
Readers' correspondence. Your chance to win a £50 SG voucher.
---
American Civil War
Peter Martin looks at US stamps illustrating 'the bloodiest conflict in American history'.
---
Canada's Small Queens
The 6c. and 8c. values are examined by John Hillson FCPS, who attempts to answer some outstanding questions.
---
Malaysia Definitives 1979–1986
Mc McClaren concludes his article with a review of the booklets, postcards and aerogrammes.
---
England Australia Airmail
Three experimental flights that paved the way for a regular service between the two countries are recalled by Richard Breckon.
---
Sheffield PS
Donald Radley and Greg Spring outline members' collecting interests.
---
Egyptian Airmails
Peter Jennings FRPSL, FRGS, illustrates a miscellany of pioneer airmail items from his collection.
---
Stamp Hunting
Nimrod suggests some stamps worth looking for from Malta.
---
Cook Islands Museum
A report from Philatelic Collector Inc on its latest venture and a look at recent issues from the islands.
---
2010 Foreign Booklets
Geir Sør-Reime concludes his annual survey of stamp booklets.
---
Stamp News in Brief
A summary of recent and forthcoming issues from around the world.
---
Shore to Shore
Island Hopper looks at wildlife: Jersey's Squirts and Sponges, Manx Butterflies and Alderney's Hawk-moths.
---
Panorama
Dean Shepherd investigates some recent new issues.
---
Unissued QEII/Catalogue Column
David Horry reveals the story behind an unissued stamp. Hugh Jefferies reports on Qatar definitives, a GB surface-printed variety and a mystery Christmas stamp.
---
Catalogue Supplement
A 16-page update to the Stanley Gibbons Catalogue
---