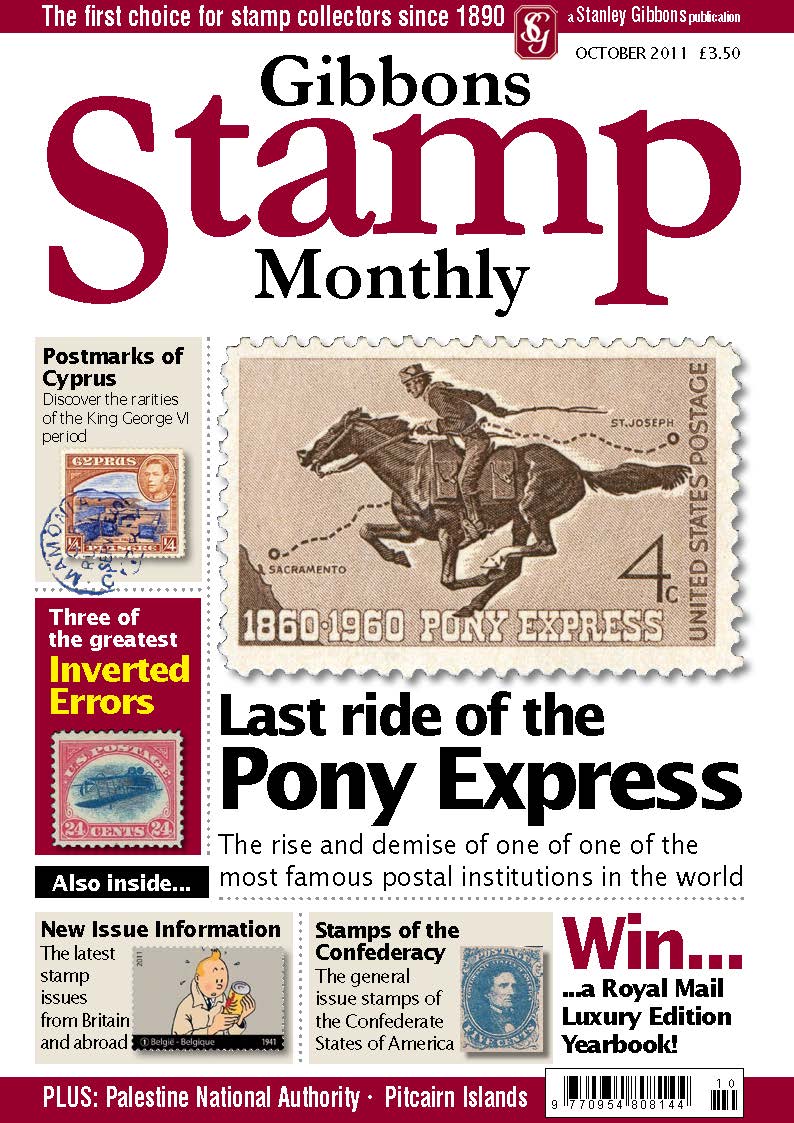 Contents October 2011
Contents to Volume 42, Number 5.
---
Newsdesk
The latest news from the stamp world.
---
Society News
Reports from philatelic societies.
---
Diary Dates
Forthcoming Fairs and Auctions.
---
Around the Houses
News of recent auction results.
---
New Collector
John Holman looks at stamps with their own unique names, tourist cachets, small Channel Islands and exhibitions.
---
GB News
October stamp issue: Twelve stamps showing UK landmarks.
---
Yearbook Competition
Your chance to win a luxury 2009 Royal Mail Yearbook.
---
Machin Watch
John Deering reports on coil stamps with MA10 date code, Olympic No 5 and Classic Locomotive retail stamp booklets and a Post & Go typeface error.
---
British Private Posts
The latest news on Downstrean Access mail, Tourist stamps and Railway Letter stamps is provided by John Holman.
---
Royal Mail Smilers Sheets
John Gray illustrates the variations to be found on these sheets.
---
GB Specialised Supplement
A supplement to the Great Britain Specialised Catalogue.
---
---
GSM Bookshelf
Reviews of Surcharged Mail and the Postage Due Stamps of Northern Rhodesia and GPO Design Posters.
---
The Three Inverts
This month in his series on famous stamps Paul Brittain focuses on three well-known errors.
---
Confederate States Stamps
Dr John L Kimbrough provides a survey of the stamps issued by the Confederates States of America.
---
Commemoratives of 1961
Peter van Gelder looks back to Commonwealth commemoratives of 50 years ago.
---
Private Ship Letter Stamps
Christer Brunström provides a brief survey of some of the shipping companies that issued stamps.
---
Pioneer Airmails
An illustrated report by Peter Jennings FRPSL, FRGS, on the items produced for early airmail flights and those marking their anniversaries.
---
Last Run of the Pony Express
The history of one of the USA's most famous institutions is outlined by Richard Frajola.
---
Stamp Hunting/Competition
Nimrod suggests stamps worth looking for from Hong Kong. Your chance to win a £50 SG voucher.
---
Cyprus KGVI Postmarks
David Horry shows that there are many postmarks to search for from a Mediterranean island with the oldest established postal history in the Commonwealth.
---
Palestine
In the first part of this article Professor Paul J Phillips reviews the early issues of the Palestinian National Authority and the problems it had to overcome.
---
Australian Antarctic Philately
The Mawson Expeditions of 1911–14 and 1929–31 and the unsuccessful attempts to get philatelic recognition are examined by Richard Breckon.
---
Bird's Nests on Stamps
P J Lanspeary reveals the many types of nests built by birds and illustrates them with stamps.
---
Pitcairn Island
The philatelic legacy of a former postmaster of Pitcairn – Roy Clark – is examined by Steve Pendleton.
---
Z-Cars on Stamps
Christopher Moor takes a nostalgic look at the Ford Zephyr.
---
Shore to Shore
Island Hopper reports on stamps from the Channel Islands and Isle of Man: Jersey Mills, Guernsey Scenery and Isle of Man Daffodils.
---
Stamp News in Brief
A summary of recent and forthcoming issues from around the world.
---
Panorama
Dean Shepherd investigates some recent new issues.
---
Unissued QEII/Catalogue Column
David Horry reveals the story behind another unissued stamp. Hugh Jefferies reports on the new Commonwealth and Empire Stamps catalogue.
---
---