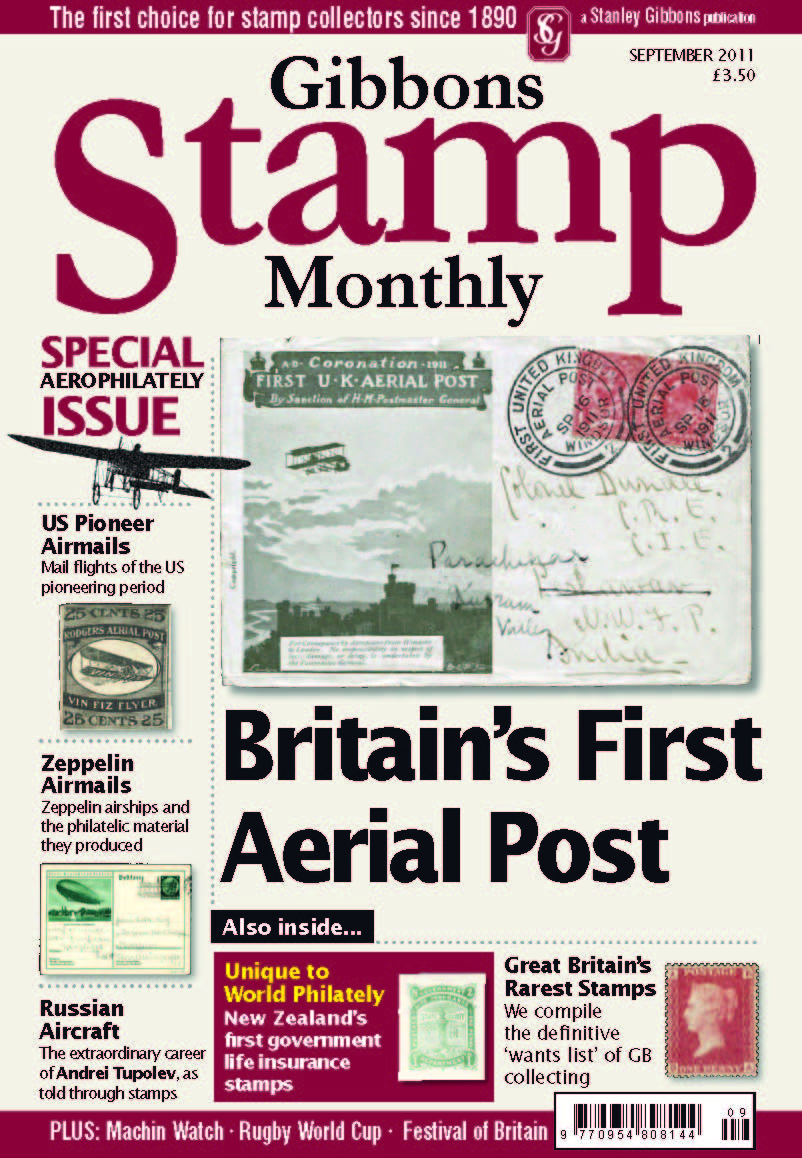 Contents September 2011
Contents to Volume 42, Number 4.
---
Newsdesk
The latest news from the stamp world.
---
Society News
Reports from philatelic societies.
---
Diary Dates
Forthcoming Fairs and Auctions.
---
Around the Houses
News of recent auction results.
---
New Collector
John Holman looks at Express Mail stamps, designers Arnold Machin and Stuart Rose, UK aerial Post and National Trust 'Passport Stamps'.
---
GB News
September stamp issues: UK Aerial Post Centenary, The House of Hanover and British Birds Post&Go Stamps.
---
Coronation Aerial Post
Peter Jennings FRPSL, FRGS, takes a look back to an important aviation achievement.
---
First UK Aerial Post
Tony Buckingham looks at the souvenirs marking anniversaries of the first UK Aerial Post.
---
Machin Watch
John Deering reports on the 'Thomas the Tank Engine' retail booklet, Recorded Signed For stamps and updates NVI sheet printings.
---
A Tonic to the Nation
Derek Connell takes a philatelic visit to the Festival of Britain.
---
GB's Rarest Stamps
Exceptional British stamps are reviewed by Paul Brittain.
---
GB Specialised Supplement
A supplement to the Great Britain Specialised Catalogue.
---
---
Postal Stationery Matters
Peter van Gelder reports on New South Wales Greater Jubilee cards, early GB aerogrammes, New Zealand postcards and Cecogrammes.
---
US Pioneer Airmail
Peter Martin tells the stories behind some of the early airmail flights and the pilots who undertook them.
---
Norway
Peter Jennings FRPSL, FRGS, reports on the stamps and postal service of the 'Land of the Midnight Sun'.
---
Stamp Hunting/Competition
Nimrod suggests stamps worth looking for from Northern Rhodesia. Your chance to win a £50 SG voucher.
---
An Aviation Superstar
Ian Hamilton looks at the career of Andrei Tupolev – 'the father of Soviet aviation' – and the aircraft he designed.
---
Australian Food Parcel Labels
Neil Russell FRPSL, FBSAP, provides some further thoughts on the embossed labels used to send post-war food parcels to Britain.
---
Rugby World Cup in Stamps
The World Rugby Cup takes place this year in New Zealand; Professor Chris Coggins highlights some of the stamps produced to mark previous competitions
---
Gilbert & Ellice Postmarks
David Horry moves to the Pacific in search of postmarks to be found on the stamps of King George VI.
---
NZ Life Insurance Stamps
Robin Gwynn FRPSL, FRPSNZ, examines the first issue of New Zealand's Government Life Insurance Department stamps.
---
Hindenburg over the Olympics
A brief history of Germany's Zeppelin airships is provided by John Moody.
---
Diarie of Samuel Creeps
Extracts from the journal of 'an ordinarie collector', selected by Michael Banister.
---
Pangkor and the Dindings
A little-known area of Malaya is visited by Rob Holley.
---
Shore to Shore
Island Hopper reports on stamps for The Guernsey Literary and Potato Peel Pie Society, a Commonwealth Youth Games sheet from the Isle of Man and issues for Jersey's financial industry and scenery.
---
Stamp News in Brief
A summary of recent and forthcoming issues from around the world.
---
Panorama
Dean Shepherd investigates some recent new issues.
---
Unissued QEII/Catalogue Column
David Horry reveals the story behind another unissued stamp. Hugh Jefferies reports on the new Commonwealth and Empire Stamps catalogue.
---
Catalogue Supplement
A 12-page update to the Stanley Gibbons Catalogue.
---