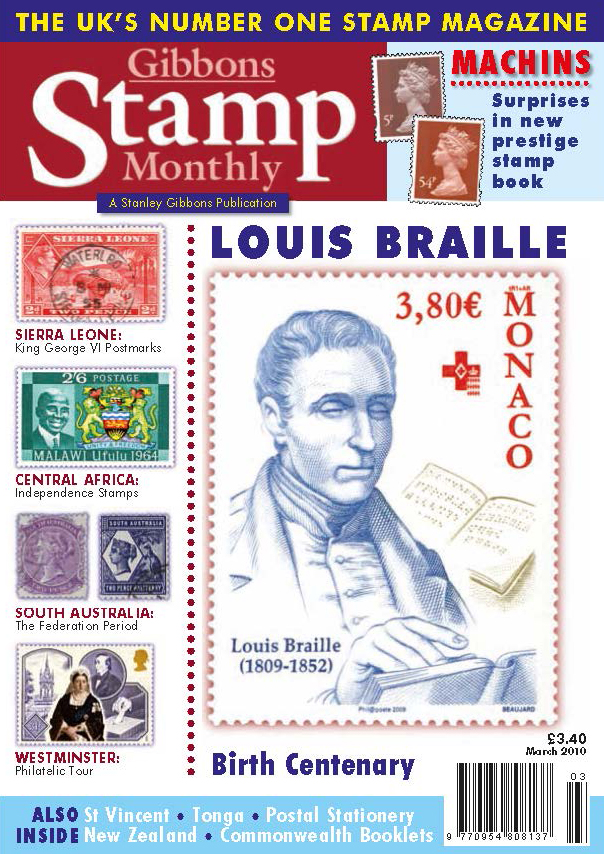 Contents March 2010
Contents to Volume 40, Number 10.
---
Newsdesk
The latest news from the stamp world.
---
Society News
Reports from philatelic societies.
---
Diary Dates
Forthcoming Fairs and Auctions.
---
Around the Houses
News of recent auction results.
---
New Collector
John Holman looks at Frank stamps, Jammu and Kashmir, Seborgia and Britons on stamps.
---
GB News
Ten stamps celebrate the centenary of Battersea Dogs and Cats Home; third Kings and Queens series portrays the House of Stewart.
---
Machin Watch
John M Deering reports on the 'Classic Album Covers' prestige booklet.
---
Stamps of Westminster
Derek Connell continues his philatelic tour, starting with a visit to the Strand.
---
GB Specialised Supplement
A supplement to the Great Britain Specialised Catalogue.
---
Books
Reviews of books on the stamps and postal history of Lundy and Canada's Small Queens
---
Sierra Leone KGVI Postmarks
Scarce and rare cancellations are identified and illustrated by David Hory.
---
NZ's Newspaper Stamp
A small stamp which conceals plenty of philatelic challenges and research possibilities is reviewed by Robin Gwynn FRPSL, FRPSNZ.
---
South Australia
Richard Breckon discusses the background and looks at the production of the complex Long stamp series.
---
Provisional Surcharges
Steve Zirinsky reports on surcharges from St Vincent and Tonga.
---
African Independence
The stamps of Malawi, Zambia and Zimbabwe that followed the break-up of the Central African Federation are recalled by Davis Wright.
---
Aberdeen PS
A century of philatelic activity is surveyed by Jeffrey Stone.
---
London 2010
Putting the exhibits in place. Paul Brittain looks at the work involved in displaying collections at an international stamp exhibition.
---
Postal Stationery Matters
Peter van Gelder looks at stationery old and new and provides some tips on mounting a collection.
---
Stamp Hunting/Competition
Nimrod suggests some Grenada stamps that are worth looking for. Your chance to win a £50 SG voucher.
---
The Diarie of Samuel Creeps
Michael Banister selects some more musings from the journal of an 'ordinarie collector'.
---
Loius Braille
A special report by Peter Jennings FRPSL, FRGS.
---
Commonwealth Booklets
Geir Sør-Reime begins his annual survey of stamp booklets.
---
Kosovo: Edith Durham
Elizabeth Gowing reveals the British connection to a recent Kosovo stamp issue.
---
Letters
Readers' views on the world of philately.
---
Shore to Shore
Island Hopper previews stamps showing Guiding on the Isle of Man, Maps and Petrology from Jersey and Guernsey landscapes.
---
Panorama
John Moody investigates the background to some recent new issues
---
Stamp News in Brief
A summary of new and forthcoming issues from around the world.
---
Unissued KGV/Catalogue Column
David Horry reveals the story behind another unissued stamp. The Catalogue Editor reports.
---
Catalogue Supplement
An 18-page update to the Stanley Gibbons Catalogue.
---