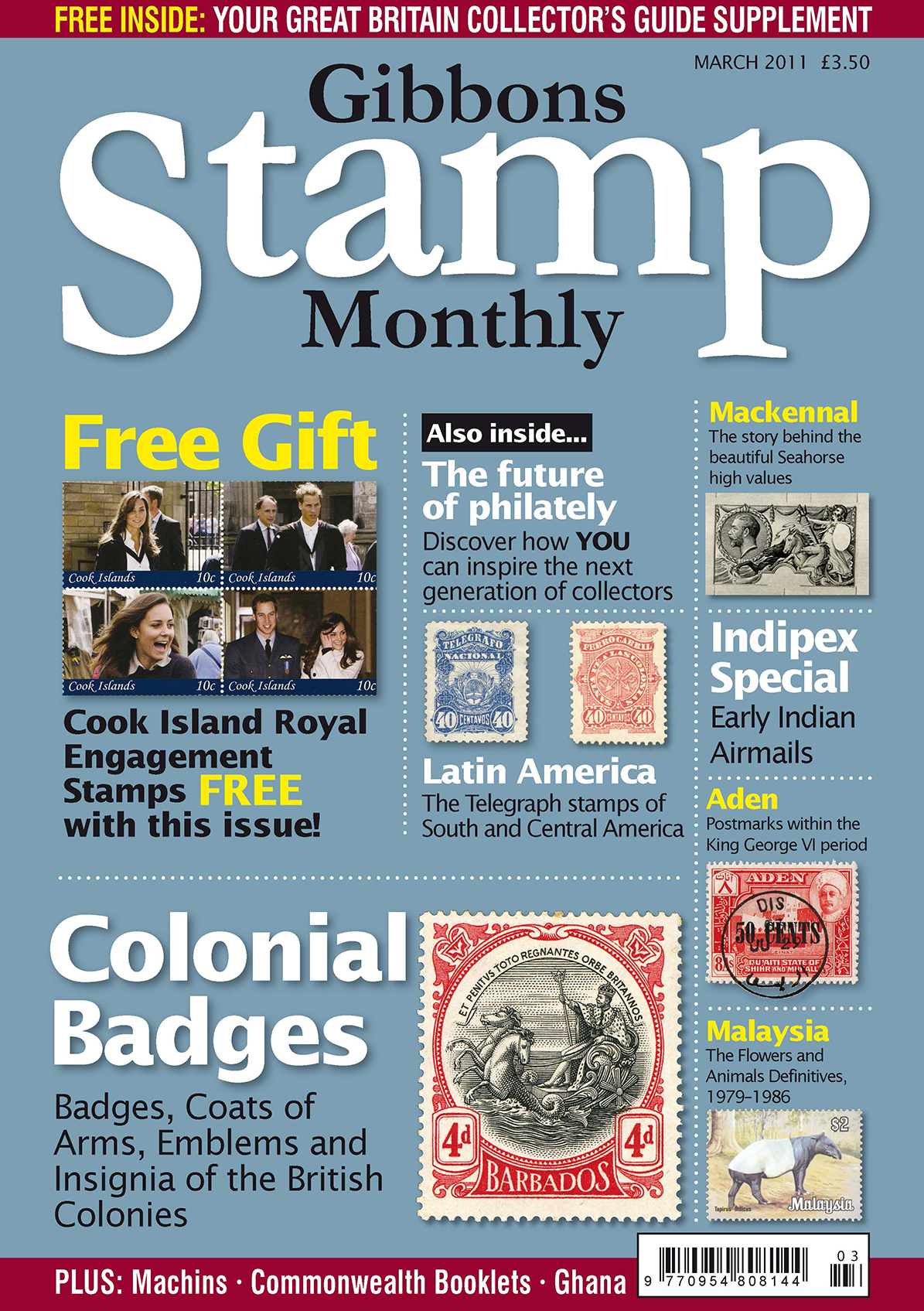 Contents March 2011
Contents to Volume 41, Number 10.
---
Newsdesk
The latest news from the stamp world.
---
---
Diary Dates
Forthcoming Fairs and Auctions.
---
Around the Houses
News of recent auction results.
---
New Collector
John Holman looks at 'dead countries', tourist cachets, obsolete stamps on cover and records more Britons on stamps.
---
GB News
New Royal Mail issues: Magical Realms – eight stamps to be released on 8 March – and WWF – ten stamps and a miniature sheet on 22 March.
---
Machin Watch
John Deering's regular update on modern GB issues
---
Bertram Mackennal
Douglas N Muir concludes his exploration of the work of King George V's favourite sculptor.
---
GB Specialised Catalogue
A supplement to the Great Britain Specialised Catalogue.
---
Lord Mayor's Show
Derek Connell reports on last year's Lord Mayor's Show, which included a restored Mobile Post Office.
---
Postal Stationery Matters
Peter van Gelder gets help from a magazine of 1892, charts South Africa's aerogrammes from 1995 to 2009, uncovers a feud between Victor and Oswald Marsh and looks at Canada's cards of 2010.
---
---
Malaysia
The first of a two-part examination of the Flowers and Animals definitives of 1979–1986 by Mac McClaren.
---
Telegraph Stamps
The late Steve Hiscocks begins a review of the Telegraph stamps of Latin America – Argentina to Colombia.
---
Sheffield PS
Donald Radley and Greg Spring describe the origin and development of the Society.
---
Samuel Creeps
Michael Banister selects extracts from the Creeps' journal.
---
2010 Commonwealth Booklets
Geir Sør-Reime begins his annual survey of stamp booklets.
---
Colonial Badges
Colonial arms and badges have long intrigued Noel Davenhill who examines their depiction on stamps.
---
Cook Islands
We look at the Islands' history and the latest issues – including that for the Royal Engagement.
---
Philatelic Happenings in Ghana
Nicholas Pertwee concludes his investigation of Ghana's recent stamp issues and the challenges they present.
---
Helping the Future
Attracting the young to the hobby, tips from Paul Brittain.
---
Aden Postmarks of George VI
The postmarks to be found on the stamps of Aden are listed and illustrated by David Horry.
---
Stamp Hunting/Competition
Nimrod suggests some stamps worth looking for from Antugua. Win a £50 SG voucher.
---
Indian Aerial Posts
To mark the centenary of the world's first aerial post and the Indipex 2011 philatelic exhibition, Peter Jennings FRPSL, FRGS, selects items from his collection.
---
Stamp News in Brief
A summary of recent and forthcoming issues from around the world.
---
Shore to Shore
Island Hopper looks at the latest issues from the Channel Islands and Isle of Man.
---
Panorama
Dean Shepherd investigates the background to some recent new issues.
---
Unissued QEII/Catalogue Column
David Horry reveals the story behind another unissued stamp. Hugh Jefferies reports on phosphor band varieties and the postal use of Nigerian fiscals.
---
Catalogue Supplement
A 13-page update to the Stanley Gibbons catalogue.
---