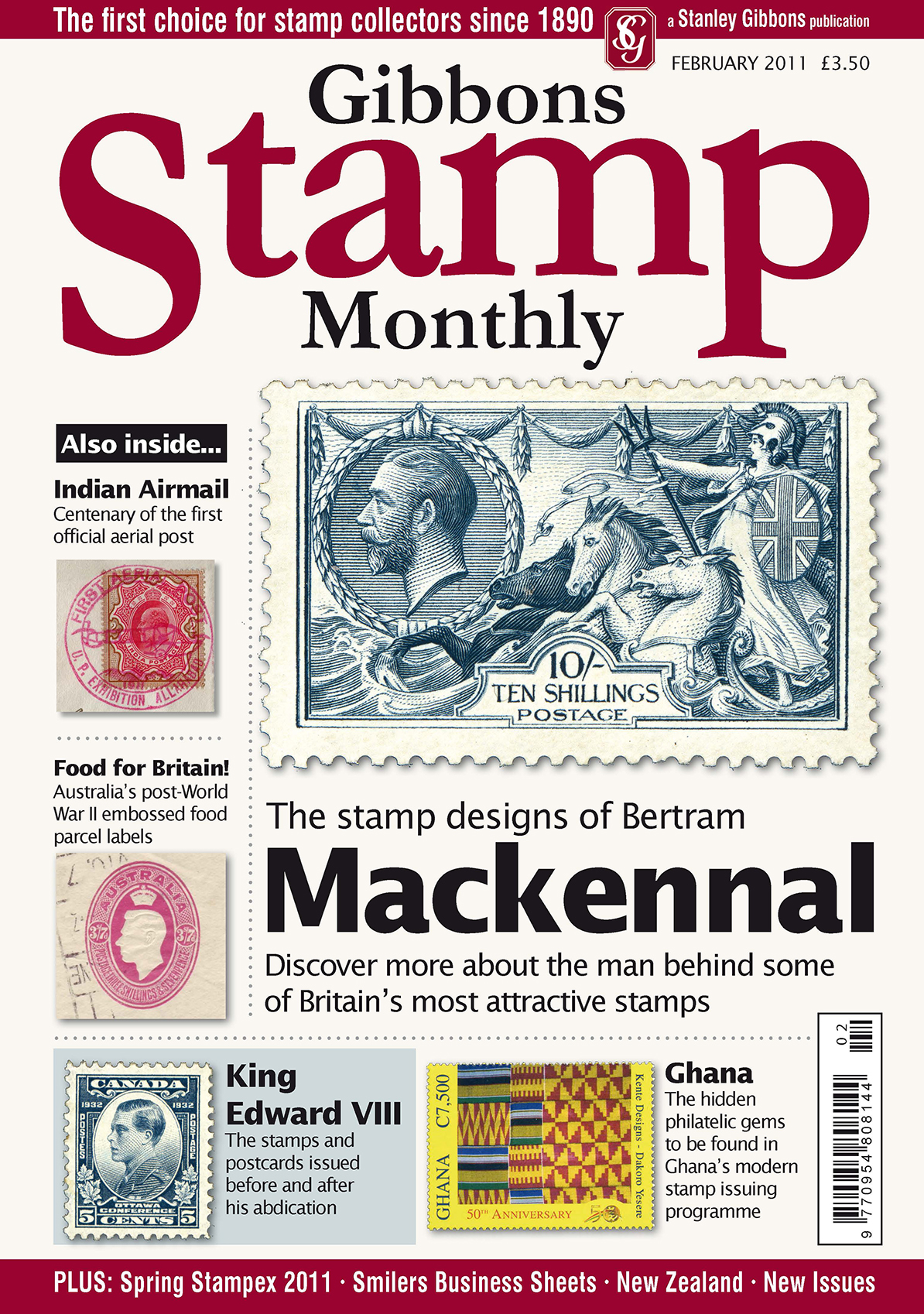 Contents February 2011
Contents to Volume 41, Number 9.
---
Newsdesk
The latest news from the stamp world.
---
Society News
Reports from philatelic societies.
---
Diary Dates
Forthcoming Fairs and Auctions.
---
Around the Houses
News of recent auction results.
---
New Collector
John Holman looks at overprints and surcharges and the philatelic consequences of the 1971 postal strike.
---
GB News
New Royal Mail issue: Classic Musicals – eight stamps to be released on 24 February.
---
Machin Watch
John Deering"s regular update on modern GB collecting.
---
Charles Dickens
Alan Sacks concludes his philatelic tour through Dickens" life and times.
---
GB Stationery/Labels/Postmarks
A report on recent developments by John Holman.
---
Customised Smilers Sheets
John Grey reveals a source of untapped stamp variants.
---
Bertram Mackennal
Douglas N Muir explores the work of King George V"s favourite sculptor.
---
Valentine''s Day Special
Alan Sacks attempts some philatelic match-making.
---
Edward VIII
John Holman concludes his review of the philatelic aspects of this controversial king's short reign.
---
GB Specialised Catalogue
A supplement to the Great Britain Specialised Catalogue.
---
Philatelic Happenings in Ghana
Nicholas Pertwee demonstrates that Ghana's recent stamp issues have much to interest the philatelist.
---
---
Basutoland Postmarks 1937–55
David Horry reveals some more scarce handstamps.
---
---
World''s First Aerial Post
A flight in India that took place 100 years ago made aviation and philatelic history; Peter Jennings FRPSL, FRGS reports.
---
Food for Britain!
Richard Breckon reveals the story behind Australia's embossed parcel labels of 1946–49.
---
Malaya and UPU Colour Scheme
Rob Holley concludes his examination of the problems caused in Malaya by the UPU's colour-coding scheme.
---
Hawke's Bay Earthquake
The philatelic consequences of a disaster in New Zealand in 1931 are recalled by Robin Gwynn FRPSL, FRPSNZ.
---
Spring Stampex
A preview of the British National Exhibition to be held at the Business Design Centre from 23 to 26 February.
---
Don't Judge a Letter By Its Cover
David Hiscock shows that it can pay to read the contents of a letter.
---
Somaliland Field Force
The postal arrangements of the Marconi Detachment are reviewed by Cliff Gregory.
---
Stamp Hunting/Competition
Nimrod suggests some stamps worth looking for from West Germany. Five chances to win copy of Collect British Stamps.
---
Shore to Shore
Island Hopper looks at the latest issues from the Channel Islands and Isle of Man.
---
Panorama
Dean Shepherd investigates the background to some recent new issues.
---
Unissued QEII/Catalogue Column
David Horry reveals the story behind another unissued stamp. Hugh Jefferies reports on varieties from India, Cyprus and Hong Kong.
---
Catalogue Supplement
A 10-page update to the Stanley Gibbons catalogue.
---